---
Matilde Moisant
---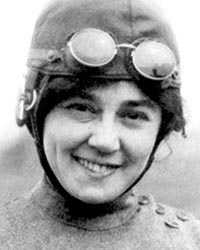 Matilde Moisant
Text excerpt and Image [Smithsonian Institution Negative #73-3564] used with permission
Copyright © 2000 National Air and Space Museum, Smithsonian Institution
Matilde Moisant was the second woman in the United States to receive a pilot's license.
Moisant learned to fly at her brother Albert's Moisant Aviation School on Long Island, along with aviator Harriet Quimby, and earned her license on August 13, 1911. Together the two pioneer female aviators and friends joined the Moisant International Aviators.


Moisant made her exhibition debut at the Nassau Boulevard Aviation Meet in September where she won the Rodman-Wanamaker altitude trophy by flying her 50 hp Moisant monoplane to an incredible 1,200 feet.
She beat both Quimby and French pilot Helene Dutrieu. Moisant flew in meets throughout the country and Mexico until the early spring of 1912, often flying at higher altitudes than most male pilots. Then bowing to the wishes of her family, still recovering from the fatal crash of her brother John in 1910, Moisant scheduled her last flight for April 14, 1912, in Wichita Falls, Texas.
It was almost her last performance of any kind as her aircraft burst into flames upon landing, due to a leak in the fuel tank. Moisant was pulled from the wreckage with her clothes afire but fortunately her heavy wool flying costume saved her from serious injury. During World War I, she performed fundraising duties (on the ground) for the Red Cross.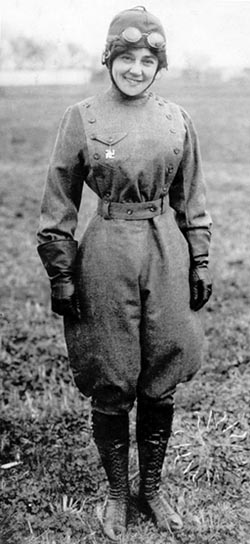 Matilde Moisant, c.1912
Smithsonian Institution Negative #73-3564 Used with Permssion
---
Matilde Moisant & Harriet Quimby : Leaving Male Pilots on the Ground
http://members.aol.com
A full generation before Amelia Earhart, and less than a decade after the first flight of the Wright brothers, these women were running the same risks as men by taking primitive craft into the skies. On Aug 1, 1911, Harriet Quimby became the first woman to win a U.S. pilot's license (#37).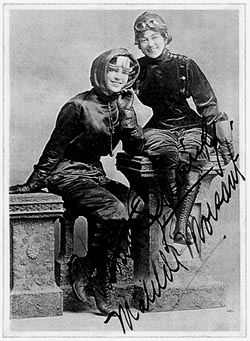 Harriet Quimby and Matilde Moisant, c.1912

Koontz, Giacinta B., Birdwoman - The Incredible Life of Harriet Quimby

download a 500pixel image


On April 16, 1912, she became the first woman to fly the English Channel, a feat considered so impossible for females that a male pilot had gallantly offered to wear her purple silk flying costume and impersonate her.

Matilde Moisant learned to fly when her brother and six other pilots formed a flying school at Hempstead, NY. In September, 1911, she won the Rodman- Wanamaker altitude trophy for courageously reaching the amazing height of 1,200 feet. Not all her daring exploits involved altitude or speed, however.
Matilde Moisant and Harriet Quimby, c.1912

Moolman, Valerie, Women Aloft, Time Life, 1981

download a 500pixel or 1000pixel image


A few weeks later she left many male pilots on the ground, and single-handedly defied a Nassau County (NY) sheriff's ban on Sunday flying, leading he and his men on a merry chase around the countryside which ended without an arrest, thanks to a sympathetic Justice of the Peace, who ruled that flying was no worse than driving a car on Sunday.
---
Further Reading : Online

Matilde Moisant : Early Bird Aviator
http://www.collectair.com/moisantindex.html
---
Further Reading : In Print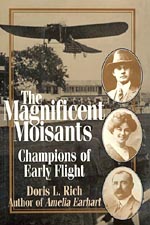 The Magnificent Moisants : Champions of Early Flight
by Doris L. Rich, ISBN 1560988606
http://www.techdirections.com
Between the first Kitty Hawk flight and World War I, a small group of flyers risked their lives and fortunes to convince a skeptical public that the airplane was destined to become safe, practical, and commonplace.
Among the most flamboyant of aviation's pioneers were Alfred, John, and Matilde Moisant, a family of fervent believers in aviation who built and tested planes, ran a flight school, set and broke records, and staged air exhibitions seen by thousands in the United States, Cuba, and Mexico.


Famed for their bravado and charm, the Moisant siblings ardently promoted the cause of commercial aviation, predicting transatlantic crossings, scheduled flights between cities, and air deliveries of mail decades before the fact.
Explaining how the Moisants contributed to the transformation of flight from a sport into a business, Doris L. Rich charts the rise of their popular air circus and chronicles the tumultuous careers of the flyers-including future World War I ace Roland Garros and America's first licensed woman pilot, Harriet Quimby. Captivated by the possibilities of aviation, Alfred Moisant used the fortune he had amassed from his sugar plantation in El Salvador to finance ambitious demonstration tours promoting his planes.
John Moisant set three world's records in a flight from Paris to London in 1910 and further enhanced his reputation with a series of exploits that culminated in a tragic, fatal crash only five months after he had learned to fly. Matilde Moisant, the second American woman to earn a pilot's license, broke an altitude record in 1911 and performed stunts that rivaled her brother's in daredevilry.
Drawing on family interviews and records long buried in the National Archives, Rich details the Moisants' forays into Central American political intrigue and their adventures in the air. Describing the risks of the air show circuit-fragile planes, dangerous winds, uncontrollable crowds-the author shows that although the Moisants never achieved the fame of the Wright brothers, their courage and showmanship were instrumental in stimulating public enthusiasm and with it the growth of aviation.
Top | Pioneers Home