---
Geraldin(e) "Jerrie" Fredritz Mock (1925-)
First woman to fly solo around the world. The trip took 291/2 days, with 21 stopovers and almost 22,860 miles in flight.
---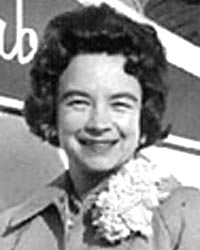 She Couldn't Cross the Street, So She Flew Around the World
http://www.angelfire.com
by Rita Juanita Mock
The first woman to fly around the world lives about twelve miles from me. Her name is Jerrie Mock, and she is my grandmother.
Born in 1925, Jerrie Mock lived through the Great Depression, World War II, the Cold War, and many other things. She is currently enjoying her retirement in Quincy, Florida, a quiet little town adorned with Spanish moss and Royal Palm trees. ...more


---
Cessna 180 : Spirit of Columbus
Text excerpt and Image [Smithsonian Institution Negative #80-4968] used with permission
Copyright © 2000 National Air and Space Museum, Smithsonian Institution
A National Aeronautic Association press release, dated April 18, 1964, announced that Geraldine Mock had become the first woman to pilot an aircraft around the world. Previous attempts by women, including the much-discussed flight by Amelia Earhart, were unsuccessful. When success did come, it was twenty-seven years later by a woman from Columbus, Ohio, flying a 1953 Cessna 180 single-engine monoplane, the Spirit of Columbus.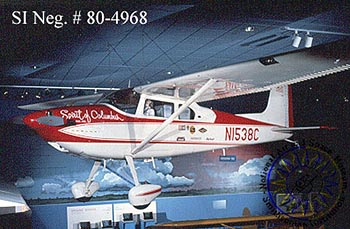 Cessna 180 : Spirit of Columbus

Wingspan 10.97 m (36 ft.); Length 7.98 m (26 ft. 2 in.); Height 2.36 m (7 ft. 9 in.);
Weight 1,157 kg (2,550 lb) gross

Smithsonian Institution Negative #80-4968 used with permission


Cessna built 640 Model 180s in its first production year and the Spirit of Columbus was the 238th aircraft, bearing serial number 30238 and registration number N-1538C. After several owners and 990 flying hours, Russell Mock and Al Baumeister purchased it for Jerrie Mock's world flight. Additional fuel tanks were custom-made to fit inside the cabin; personal equipment and survival gear were assembled and stowed aboard, and detailed flight planning was completed.

On March 19, 1964, at 9:31 am, Mock departed from Columbus on her history-making solo flight. Twenty-nine days, 11 hours, and 59 minutes later, she arrived back home, on April 17, 1964, after flying 23,103 miles around the world. The flight was monitored by the National Aeronautic Association and the Federation Aeronautique Internationale (FAI) which certified it as a round-the-world speed record for aircraft weighing less than 3,858 pounds. On May 4, 1964, President Lyndon B. Johnson was awarded Mock the Federal Aviation Administration's Exceptional Service Decoration.

After completing her flight, Mock never flew the Spirit of Columbus again. The manufacturer exchanged aircraft with her, giving her a later model plane, via the Javelin Aircraft Company. The record setting aircraft was suspended in the Cessna factory in Wichita, Kansas for a number of years until the Cessna Aircraft Corporation gave it to the National Air and Space Museum in 1975. It was displayed in the General Aviation gallery until 1984 and is now stored at the Garber Facility.

Read the full article

Top | Pioneers Home