---
Jessie Maude 'Chubbie' Miller (1910-1972)
---
Jessie Maude 'Chubbie' Miller
http://www.davidmarshallaviationart.com
Australian Mrs Keith Miller was better known in America than she was in her own country.
Her introduction to celebrity status was as the first woman to fly across the world from England to Australia-her friend Bill Lancaster taking her as a passenger in his two seat Avro Avian.
The pair went on to America where Chubbie learnt to fly and became well known in air-racing circles as one of the most successful women contestants.
---
Jessie Maude 'Chubbie' Miller
http://www.tne.net.au
Jessie Maude 'Chubbie' Miller left the U.K. in June 1927 with Bill Lancaster(Q.V.) in an AVRO Avian. After 159 days the Western Australian (from Southern Cross) finally arrived as the first woman to complete an England to Australia flight. She died in London in 1972.
Captain Bill Lancaster and 'Chubbie' Miller, Darwin, Australia, 1928
download a 500pixel image
'Chubbie' Miller and Captain Bill Lancaster
http://www.jazzbabies.com/
In 1927, former R.A.F. officer Bill Lancaster set off in his Avro Avian to try for a long distance flying record (England-Australia). With him flew Australian journalist "Chubbie" Miller. Bad weather forced them down in Sumatra.
Lancaster tried for another record in 1933, and vanished. The remains of his plane were not discovered until 1962. In case you were wondering, the record for longest flight in a light plane was broken in 1928 by Bert Hinkler.
Captain Bill Lancaster and 'Chubbie' Miller, Darwin, Australia, 1928
Nat. Lib. of Aus. Photo: Mrs Fletcher (PH0233/0044), Harold Snell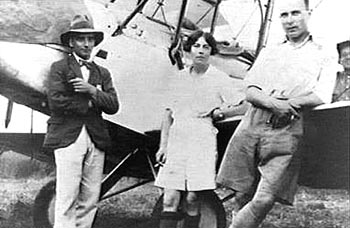 E. Hodges, 'Chubbie' Miller and Captain Bill Lancaster, Darwin, Australia, 1928
Nat. Lib. of Aus. Photo: Jessie Litchfield (PH0110/0026), Roderick Collection
---
Captain Bill Lancaster
http://www.tne.net.au/wil/avhisi.html
In 1962 the French Army discovered the wreck of Bill Lancaster's 'Southern Cross Minor' AVRO Avian. Having been lost in the severe desert region of Africa, near Reggan, Algeria, 29 years before. This solved a mystery which had enthralled the World in 1933.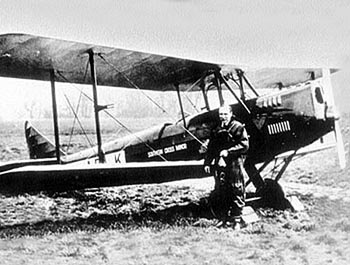 Australian Captain Bill Lancaster poses with his Avro Avian Mk.V Southern Cross Minor before setting out on his 1933 attempt at a record-setting flight from England to Cape Town, South Africa

http://africanhistory.about.com


A former Australian Flying Corps pilot and a former boxer and accomplished horseman, Bill took great risks in trying to break the London to Cape record of a Puss Moth flown by Amy Johnson. His plane was much slower and he took minimal supplies. He was broke and desperate.

Despite entreaties by officials at Reggan not to fly South across the desert, as he had been 30 hours in the air without sleep, he took off in the dark. The engine lost power and failed within two hours and he crashed and lay upside down unconscious for several hours. He survived for a week before dying and leaving a poignant diary.

The remains of his plane is in The Queensland Museum, Brisbane, in a realistic display.
---
Bill Lancaster : Lost in the Sahara
Terry Gwynn-Jones
http://columbiad.com
Help came 29 years too late for Captain Bill Lancaster, missing on a record-chasing flight from England to South Africa.
The mummified remains of the pilot lay beneath the framework of a wing that had once provided shade. Dried by the desert air, the corpse's exposed skin was like parchment. Above the right eyebrow a gaping cut sustained during the crash could still be seen. Nearby, on a leather-bound fuel card, was a final message:
"So the beginning of the eighth day has dawned. It is still cool. I have no water....I am waiting patiently. Come soon please. Fever wracked me last night. Hope you get my full log. Bill."
The wreck was discovered by a French army motorized desert patrol on February 12, 1962, 29 years after those last words were written. Heading across the Sahara on a routine sweep, the patrol sighted the wrecked plane 37 miles off the trans-Sahara track, in the Tanezrouft area--the desert's heart, which even the wandering Bedouins avoid. They call it the "Land of Thirst." In order to survive in its searing, dehydrating heat a person needs 2 gallons of water per day.

Only the buckled skeleton of the small, single-engine biplane remained. Severely damaged during a crash landing, the aircraft lay on its back. Wrapped in fabric and wired to a wing strut were the aircraft's log book and other documents, including a passport and a wallet containing a photo of a smiling woman wearing a flying helmet and goggles. ...more
---
Airplane found in desert after 42 years
http://www.k12.nf.ca
Algeria, November 17, 1975: Forty-two years after crashing in the Sahara desert, the wreckage of Avro Avian 5 Southern Cross Minor has been rediscovered by members of the Wylton Dickson expedition.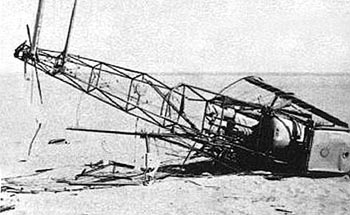 The Lancaster Wreck


Only the fuselage structure, a wing bare of covering fabric, engine and fuel tanks are whole among the debris, its broken tail pointing skyward some feet above the ground. The Avro Avian was being piloted by Englishman Captain William N Lancaster at the time of the crash on April 12, 1933.

(Bently, Dobson, Jones, Landmead, Mansfield, Morris, Pitts, Taylor, 1992, p. 730) Jacalyn Guy, 904
---
Further Reading

Barker, Ralph, Verdict on a Lost Flyer - The Story of Bill Lancaster
Harrap & Co, 1969.
http://www.dialabook.com.au
Top | Pioneers Home