---
Lt. Col. Martha McSally
Pilot : A-10/OA-10 Thunderbolt II [Warthog]. First woman in the US Air Force to fly a combat aircraft into enemy territory
---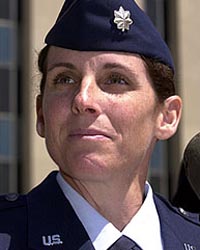 Lt. Col. Martha McSally
http://www.eden.rutgers.edu
The youngest of five children reared in Warwick, R.I., McSally was just 12 when her father, Bernard, a lawyer, died of a heart attack.
Her mother, Eleanor, now 67, became a reading specialist to support the family. Determined to "make my father proud," McSally graduated at the top of her class at St. Mary's Academy Bayview in 1984.


She won a scholarship to the U.S. Air Force Academy and turned up on the first day dressed in black spandex pants, a T-shirt and high-top sneakers. Soon, she says, she was "pestering" her instructors to make her a fighter pilot--despite the military's ban on women flying combat jets.
She clung to her dream after graduating in 1988, even as she studied for a master's degree from Harvard University's School of Public Policy. And when the Defense Department opened the cockpit to seven women in 1993, McSally was among them.
---
Further Reading
Lt. Col. Martha McSally
http://www.usatoday.com
U.S. Military Women Cast Off Abayas
http://www.cbsnews.com
Top | Pioneers Home