---
LEUT Natalee J. McDougall
First Woman Pilot in the Royal Australian Navy
---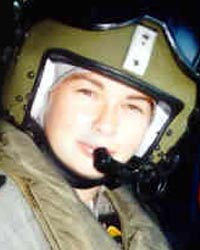 LEUT Natalee J. McDougall
http://www.navalofficer.com.au
There has been a fairly successful gradual integration of females into Australian naval aviation.
Women were employed in clerical and similar jobs in squadrons, but the first three female RAN maintainers joined HS 817 in 1985.
The first female RAN observer, (then) SBLT A.J. Goodier, graduated from RAAF East Sale in 1991 but she resigned in 1995.


LCDR N.E. Wilson is the RAN's senior female aviator. She trained at East Sale and flew in Seahawks in the Persian Gulf from Melbourne. She is presently a Seahawk TACCO/co-pilot and airborne instructor.
In 2001, there was only one female pilot, LEUT Natalee J. McDougall (above), a Sea King Captain, serving in the RAN.
Others have tried, but they generally fail to learn to fly or, as in one early instance, were poached by the RAAF during their flying training.
---
RAN's First Woman Pilot
http://www.defence.gov.au
The Royal Australian Navy has welcomed its first woman pilot.
November 30, 1998
Twenty-two-year-old SBLt. Natalee J. McDougall from Cuballing in Western Australia graduated from the Australian Defence Academy's helicopter training facility on November 13.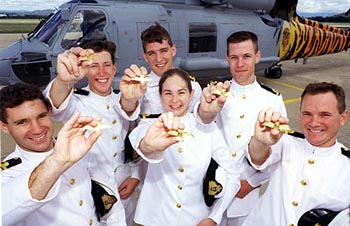 SBLt. Natalee J. McDougall with LEUT Sleeman, SBLt.s Cayzer, Bettenay, Kimlin and LEUT Lewis following their graduation

Photo: CPL Mark Dowling


The Chief of Navy, VADM Don Chalmers, welcomed her to the aviation ranks and presented her with her wings. Natalie was one of six young naval officers to graduate from the school and to receive their wings from VADM Chalmers. The presentation and associated parade of ADF pilot trainees took place at the Fairbairn base.

For Natalee, the graduation meant an end to 17 months of intensive classroom and practical training at Fairbairn. She first flew the PC9 fixed wing trainer then advanced to the Squirrel helicopter.

"Now she will go to 723 Squadron (CMDR Mark Jerrett) at HMAS ALBATROSS for more extensive training," LCDR David Gwyther, careers co-ordinator for the aviation school, said. "She will fly Squirrels."

"SBLt. McDougall is the first woman to graduate as a pilot for the RAN in its 50 years of naval aviation. "Four other women had begun training but three failed and moved on. "The fourth would have graduated with the Navy. She, however, was poached by another service," LCDR Gwyther said. "SBLt. McDougall is our first woman pilot."

To graduate with Natalie were SBLt. Stuart Cayzer, 23, from Wagga Wagga, LEUT David Bettenay, 26, from Mount Gravatt in Brisbane, SBLt. Andrew Sleeman, 21, from Perth, LEUT Nathan Lewis, 25, from Sydney and A/SBLt. Paul Kimlin, 22, from Melba in the ACT. The men will join Natalie at 723 Squadron.

A modest Natalee said she did not want to be singled out for special attention.

Top | Pioneers Home