---
Nancy Harkness Love (1914-1976)
---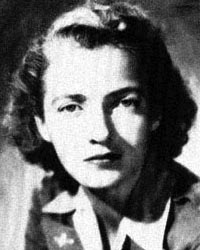 Nancy Harkness Love
http://www.wpafb.af.mil
Mrs. Love was twenty-eight years old when she became the leader of the WAFS. She learned to fly some twelve years before at her birthplace, Houghton, Michigan.
She took flying lessons and received a private pilot license at sixteen while she was a student at Milton Academy, Milton, Massachusetts.
She entered Vassar College and continued to spend her summer vacations flying. At this time she pioneered in the development of student flying clubs in American colleges.

Mrs. Love received her commercial pilot license in 1933, and in 1935 she was engaged by the Bureau of Air Commerce as one of a group of three women fliers to air mark the principal cities of the United States.
---
Nancy Harkness Love
http://www.atalink.org
Nancy Harkness Love (inducted 1996) was born on February 14, 1914, in Houghton, Michigan. She developed an intense interest in aviation at an early age. Sixteen years old in 1930, she took her first flight and earned her pilot's license within a month. Later, she would carry this love of flying with her to Vassar where she started a flying school and augmented her allowance by flying passengers at Poughkeepsie Airport and earning her air transport rating in 1933.
Leaving Vassar before the end of her sophomore year, she continued to pursue her flying career. Love was an early pioneer in the development of student flying clubs in U. S. colleges and a charter member of the Ninety-Nines, a female pilots' organization founded by Emilia Earhart. In 1935 she was one of several women hired by the Bureau of Air Commerce to work on its Air Marking Program, a Works Projects Administration program to mark water towers, barn roofs, etc., with city names and compass headings as aids to air navigation.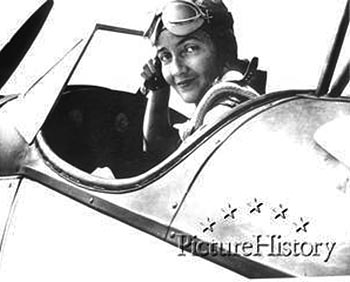 Nancy Harkness Love
---
WASPS of War : Nancy Harkness Love
http://womenshistory.about.com
By Deborah G. Douglas for Aviation History Magazine
Nancy Harkness Love proved her mettle in the air and gained recognition for women pilots in a man's world. It had gotten to be something of a lark for young Nancy Harkness. For quite a while, she had evaded the "no flying" rule of Milton Academy, the prestigious New England boarding school where she was attending high school.
No one knew that she had a pilot's license, so it was simply a matter of coming up with a good excuse for her to leave the lush Massachusetts campus. Once away, Harkness headed straight into Boston, and later Cape Cod, to rent an airplane for an afternoon of flying.
A decade later, the young girl who would rather risk expulsion than give up flying became the head of the first group of women pilots to fly for the U.S. military. Five years later still, with World War II over, Nancy Harkness Love, like hundreds of thousands of American women who had joined the country's war effort, returned home and started a family.
---
Nancy Harkness Love
http://www.pbs.org
In the mid-1930s a young woman from a prominent Philadelphia family found a job in Boston selling airplanes on commission. Her long list of customers included Joseph Kennedy, Sr., who, according to one account, was more concerned in finding a wife for a future president, his son, than in buying a plane.
The young saleswoman, Nancy Harkness, apparently wasn't interested. She had her own marriage in mind, one that would in its own way gain her local celebrity. In 1936, she married an Air Corps Reserves officer called Robert Love.
The union was splashed all over the Boston papers -- "BEAUTIFUL AVIATRIX WEDS DASHING AIR CORPS OFFICER" read one headline; "THE ROMANCE OF THE GLAMOROUS YOUNG SOCIETY COUPLE MEETS THE ROMANCE OF THE SKY" announced another.
The marriage did more than give Nancy public attention. It placed the already extremely capable pilot in an excellent position to lobby for a women's flying squadron during the war.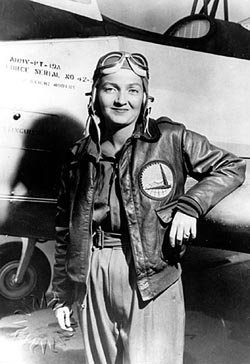 Nancy Harkness Love
download a 500pixel image
NASM
---
More about the Women's Auxillary Ferrying Squadron
http://www.atterburybakalarairmuseum.org
Top | Pioneers Home