---
Elena Vladimirovna Kondakova (1957-)
---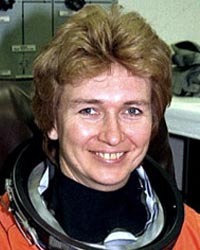 Elena Vladimirovna Kondakova
http://www.space.com
The first Cosmonaut in space was Valentina Vladimirovna Tereshkova, who flew a 3 day mission in Vostok 6, in 1963. She was also the world's first woman in space.
Another was Svetlana Yevgenyevna Savitskaya, who flew two short duration missions to Salyut 7: in 1982, and 1984. She was the world's first woman to fly twice in space and to make a spacewalk.
Savitskaya retired from her active cosmonaut's duty in 1993.


The third was Elena Vladimirovna Kondakova, who flew on a five month long mission to Mir in 1994-95. This was the first long-duration flight ever made by a woman. In 1997, Kondakova also flew in STS-84. This was one of many shuttle missions to Mir space station.
Kondakova is physically fit and professionally competent to fly in space again, but she has switched from space to political activities after becoming State Duma (lower chamber of the Russian parliament) deputy in 1999.
---
Elena Vladimirovna Kondakova
http://www.jsc.nasa.gov
NAME: Elena Vladimirovna Kondakova
Status: Active. Trained as: Cosmonaut. Profession: Engineer. Sex: Female. Marital Status: Married. Children: One. Birth Date: 30 March 1957. Birth City: Komsomolskna-Amure. Birth State: Kharbarovsk. Birth Country: Russia. Nationality: Russian. Affiliation: Civilian Engineer, Energia NPO. Group: 1989 Civilian Engineer Group. Detachment: NPOE-9. Date Selected: 25 January 1989. Number of Flights: 2. Total Time: 178.44 days.
PERSONAL DATA:
Born March 30, 1957, in Mitischi, Moscow Region. Married to Valerii V. Ryumin, born 1939 in Komsomolskna-Amure, Kharbarovsk Region, Russia. They have one child. Kondakova enjoys the theater, river fishing, reading, traveling. Her father, Vladimir A. Kondakov and her mother, Klavdiya S. Kondakova (Morozova), reside in Kaliningrad, Moscow Region. His parents, Viktor N. Ryumin and Alexandra F. Ryumina (Podporina), are deceased.
EDUCATION:
Graduated from Moscow Bauman High Technical College in 1980.
SPECIAL HONORS:
Hero of Russia.
EXPERIENCE:
Upon graduation, in 1980, Kondakova started to work in RSC-Energia completing science projects, experiments and research work. Then in 1989 she was selected as a cosmonaut candidate by RSC-Energia Main Design Bureau and sent to Gagarin Cosmonaut Training Center to start the course of general space training. After finishing the course in March, 1990, Kondakova was qualified as "test cosmonaut".
From January through June of 1994, she was under training for the 17th main mission and "Euromir-94" flight as a flight engineer of the prime crew. October 4, 1994 through March 22, 1995, she fulfilled her first flight on board the spacecraft "Soyuz TM-17" and the orbital complex "Mir" as a flight engineer of the 17th main mission. She spent 169 days in space, including 5 days with NASA Astronaut Norman Thagard. The program included a month long joint flight with German Astronaut Ulf Merbold.
Most recently, she was a mission specialist on STS-84 (May 15-24, 1997), NASA's sixth Shuttle mission to rendezvous and dock with the Russian Space Station Mir. Mission duration was 9 days, 5 hours and 20 minutes. In completing her second flight, Kondakova has logged over 178 days in space.
FLIGHT LOG:
* Soyuz TM-20 - - 1994 Oct 3 - Assignment: Prime Crew. Flight Time: 169.22 days. Flight details: Soyuz TM-20.
Mir Expedition EO-17. Docked at the Mir forward port at 00:28 on 1994 October 6. The Mir crew of Viktorenko, Kondakova and Polyakov boarded Soyuz TM-20 on January 11, and undocked from Mir's front port at 09:00 GMT. The spacecraft withdrew to about two hundred metres from Mir and then redocked in a test of the automatic Kurs system, which had failed in Progress M-24's attempted docking. Redocking came at 09:25 GMT. Soyuz TM-20 landed 22 km northeast of Arkalyk in Kazakhstan at 04:04 GMT on March 22, 1995.
* STS-84 - - 1997 May 15 - Assignment: Prime Crew. Flight Time: 9.22 days. Flight details: STS-84.
Atlantis blasted off on a night launch to Mir, docking with the station on May 17 at 02:33 GMT. Jerry Linenger, who had begun his stay on Mir in mid-January aboard STS-81, would return aboard STS-84. Michael Foale would be left at the station for his stint as the American crew member of Mir. The crew transfered to Mir 466 kg of water, 383 kg of U.S. science equipment, 1,251 kg of Russian equipment and supplies, and 178 kg of miscellaneous material.
Returned to Earth aboard Atlantis were 406 kg of U.S. science material, 531 kg of Russian logistics material, 14 kg of ESA material and 171 kg of miscellaneous material. Atlantis undocked from Mir at 01:04 GMT on May 22. After passing up its first landing opportunity due to clouds over the landing site, the Shuttle fired its OMS engines on the deorbit burn at 12:33 GMT on May 24. Atlantis landed at 13:27 GMT at Kennedy Space Center's runway 33.
---
Elena Kondakova
http://spaceflight.nasa.gov
Elena Kondakova was the seventh Russian cosmonaut to fly on an American space shuttle. She served as mission specialist on STS-84, the sixth shuttle mission to dock with the Mir.
STS-84 marked Kondakova's second trip to Mir. During her first visit, which lasted 169 days, she was part of the crew that greeted NASA astronaut Norm Thagard when he began his stay as the first American on the Russian space station. She was also onboard Mir to view STS-63 as it rendezvoused (but did not dock) with Mir.
Mike Foale flew with Kondakova on STS-84, and shared the following in his Oral History: "[Elena] had described how she had felt as we flew away without actually docking on STS-63, how disappointed they were, how wonderful it was, and how unexpectedly beautiful it was when the shuttle came up."
Kondakova graduated from Moscow Bauman High Technical College and went to work for RSC Energia in 1980. She became a test cosmonaut in 1990.
---
STS-84 KSC Electronic Photo File
http://science.ksc.nasa.gov
KSC-97EC-0759.jpg
STS-84 Michael Foale and Elena Kondakova at TCDT

KSC-97EC-0779.jpg
STS-84 Elena Kondakova arrives at SLF prior to launch

KSC-97EC-0783.jpg
STS-84 crew poses at SLF after arrival in preparation for launch

KSC-97EC-0797.jpg
STS-84 Elena Kondakova suits up

KSC-97EC-0849.jpg
STS-84 Post Landing - Valery Ryumin greets wife Elena Kondakova
Elena Kondakova (16 sec.) MPEG (1.2M) (No Audio)
http://spaceflight.nasa.gov

Top | Pioneers Home