HEARN, Jack Douglas : 1920 -
Jack Douglas Hearn was born in London, England in 1920 and arrived in Australia with his parents as a young child. His two brothers Keith and Bruce were both born in Australia.
Jack spent most of his school years at Trinity Grammar in Melbourne, Victoria and got his first job making model aircraft beginning a deep involvement in all things aeronautical.
During these pre-WW2 years, apart from time spent in model construction, Jack also constructed and flew, full size gliders and sailplanes. When war broke out in 1939 Jack joined the Royal Australian Airforce (RAAF) and following his training and the gaining of his 'wings', became a commissioned officer and took up duties as flying instructor.
During the period when Jack was instructing at Benalla in Victoria, brothers Keith and Bruce came through as trainee pilots and carrying on the family tradition also received their 'wings' and became commissioned officers.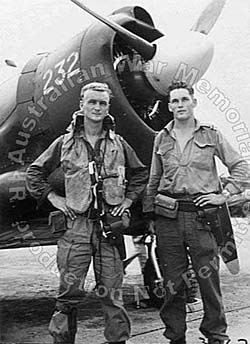 TOROKINA, BOUGAINVILLE ISLAND, SOLOMON ISLANDS. 1945-08-17. WIRRAWAY CREW OF NO. 5 (TACTICAL RECONNAISSANCE) SQUADRON RAAF RETURNING FROM DROPPING LIEUTENANT GENERAL S. G. SAVIGE'S SURRENDER ORDERS TO JAPANESE FORCES ON BOUGAINVILLE. LEFT, 410978 FLYING OFFICER J. D. HEARN, SURREY HILLS, VIC, AND 426560 FLYING OFFICER C. R. DOWNES, PALMWOODS, QLD.

Photographer: Harrison, John T.; Australian War Memorial Negative Number : OG3267

download a larger copy of this image


Jack served overseas with 5 Squadron in Bougainville flying both the CAC Boomerang and Curtiss Kittyhawk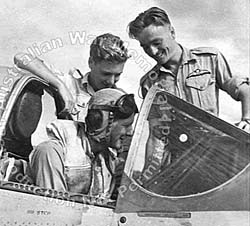 LABUAN, NORTH BORNEO. 1945-09-24. 416333 FLIGHT LIEUTENANT BRIAN HARRIS DFC OF KOOYONG, VIC, MUSTANG INSTRUCTOR, GIVES A FEW POINTS ON FLYING TO 431603 FLIGHT SERGEANT (FLT SGT) JOHN ADENEY OF MT EVELYN, VIC, AND (TOP LEFT) 438392 FLT SGT BRUCE HEARN OF SURREY HILLS, VIC. THEY WILL FLY TO JAPAN WITH THE RAAF OCCUPATION FORCE.

Photographer: Harrison, John T.; Australian War Memorial Negative Number : OG3621

download a larger copy of this image


Brother Bruce served with 82 Squadron also flying Kittyhawks and later North American P51 Mustangs.

By the end of the war and at just twenty-five years of age, Jack had risen to the rank of Squadron Commander



Keith, Bruce and Jack Hearn c.1944

download a larger copy of this image


Following the war the three brothers founded Hearn's Hobbies which became a focal point for model aviation enthusiasts from all over Australia. They also served in the RAAF Reserve teaching aircraft modeling skills to Air Training Corps Cadets with many going on to careers in the RAAF and commercial aviation.

In 1947 Jack found time to marry his dear wife Pat. They have a son Norman, a daughter Anne and two grandchildren Marcus and Nicole and yes, both the 'boys' are active aviation enthusiasts just like Jack.

In more recent years Jack constructed and flew one of the first Ultra Light aircraft in Australia (aptly named 'Hi-Jack') and now in the 21stC, Jack designs, makes and flies radio controlled model airships.