---
Hilda (Hilde) Beatrice Hewlett (1864-1943)
---
Hilda Hewlett
http://www.f4aviation.co.uk
The UK's first female aviator, Mrs Hilda Hewlett, was given a pilot's licence at Brooklands Race Track. Hilda Beatrice Hewlett was born in the Victorian London of 1864, a vicar's daughter who went to art college and also trained as a nurse. Her husband Maurice was a romantic novelist. Hilda's life took a completely new direction when she saw the first English flying meeting at Blackpool in 1909.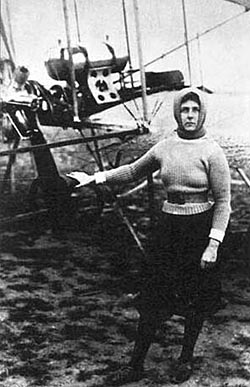 Hilda Hewlett


Adopting the alias "Grace Bird", Hilda arrived at Mourmelon-le-Grand aerodrome in France later that year to study aeronautics. She met Gustave Biondeau and they became business partners, united by a passionate belief in aviation. Returning to England with a Henri Farman bi-plane, the "Blue Bird", Biondeau and Hewlett opened Britain's first flying school at Brooklands race track in the summer of 1910.

On 29 August 1911, aged 47, Hilda Hewlett was awarded Ticket No. 122 and flew into the history books as Britain's first woman pilot. She promptly taught her son to fly, possibly the only naval airman in the world to be taught to fly by his mother!

When the Great War broke out the Biondeau/Hewlett partnership went into the aircraft business, employing 700 people in their Bedfordshire plant to produce ten different types of planes. Later, aged 62, Hilda left England for New Zealand seeking escape from "crowds, convention and civilisation". Her husband Maurice, from whom Hilda 'politely' separated in 1914, is recorded as saying "Women will never be as successful in aviation as men. They have not the right kind of nerve"!
---
Hilda Beatrice Hewlett
http://www.dnzb.govt.nz
Hilda Hewlett was a pioneer motoring enthusiast, and, in 1909, when she attended the first English flying meeting at Blackpool, she yearned to fly. She adopted the pseudonym Grace Bird and with a Frenchman, Gustave Blondeau, went to the Mourmelon-le-Grand aerodrome in France to study aeronautics.
Hewlett and Blondeau were equally dedicated to the future of aviation, and their partnership was to last 10 years. When she returned to England with an Henri Farman biplane, 'The Blue Bird', they opened the Hewlett and Blondeau flying school, one of Britain's first, at Brooklands, Surrey, in 1910.
In August 1911 Hilda Hewlett became the first British woman to obtain a pilot's certificate, No 122. Soon after, she assisted in teaching her son, Francis, to fly. He was to have a distinguished military flying career in England and New Zealand. In 1912 Hewlett cemented her place in aviation history when she won a quick-start competition....more
---
Further Reading

The Hewlett touch. Journal of the Aviation Historical Society of New Zealand 30, No 3 (Dec. 1987): 48-53
Tauranga Aero Club 50th jubilee, 1932-1982. Auckland, 1982
Whitehead, H. L. Hilda Beatrice Hewlett, 1864-1943. Historical Review 41, No 2 (Nov. 1993): 76-81
Top | Pioneers Home