---
Jeanne Herveau (1885-*)
Often anglicized to Jane ? (why not Jean or Joan [Ed.]) and often Herveaux
---
Mademoiselle Jeanne Herveau (sometimes spelled Herveaux) was a well-known automobile driver/racer who also won her wings (flying a Bleriot) with license # 318 on 7 December 1910. Born in Paris 10 Dec 1885. Before going into aviation, she was an exhibition driver in automobiles, including a show at the Crystal Palace in London, where she "looped the loop: in a car.
She raced at Deauville, Chateau-Thierry, Gaillon, and Laffrey. She also raced motorcycles for a while. In 1909, she enrolled as a student in the Bleriot school at Mourmelon, and earned her wings on 7 Dec 1910 (#318). In Spring 1911, she was hired by La Societe de L'Ecole Nationale d'Aviation (in Lyon, France) for appearances during the period 28 May-8 June.
In August, she began competing for the Coupe Femina for 1911, which she did not win. On 22 December 1911, she opened a flying school in France reserved for women, which apparently failed due to lack of students. She left aviation before World War I, and apparently never returned to it.
contributed by Dave Lam (thanks Dave, Russ)
The First School of Aviatrices
http://www.contenidos.com
On December 22, 1911 the first aviation school destined exclusively to women was opened in France by Jeanne Herveu b.19 Dec., 1885 in Paris, and who received French license #318 on 7 Dec 1910 in a Breguet
also ....paraphrasing Before Amelia, Lebow 2002
Despite the exclusivity, her 'women only' school failed to catch on and she disappeared from view until, in 1922, it was announced in french newspaper article that she had married the previous year, was living in the USA and working in a former 'pre-aviation role', the fashion industry.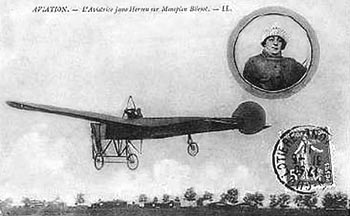 Jeanne Herveu
Jeanne Herveu
http://www.ifrance.com
En 1911, Jeanne Herveu ouvre une école de pilotage réservée aux femmes. En Allemagne, les femmes pilotes ne sont pas en odeur de sainteté : Melli Beese passe son brevet cette année-là, et ses "camarades" masculins n'hésitent pas à saboter son appareil.
Top | Pioneers Home