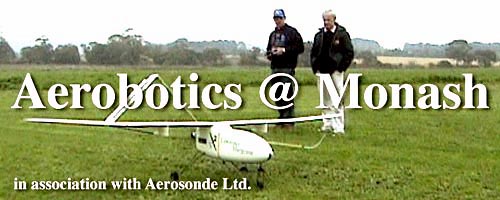 November 14, 1999 - Image Gallery
Home
The adventure begins...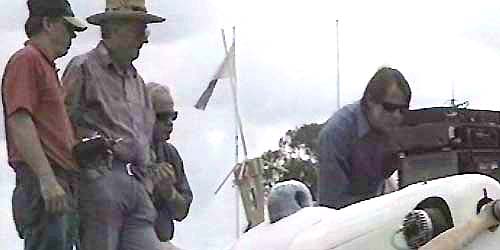 "Those Magnificent Men and their Flying Machines"
---
Technical Specifications: In the Air

Aircraft
Low Wing tail dragger, open cockpit: Wing span: 6'4", Wing area: 6.5 Sq Ft. : Weight: 180 oz. (with camera gear 194 oz). Wing loading: 28 oz/sq ft. (with camera etc 30 oz/sq ft)
Engine: OS 80 (very old) rubber mounted, Prop. 14 x 8. Fuel Tank: 12oz. (flight duration approx 15 min)
Remote control: 5 channel, 5th channel used for on/off control of camera and Video transmitter
---
Camera

Colour PC Board Camera, 38 x 38mm 3.6mm 1/4" M9 x0.5mm Lens of fixed focal length

Sensitivity - 0.015 lux sensor, 0.15 lux F 1.4

Enhancer for sharp pictures

Auto shutter. (This is important for outdoor work where lighting is variable) Very low smear, lag free, Backlight comp.

S/N >52dB, View angle 75 Deg., 12vdc/2va

Output - 2:1 interlaced composite color PAL with resolution of 384 TV lines across and 625 lines down.

(Higher resolution miniture cameras with 570 TVL across are available)

Closeup of camera in 'hi-tech' protective shell with groundplane of antenna in background

Camera & Video transmitter were powered by a NiCad battery pack 10 cells (12 Volt @ 700maH)

Camera was installed in an old drink bottle (cut down to size) using EPP foam as packing material, this was then mounted in an EPP foam block glued to a ply plate and screwed to the fuselage cockpit area.


Transmitter

Vision: 30 Milliwatts @1250 Mhz F3, +/- 3.5Mhz Deviation: Sound: Subcarrier @ 6 Mhz, -15 dB, +/- 50 Khz Deviation


Antenna

3/4l Vertical Whip
| | |
| --- | --- |
| Ray Cooper (left) and Peter Cossins | Are we having fun yet? |
---
Technical Specifications: On the Ground

Receiver
Winersat WR 3000 Satellite Receiver
Pre-amplifier
28dB Gain (Gasfet + MMIC), 1.5 dB Noise Figure
Antenna
3/4l Vertical Whips
VCR
Domestic JVC PAL S-VHS VCR. (Any VCR with a composite input will do)
Monitor
Sony studio monitor. PAL and NTSC. RGB, YC (S-video) and composite inputs.
| | |
| --- | --- |
| Terry Cornall setting the VCR to record the trials | Peter Cossins with the video receiver pre-amp |