---
Sir Frederick Handley Page (1885 - 1962)
---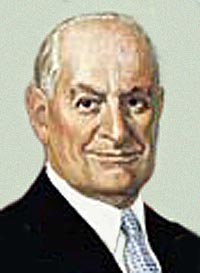 Sir Frederick Handley Page
www.spartacus.schoolnet.co.uk
English aeronautical engineer who designed the first large bomber 1915. His company produced a series of military aircraft, including the Halifax bomber in World War II.
Handley Page was born at Cheltenham, Gloucestershire. By the age of 21 he was chief designer of an electrical company, but in 1908 he set up as an aeronautical engineer and a year later, with a capital of £10,000, he established the first private British company of this kind, in Barking, Essex.
Sir Frederick Handley Page
by David K. Stone


The outbreak of World War I led to his design of the first two-engined bomber, enlarged before the end of the war into a four-engined bomber with a fully laden weight of 13 tonnes.
Handley Page then turned to civil aviation, but found this not to be viable without government subsidies, and these were only to be had when the Handley Page airline merged with Imperial Airways, the forerunner of BOAC (now part of British Airways).
In 1930, Handley Page produced the first 40-seat airliner, the Hercules, a four-engined plane.
During World War II Handley Page produced the Halifax, of which 7,000 were constructed. Work on the bomber continued after the end of the war, resulting in a four-engined jet of unusual design, the Victor, which made its first flight 1952.
---
www.handleypage.com
The website http://www.handleypage.com has the most comprehensive writeup on all Handley Page Aircraft and should be the researchers first point of call.
Dealing primarily with the early days of aviation, this website, 'Hargrave', is looks at HP aircraft to the beginning of WW1, 1909 - 1914

Handley Page : Types A, C and D (H.P.1, H.P.3 and H.P.4)
http://www.handleypage.com
Frederick Handley Page became interested in aviation in the early 1900s, joining the Aeronautical Society of Great Britain in 1907. He designed and built his first experimental glider in 1909, leading to the Handley Page Type A or Bluebird in 1910. Of wood construction with fabric covering, this was a single-seat monoplane with tailskid landing gear and powered by a 20 h.p. (15 kW) Advance 4-cylinder engine driving a tractor propeller.
Flown briefly before a crash landing, on 26th May 1910, the aircraft was then modified to improve lateral control and given a more powerful Alvaston flat-twin engine of 25 h.p. (18.6 kW), and redesignated as the Type C. In this form the aircraft could not be induced to fly at all and Handley Page then turned to an improved design known as the Type D or Antiseptic. This had a crescent-shaped monoplane wing, wire-braced to a kingpost and to the landing gear.
The latter comprised lightweight mainwheels which had mounted between them a long wooden ski, or skid, which eliminated the need for a tail skid. When exhibited at Olympia in April 1911, the Type D had a 35 h.p. (26 kW) Green engine installed, but this was replaced by an Isaacson radial before it was flown for the first time on 15th July 1911.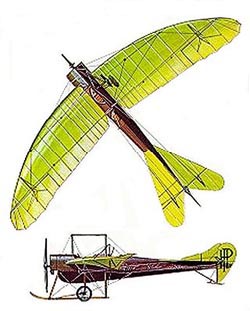 Handley Page E/50, (H.P.5), "Yellow Peril", 1911

Munson, Kenneth, Pioneer Aircraft 1903 - 1914, Blandford Press Ltd, 1969


Unfortunately, this first flight terminated by the pilot crashing it when landing, but the Type D was soon repaired and flown subsequently on a number of occasions, gaining the unofficial nickname Yellow Peril as a result of the colour of its wings and tail unit. With the introduction of a type number system in 1924, the Types A, C and D were given the retrospective designations HP.1, HP.3 and H.P.4.

Specifications : Handley Page Type D (H.P.4) 'Antiseptic', 1911

Type: Single-seat monoplane; Powerplant: One 50 h.p. (37 kW) Isaacson 5-cylinder radial piston engine; Performance: Maximum speed: 50 mph (80 km/h); Weights: Empty 440 lb (200 lb); Maximum take-off 620 lb (281 kg); Dimensions: Span 32 ft 0 in (9.75 m); Length 22 ft 0 in (6.71 m); Wing area 156.0 sq ft (14.49 m2)
---
Handley Page : Types B, G, K, L (H.P.2, H.P.7, and H.P.8)
http://www.handleypage.com
The first biplane to be built by Handley Page was not of his own design, but incorporated enough of his ideas to make it practical that it was given the designation Handley Page Type B. It was damaged when a first flight attempt was made in late 1909 and it was not until 1910 that it was repaired and flown, by then transferred to a Mr W.P. Thompson who was the original designer.
The first truly Handley Page biplane, the Type G, was recognized easily as it was derived substantially from the Type E monoplane. The fuselage and tail unit were changed little, but the upper wing was basically similar to that of the Type E, incorporating ailerons, and the lower wing a reduced-span version of the Type F wing.
Strut and wire bracing maintained the relationship of the wings, and the fuselage was strut-mounted between them. Power was provided by an Anzani radial engine and, as the aircraft was flown originally, the main units of the tailskid landing gear incorporated twin skids to reduce the danger of nosing-over on rough ground. The main units were replaced subsequently by simple Vee struts and through axle, the skids being removed.
The 1924 designations of the Types B and G were H.P.2 and H.P.7.
First flown on 6th November 1913, the Type G proved a very successful machine and in August 1914, on the outbreak of World War 1, was commandeered for use by the Royal Naval Air Service. It was finally written off in August 1915 after being damaged in an accident.
An approximate three-quarter scale single-seat version of the Type G, which was to have been powered by a 35 h.p. (26 kW) Anzani engine, had the designation Type K but was never completed; this was also the fate of the Type L (H.P.8 in the 1924 system), almost double the size of the earlier aircraft, of which the airframe was built in 1914. Intended for a nonstop transatlantic flight attempt, its demise came when the 200 h.p. (149 kW) engine intended to power it was requisitioned at the outbreak of war.
Specifications : Handley Page Type G/100 (H.P.7), 1913
Type: Two-seat biplane; Powerplant: One 100 h.p. (76 kW) Anzani 10-cylinder radial piston engine; Performance: Maximum speed 73 mph (117 km/h); Climb to 3,000 ft (915 m) in 10 minutes 30 seconds; Endurance 4 hours; Weights: Empty 1,150 lb (522 kg); Maximum take-off 1,775 lb (805 kg); Dimensions: Span 40 ft 0 in (12.19 m); Length (after final modifications) 25 ft 1 in (7.65 m); Wing area 384.0 sq ft (35.67 m2)
Handley Page : Types E and TYPE F (H.P.5 and H.P.6)
http://www.handleypage.com
Handley Page believed that the ability to carry a passenger would make his aircraft more marketable, resulting in the design and development of the Handley Page Type E. larger than the Type D, but generally similar in configuration, the Type E's increased-span crescent wing was braced by two kingposts, the mainwheel skid was shortened and a conventional tail skid introduced, and power was provided by a Gnome rotary engine.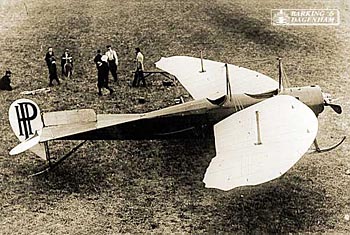 Handley Page E/50, (H.P.5), "Yellow Peril", 1911

http://www.barking-dagenham.gov.uk


Accommodation was provided for two, in tandem, the pilot seated forward and, like the rebuilt Type D, the Type E (H.P.5 in the 1924 system) was finished in yellow, with the result that it also gained the name Yellow Peril, resulting in a degree of confusion that has persisted for years.

When flown in April 1912, the Type E proved to be the first truly successful Handley Page design, but was damaged slightly by an inexperienced pilot in October of that year. An improved fin was introduced while the repairs were being carried out and the machine's flying career was resumed on 1st February 1913.

A new wing, which introduced ailerons instead of wing warping for lateral control, was fitted in April 1913, and this remarkable little monoplane went on to fly many thousands of miles and carry several hundreds of passengers before being converted to a single-seater for school use in mid-1914. Requisitioned at the outbreak of World War 1, it was found to be unsuitable for service use and was not flown again.

An 'improved' Type F had been developed from the Type E to take part in the War Office Military Trials of 1912. This aircraft, designated H.P.6 in the 1924 system, differed primarily by having a revised tail unit, side-by-side seating for pilot and observer and a 70 h.p. (52 kW) Gnome rotary engine, but was also strengthened considerably for its intended military role.

First flown on 21st August 1912, this aircraft's brief career was dogged by ill-fortune, terminating in a fatal accident on 15th December 1912 when both occupants were killed.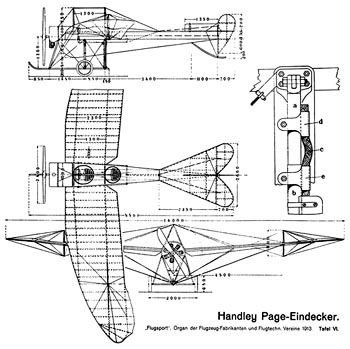 Handley Page E/50, (H.P.5), "Yellow Peril", 1911
download a 1000pixel image
Specifications : Handley Page E/50, (H.P.5), "Yellow Peril", 1911
Type: Two-seat monoplane; Powerplant: One 50 h.p. (37 kW) Gnome 7-cylinder rotary piston engine; Performance: Maximum speed 60 mph (97 km/h); Endurance 3 hours; Weights: Empty 800 lb (363 kg); Maximum take-off 1,300 lb (590 kg); Dimensions: Span 42 ft 6 in (12.95 m); Length 28 ft 2 in (8.59 m): Height 9 ft 4 in (2.84 m); Wing area 240.0 sq ft (22.30 m2)
---
Handley Page E/50, (H.P.5), "Yellow Peril", 1911 http://www.wwi-models.org
This aeroplane is historically significant, in that it was the first successful design by Frederick Handley Page (1885-1962) whose company later became known for multi-engine bombers in WWI and later. In 1908, Handley Page became chairman of the Aeronautical Society and the next year he formed his own manufacturing company.
Handley Page E/50, (H.P.5), "Yellow Peril", 1911

Karen Rychlewski's British Aircraft Models


With Jose Weiss, he designed crescent-winged single-seat monoplanes (Types A, B, and C) which were underpowered and unsuccessful. The Type D appeared at the March 1911 Aero Show but was wrecked before the July 1911 Circuit of Britain race. The Type E was an improved and enlarged version of the Type D: a two-seater powered by a 50 hp Gnome.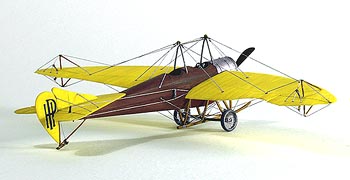 Handley Page E/50, (H.P.5), "Yellow Peril", 1911

Karen Rychlewski's British Aircraft Models


The wing and tail surfaces were given a protective coating of cellulose whose bilious yellow-green color earned the aeroplane the nickname 'Antiseptic' or 'Yellow Peril'. It flew successfully for about a year until it was severely damaged in a crash; when it was rebuilt, it had so many different features that it was basically a different airplane. For the complete story, remember to go to www.handleypage.com
---
A History of Aeronautics
by E. Charles Vivian
XIII. First Fliers in England
http://www.bookrags.com
Frederick Handley Page, who started in business as an aeroplane builder in 1908, having works at Barking, was one of the principal exponents of the inherently stable machine, to which he devoted practically all his experimental work up to the outbreak of war.
The experiments were made with various machines, both of monoplane and biplane type, and of these one of the best was a two-seater monoplane built in 1911, while a second was a larger machine, a biplane, built in 1913 and fitted with a 110 horse-power Anzani engine.
The war period brought out the giant biplane with which the name of Handley Page is most associated, the twin-engined night-bomber being a familiar feature of the later days of the war; the four-engined bomber had hardly had a chance of proving itself under service conditions when the war came to an end.
---
Sir Frederick Handley Page
http://www.allstar.fiu.edu
Frederick Handley Page was born at Cheltenham, England on November 15, 1885. After technical training and early employment in the field of electrical engineering, he founded Handley Page, Limited in 1909 at age 24.
Handley Page's design brilliance was manifested first in the 0/400 heavy bomber that flew in 1917 and later in the V/1500. The V/1500's four engines provided the astonishing bomb load of six and one-half tons and an endurance of twelve hours.
Recognizing the long-range transport value of large aircraft, Handley Page founded Handley Page Transport, Limited in 1919 and with it opened routes to Paris and Amsterdam. This company later became Imperial Airways....more
---
Handley Page : A Brief History of the Company
http://www.handleypage.com
Frederick (later Sir Frederick) Handley Page first experimented with and built several biplanes and monoplanes at premises in Woolwich, Fambridge and Barking Creek, before settling on works at Cricklewood in North London and Radlett Aerodrome, Hertfordshire. His company, Handley Page Ltd, became the first public company to build aircraft when it was founded on 17th June 1909.
Few of his early projects were memorable, in spite of unusual names like Bluebird, Antiseptic and Yellow Peril, until he embarked on the O/100 in 1911, then the largest aircraft built in Britain. Used primarily as a heavy night bomber, the O/100 featured folding wings, an enclosed cabin with bullet-proof glass and armour protection, and engines mounted in armoured nacelles.
Improvements to the O/100 resulted in the O/400, powered by twin 360hp Rolls-Royce Eagle VIII engines, of which more than 450 were built in the UK in 1918/19. Some of these made useful interim 10-seat civil transports after the Armistice. The O/400 conversion led to the construction of the company's first purely civil transports, the W8, W9 and W10.
Featuring an open cockpit for the pilot and an enclosed cabin for 15 passengers, the W8 made its first flight on 4th December 1919, followed on 1st October 1925 by the three-engined W9 (only one built), and the W10, reverting to two engines, that same year....more
Top | Pioneers Home