---
1st Lt. Kathryn "Kate" M. Gries
Pilot : B-1B Lancer
---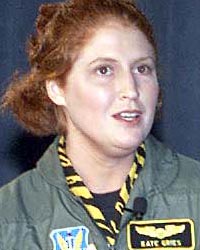 1st Lt. Kate Gries
http://www.defenselink.mil
Air Force 1st Lt. Kate Gries, a B1-B bomber pilot, tells ABC television reporter Cokie Roberts and a Bertie Backus Middle School audience about being a bomber pilot and what freedom means to her during the April 30, 2002, "Celebration of Patriotism" Web cast from the school, in Washington, D.C.


Photo by Rudi Williams
---
Pilot to represent AF in Web panel
http://www2.acc.af.mil
First Lt. Kate Gries, 37th Bomb Squadron B-1 pilot, was selected to represent the Air Force for an Internet Webcast on patriotism.
By Capt. James H. Cunningham III, 28th Bomb Wing Public Affairs
ELLSWORTH AIR FORCE BASE, S.D. (ACCNS)
An Ellsworth B-1 pilot will represent the Air Force on a panel of military members and citizens who'll share their views on patriotism and freedom through a nationwide, interactive Webcast April 30.
First Lt. Kate Gries of the 37th Bomb Squadron and other panel members will also answer questions from students at 13 schools across the nation via the Internet. The panel was organized by Together for Freedom, a nonprofit organization whose purpose is to promote patriotism.

"We had about a dozen nominees from across the Air Force, any one of whom would have represented us well," said Capt. David Englin of the Air Force Office of Public Affairs. "They came from a variety of ranks and specialties, but Lieutenant Gries stood out among the nominees because of her combat record over Afghanistan."
Gries flew combat bombing missions over Afghanistan during Operation Enduring Freedom. Missions included close air support, where she worked with special operations forces on the ground to destroy targets.
"I hope they'll hear our message of not taking freedom for granted, find the ways it impacts their lives, and be grateful for that gift," Gries said.
---
Service members discuss freedom on national Web cast
http://www.dcmilitary.com
A soldier, a Marine and an Air Force bomber pilot discussed patriotism and freedom with middle school students nationwide during an unusual Web cast in Washington Tuesday. [...]
The program, called "Celebration of Patriotism," went over the Web to 14 middle schools nationwide. Anyone with Internet access also could watch by visiting the Together for Freedom Web site, www.TogetherForFreedom.org. An encore presentation can be viewed May 13 at 11 a.m.[...]
Military panelists were
Marine Lt. Col. Dave Lapan, a DoD public affairs officer;


Air Force 1st Lt. Kathryn "Kate" M. Gries, who flew B1-B bomber combat missions over Afghanistan with the 34th Expeditionary Bomb Squadron of Mountain Home Air Force Base, Idaho;


Army Ranger Sgt. LaShaun O'Neal Lawery of the 3rd Battalion, 75th Ranger Regiment, Fort Benning, Ga. Lawery was part of the first offensive action of Operation Enduring Freedom and participated in a combat parachute assault onto Objective Rhino on Oct. 19, 2001.

Gries told the audience about being a B1-B co-pilot and emphasized,
"Every opportunity is available to women on the war fighting team."
Asked what freedom means to her, Gries responded,
"Freedom means you can choose what you want to do." She added she was able to become a bomber pilot because of freedom in America, but also noted, "Along with freedom comes responsibility, not only to preserve it, but to appreciate it."
She said everyone could do this by choosing a career of service or in small ways every day by sending messages of support.

Top | Pioneers Home