---
Hans Grade (1879 - 1946)
---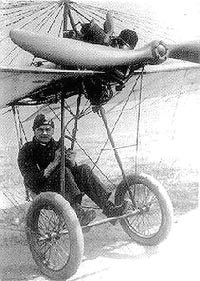 Hans Grade
http://www.msc-hansgrade.purespace.de
Hans Grade was an engineer and a german aviation-pioneer. On the 28th of October 1908 he successfully conducted the first motor-flight over german soil in a motorised aircraft of his own construction at Magdeburg.
A year later, on 30th October 1909 he won the 40.000 Reichsmark "Lanz-Preis der Lufte", as he was the first german to fly a flat "8" in a german aircraft with german engine around two pylons, standing at a distance of 1000 meters (no match for pilots from other nations at that time).


The small aircraft company, founded with this money, did not survived the Versaille-agreement of 1918. His extraordinary construction of driving a car with no use of a gear-box did not stand against the established constructions. In the early 30s he worked out some smaller constructions for bigger german aircraft companies. Hans Grade died in 1946 at the age of 67.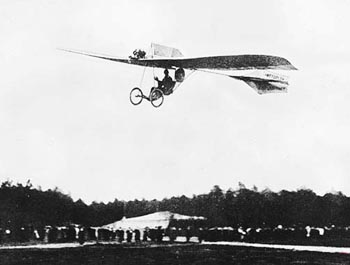 Hans Grade Monoplane, c.1909
---
Hans Grade
http://www.adamsaviation.co.uk/
On 30 October, 1909 : Hans Grade received a prize of 40,000 Marks for the first flight by a German aeroplane powered by a German aero-engine. A three kilometre long figure of eight was flown from Johannisthal.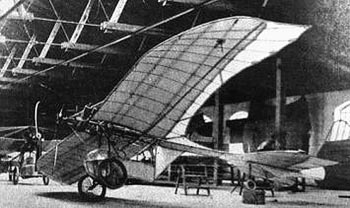 Hans Grade Monoplane, c.1909
---
Hans Grade Monoplane, c.1909
http://www2.hmc.edu
Hans Grade was a young German engineer who began experiments with a triplane at Magdeburg Athletic Field. On 8 October, 1908, he succeeded in making a short hop, attaining an altitude of 24 feet. Continuing his work he eventually evolved a monoplane similar to the "Demoiselle", but of somewhat larger dimensions.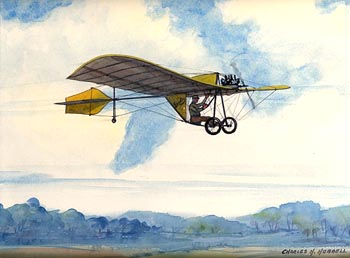 Hans Grade Monoplane, c.1909

Charles Hubbell


In September 1909, he made the first recognized flight of a German designed and built airplane from the Johannisthal Aerodrome at Berlin. The first flights were scarcely more than hops, but by November, 1909, he had logged one journey of 55 minutes duration.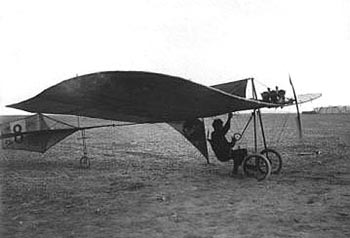 Hans Grade Monoplane, c.1909


A Grade monoplane carried Germany's first air mail, when pilot Pentz made a flight from Bork to Bruck in February 1912 with a small sack of mail in his lap. Although successful, Grade monoplanes did not become as famous as many contemporary European designs, and for this reason comparatively few were built. (Charles H. Hubbell)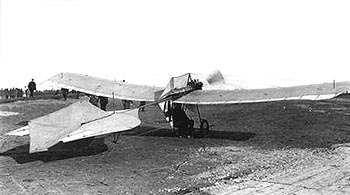 Hans Grade Monoplane, c.1909
---
Hans Grade : Timeline
http://www.borkheide.de/grade.htm
1879 : Hans Grade is born in Köslin, May 17
1895 : Constructs of his first model plane
1900 : Trains in mechanical engineering in Gevenbroich/Cologne
1900 : attends the Polytechnic in Berlin. Till 1904
1903 : Constructs his first motorcycle in Köslin
1905 : Establishes the Grade Motor Factory in Magdeburg
1907 : Constructs his first triplane
1908 : Makes his first flight in his triplane, Magdeburg, August 28
1909 : Moved his factory and his monoplane to Bork (now Borkheide), August 14
1909 : Makes his first flight in his monoplane "Libelle"(dragon fly), Bork, August 17
1909 : Winner of the "Lanz-Price of aviation" in Johannisthal then air displays in Hamburg, Bremen, Breslau and Magdeburg, October 30
1909 : Construction begins in December of the first aircraft factory in Bork
1910 : In February he inaugurates the first pilot school at Bork.
1910 : Begins aeroplane construction, May 1
1911 : Makes cross country flight Magdeburg-Biederitz in 16 min., April 9
1911 : Sets an altitude record in Magdeburg of 1450 meters, April 10
1912 : Awarded The Crown Medal 4th class by the Emperor
1912 : Hermann Pentz flying Hans Grade´s plane flies makes the first postal deliveries from Bork to Brück, February 18
1912 : Conducts the first trials with his aquaplane, Blankensee/b.Trebbin August 21
1912 : Makes a cross-country flight plane from Johannisthal to Magdeburg in a three seater, December 12
1914 : Repairs aircraft as part of the German war effort. Till 1917
1917 : Sells his factory to AVIATIK and begins construction of his second factory
1918 : He develops a tractor and designs the first German small car
1919 : Begins automobile production. Between 1919 - 1924, some 1000 cars are built.
1925 : The Grade Automobile Company closes
1934 : Grade recieves research contracts from industry
1937 : The film "Ziel in den Wolken" is shot in Borkheide with Grade playing himself. Once again he flies his original aircraft.
1946 Hans Grade dies on October 22

© 1999-2000 Borkheide.de (Webmaster) Edited Dr Russell Naughton 03/02
Top | Pioneers Home