---
Pauline Mary de Peauly (Gower) (c.1910-1947)
---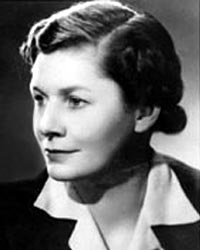 Pauline Gower
http://www.bbc.co.uk
Seventy years ago (August 1931), in a small field in Kent, Pauline Gower set up the first all-female air taxi service. By the start of WW2, she was an acclaimed aviator and flying instructor and was invited to set up the women's section of the ATA (Air Transport Auxiliary), which used civilian pilots to ferry war planes round Britain.
Jenni Murray talks to Aviation Historian Penelope Dent about the extraordinary life of the intrepid Pauline Gower
This soundfile requires the Real Audio Player - You can download the player for free Here
---
A Brief History of The Air Transport Auxiliary
http://www.motherflieshurricanes.com
by E.M. Singer
©Avidia Cascade Press 1999
The Air Transport Auxiliary began with an idea: In 1938, Gerald d'Erlanger, director of British Airways, foresaw a problem: An inevitable war with Germany would lead not only to the suspension of many overseas routes, but also to the impounding of civil aircraft by the British government. The result: Commercial pilots would have no planes to fly, and nowhere to go. In addition, there were many private pilots who faced the same predicament.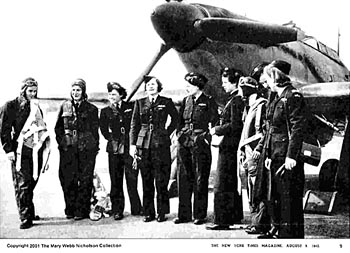 Pauline Gower (fourth from left) and women of the ATA, Aug 1942

Other names to be added

download a 750pixel image


In the event of war, the government would severely restrict--if not prohibit entirely--flying activities by amateurs, and impound their aircraft as well. Some of these commercial and civilian pilots could, and would, be absorbed into the Royal Air Force. But many capable and experienced pilots, because of their age and in some cases because of physical limitations, would not be considered suitable for operational service in the RAF.

But d'Erlanger believed that war would create a demand for the services these pilots could provide, such as transporting dispatches, mail, supplies, medical officers, ambulance cases, and the occasional VIP. He contacted the Parliamentary Under Secretary for Air, Harold Balfour, and the Director General of Civil Aviation, Sir Francis Shelmerdine, and proposed the creation of a pool of peace-time civil pilots who could employ their aviation skills in service of their country.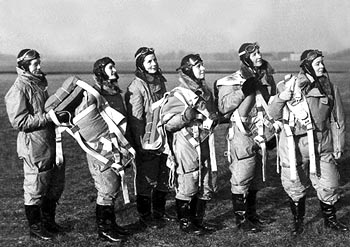 Pauline Gower (far left) and women of the ATA, c.1942

Other names to be added

download a 1000pixel image


As he was the one with the idea, he was given the job: to contact holders of "A" (private) licenses with at least 250 hours of flying time, and make arrangements to interview and flight-test these candidates with the goal of incorporating them into this newly created organization, which was given the working name "Air Transport Auxiliary."

About a hundred pilots responded to the offer, and they came from all walks of life: doctors, lawyers, stockbrokers, artists, innkeepers, journalists, factory managers, farmers. War broke out on September 3, 1939, just as the first of these men were arriving at a base in the west of England for vetting.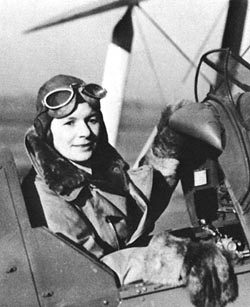 Pauline Gower
download a 500pixel image
---
Further Reading
Online
Air Transport Auxiliary (ATA)
http://collections.ic.gc.ca
Air Transport Auxiliary
http://www.fleetairarmarchive.net
Museum of Berkshire Aviation
http://www.bigwig.net
The ATA - Women with Wings
http://www.raf.mod.uk
---
Further Reading
In Print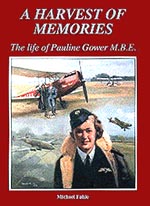 Fahie, Michael
A Harvest of Memories
The Life of Pauline Gower, MBE
England: GMS Enterprises, 1995 Buckram. ISBN:1870384377
www.aerobookstore.com
Pauline Gower was a woman of drive and purpose. She had to be, she overcame her father's opposition to her burning ambition to become a pilot.
With a few like-minded and determined women she entered the world of flying - then male dominated.


Both when Pleasure Flying and working with numerous Flying Circus', she demonstrated abilities and qualities of leadership at least equal to those of the distinguished male aviators with whom she worked and at times competed.
Pauline was essentially a woman of action. During the build-up to World War Two this translated into being a Commander in the Civil Air Guard then founder and Commandant of the omens Section of the Air Transport Auxiliary.
From 1943 Pauline was appointed to the Board of BOAC- the first time a woman was appointed to such a position within the United Kingdom and as far as is known, the first time a woman served on the Board of a state airline anywhere in the world.
Sadly, Pauline passed away in 1947, giving birth to twin boys - one twin, Michael - set out to discover the woman, the pilot and the mother he never knew.
This book, is 'A Harvest of Memories' from people that knew her. A Royal Quarto sized Hardback, the book contains over 200 illustrations taken from the Golden years of Flying of the 1930s, right through to the austere war years, almost all of which have never been seen in print before.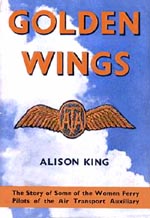 King, Alison
Golden Wings.
London, UK., C Arthur Pearson Ltd., 1956
Reprint, 1975. White Lion Publishers Ltd. ASIN: 0856174483



Top | Pioneers Home