---
Lt. j.g. Sara "Goalie"
Pilot/Navigator and Weapons' Officer F-14 Tomcat
---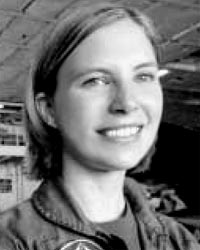 Women pilots flying combat missions over Afghanistan with little or no fanfare
http://www.womenmilitaryaviators.org
By Chris Tomlinson, AP, 10/23/01
Aboard The USS Roosevelt
After flying an attack mission on Afghanistan Tuesday, Lt. j.g. Sara said she didn't think she and other women pilots should be singled out for attention -- or that what she was doing was historic.


Indeed, little attention has been focused on women fighter pilots and weapons' officers during the war on terrorism, even though it is only the second major U.S. military campaign since the Navy decided to allow women to fly combat aircraft in 1993. Kosovo was the first.
"I've never thought that it was a big deal that I was an aviator, I just go out there and do my job," Sara, the 25-year-old from Billings, Mont., said. "I don't like to see women singled out, basically."

For security reasons she can only be identified by her first name -- and her call-sign, "Goalie." Sara, who was surprised by media requests to interview her, said she is proud of the example the United States has set by allowing her to fly combat missions. ...more

Top | Pioneers Home