---
Captn. Cathy De La Garza
Pilot : F-15 Strike Eagle
---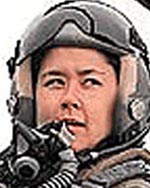 "The timing was right"
http://userpages.aug.com
By William H. McMichael
LANGLEY AIR FORCE BASE - It was the summer before her senior year at the University of Texas at Austin, and officer candidate Cathy De La Garza was headed to an air base in Florida to spend two weeks "shadowing" an active duty officer. The idea was to get a taste of the real Air Force before she graduated.


The officer was an F-15 pilot. And De La Garza had always wanted to fly. "I got a couple of rides when I was down there," she said, "and that just brainwashed me." De La Garza knew what she wanted to do. And the timing was right. That spring, the Pentagon had begun allowing women to compete to fly combat aircraft.
Today, De La Garza is one of only seven woman F-15 pilots in the Air Force. For the past two years, she has flown the F-15C, a powerful air-to-air combat version of the jet, for the 71st Fighter Squadron at Langley Air Force Base.
It's a tour of duty that has included two deployments to the Persian Gulf region and roughly 50 flights over the "no-fly" zone in southern Iraq. Now a captain, she also recently earned an upgrade to "2-ship flight lead"; that means she can lead another jet out on a combat mission. ...more
Top | Pioneers Home