---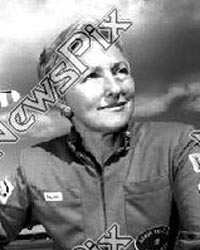 Gaby Kennard
http://www.earthrounders.com/singles.html
In 1989, Gaby Kennard flew her Piper Saratoga 'Gerty' (VH-GKF) east around the globe. The journey took 99 days and covered 29,000 NM. Gaby Kennard was the first Australian woman to fly solo around the world.
---
One small dream at a time : Gaby Kennard
By Paula Johnson

Colorado Voices http://uss001.infi.net/denver/post

Dec. 26 - SNOWMASS VILLAGE - Megan, an Australian exchange student, told me that when she was homesick due to being away from her family for a year, she would "hod out.''

"Hod, hot, Megan, what?'' I was slow. "Hod, you know. You would say hard.'' She emphasized the r. "Hard out. What's that?'' She knew I was terminal at this point. "That's when you go out and do something really hard. Like a run. Or you find a friend. You don't sit around and feel sorry for yourself.''

I thought it was brilliant, a good aid for depression. We should all hard out and do the things we really want to do. In my college classes I would sometimes have the students think about their goals. One semester we did a list: Ten Things to Do Before I Die.

I don't mean things like: 1. Be rich. 2. Edge all my Internet competitors out of cyberspace. 3. Get my first six zeros before I'm 23. I mean things like: 1. Bungee jump in Africa. 2. Write a top-of-the-chart song. 3. Do something about that mountain of cardboard at the dump. Personal stuff. Stuff that would make your life full.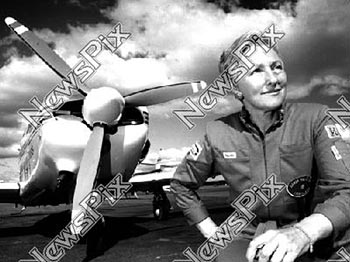 Gaby Kennard and her Piper Saratoga 'Gerty' VH-GKF


Gaby Kennard was in that particular class. She was the first Australian woman to fly a single-engine plane around the world. She followed Amelia Earhart's route where she could. Her engine stopped over the Pacific due to a fuel routing system that failed. She managed to get it going again and there she was in class in Aspen, a few years later, inspiring us all.

Gaby was having some of the usual life problems when one day she decided to follow this dream. " ...- I had decided to fly around the world solo. This was a momentous decision, because I had no husband (who would look after the kids?), no aircraft, no spare cash, no job, no nothing ...- just a burning desire! I would show myself ...- that I could do it, without financial help. ...- I had a theory that if you could dream it, you could do it,'' she wrote later in her book, "Solo Woman.''

I also admire Janet Guthrie for cracking the all-male car racing circuit and my sister-in-law, who was the sixth woman in Colorado ordained as an Episcopalian priest. She was raised Catholic, but found a way to make her dream of priesthood come true.

Some people take sabbaticals or quit their jobs and travel around the world. Some study with Buddhists. Some write poetry. Some start support groups or national groups like MADD. Some change civil rights forever. Some go to Nashville. I didn't care what my students did, as long as they had a dream.

One of my fellow instructors said that the problem with firing up students with a dream was that one day they would realize the dream was not going to come true and they would be disillusioned. I just walked away, shaking my head.

I decided that I would rather sit on my tombstone and say, "I tried,'' rather than, "It would be too devastating to learn I couldn't make something happen, so I didn't try at all.'' So I continued encouraging dreaming in my class.

And I encourage you. Our resolutions this year should pack a wallop. I hope your list includes something for others. Maybe No. 3 is saving salmon in the Northwest, or making sure everyone in greater Denver has a coat in 2001 or signing up with Scouting or the Big Brother program and helping even one child.

It's true that a list is just another scrap in the paper pile on your desk unless you consider commitment, hard work and determination. Everyone has a dream. The difference between someone like Gaby and someone who is "devastated'' because it didn't work out is hard work. Gaby had huge obstacles to overcome. She needed a plane, funding, airport clearances. She broke her project down into segments and tackled small jobs daily.

So today, write your list. Tomorrow pick one item. The next day, work up an action plan of what you'll do when. And the next day begin. Let's "Dream the impossible dream and fight the unbeatable foe.'' We can change the world and our lives, one small dream at a time.

Paula Johnson lives in Snowmass Village

Copyright 1999-2000 The Denver Post. All rights reserved.
This material may not be published, broadcast, rewritten or redistributed.
---
Lions back Gaby's Flying Doctor Quest
March 1993, The Lion Magazine
Famous Australian aviatrix Gaby Kennard will soon be off on another adventure. It will be an adventure with two purposes, to fly solo in a single engine aircraft around Australia and to help raise $1 million to buy a new plane for the Royal Flying Doctor Service.
The 1st Australian woman to fly solo around the world will take off on the 15th of May. Flying in a Seabird Seeker built at Hervey Bay in Queensland, the flight will cover 8.000 air miles in 40 days, with landings in 39 cities and towns.
And along the way the Lions Club of Mount Druitt (N5) is hoping that Lions Clubs will give Gaby a hand. Mt Druitt coordinator Lion Colin Cameron says his club is planning a Dinner Dance which is expected to raise $2000 for the RFDS.
"Our club has further agreed, with the relevant D.G's permission, to write to Lions Clubs across Australia on an individual basis seeking help for this worthwhile project. For this support Gaby has agreed to have a large Lions Club badge on her aircraft, which we hope will be noticed every time she appears on television".
Lion Colin says the club has set up a special trust account to handle donations. As a result a cheque for $18,000 (the largest received by Gaby) was accepted and passed onto the RFDS.
---
On Film/Video

Solo Woman : National Geographic
A true story of self-motivation, courage and high flying adventure. Inspired by the aviation pioneer Amelia Earheart, Gaby Kennard was the first Australian woman to fly solo around the world. This extraordinary program looks at the very real and personal challenge Gaby set herself, and the man harrowing moment she experienced in the single engine Piper Saratoga. By challenging her fears she came to know herself, and conquered the world and the hearts of everyone she met.
---
Further Reading

Kennard, Gaby. Solo Woman. Gaby Kennard's World Flight. Syd., Sally Milner Publishing. 1990. Or.bds. Dustjacket. 216pp. b/w plates and ills. Fine. 1st ed. Inscribed by Gaby Kennard. The story of the first Australian woman to fly solo around the world.