---
Frances Jean Righter Tucker
Daughter of Aviation Engineer : Walter Hammond Righter (1905 - 1982)
---
Walter Hammond Righter married Norma Lucile Forman in Santa Ana, Calif. June 25, 1929. He took his bride to live in a rented two-bedroom house at 2048 Watson Street, Glendale, Calif. After a couple years renting the little house - he bought it.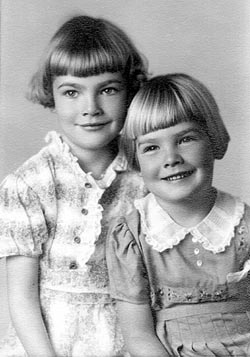 Frances Jean and Catherine Louise Righter c.1938

click image to enlarge


Their first daughter, Frances Jean, arrived March 27, 1932 and their second, Catherine Louise, Sept. 12, 1934. In 1959 still living there, but in a spacious house…In 1947 Walt had bought the little house next door and built the two into one lovely four bedroom home and they "stayed put" for the next thirteen years. A total of 41 years was spent living on Watson St.

In 1960 Walt and Norma moved to the Righter Ranch at 12751 So. Tustin Ave. Orange, CA. (Tele: KEllog 8-1711) By 1966 the ranch was sold and in September they moved a few blocks away at 12912 Malina Drive, Santa Ana, CA where they lived out their lives.