---
Cornelia Clark Fort (1919 -1943)
---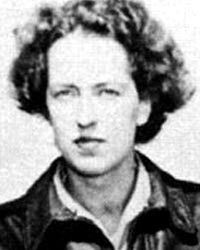 Cornelia Fort
http://www.pbs.org
On December 7th, 1941 Cornelia Fort, a young civilian flight instructor from Tennessee, and her regular Sunday-morning student took off from John Rodgers Airport in Honolulu.
Fort's apprentice was advanced enough to fly regular take-offs and landings and this was to have been his last lesson before going solo. With the novice at the controls, Fort noticed a military aircraft approaching from the sea.


At first that didn't strike her as unusual; Army planes were a common sight in the skies above Hawaii. But at the last moment, she realized this aircraft was different and that it had set itself on a collision course with her plane.
She wrenched the controls from her student's grasp and managed to pull the plane up just in time to avoid a mid-air crash. As she looked around she saw the red sun symbol on the wings of the disappearing plane and in the distance, probably not more than a quarter mile away, billowing smoke was rising over Pearl Harbor.
The disbelieving Fort had just unwittingly witnessed the U.S. entry into World War II. A little more than a year after this near miss, Fort would be flying military aircraft for the U.S. and a mid-air collision would tragically make her the first American woman to die on active military duty. ...more
---
Cornelia Fort
http://www.geocities.com
The WAFS (Women's Auxillary Ferrying Squadron) were the original group of 28 female pilots who entered the service in October, 1942 at New Castle, Deleware. The group was headed by Nancy Love. These women were already qualified pilots, many with more flying experience than the men who tested them.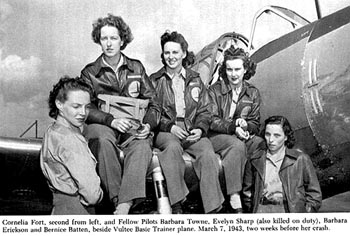 Cornelia Fort and other WAFS, March 7, 1943

download a 750pixel image


The military gave them ground school training but no flight training. They either passed or failed their flight check. In 1986 Adela Scharr published Sisters In The Sky a book that caused a lot of controversy among the remaining original WAFS.

Cornelia had been teaching flying in Pearl Harbor on the morning of the attack, Dec. 7, 1941, and her experiences were published in Woman's Home Companion, June, 1943.

The editor wrote this about her story:

Here is one of the most remarkable articles ever published - a personal story by the first woman pilot to die on war duty in American history. Shortly after she sent it to us, Miss Fort, twenty-four, of Nashville, Tennessee, was killed when the bomber she was piloting crashed in Texas. But her words here will live - as a moving account of why one woman joined the WAFS and as a testament to all American women who are helping keep America free.

These WAFS were sent to Long Beach, CA in February, 1943. Bernice Batton was in the bunk next to Cornelia. When Cornelia got killed someone brought some of Cornelia's clothes back, blood and all, and piled them on Cornelia's bunk. They stayed there for a few days, much to Bernice's horror. One day the belongings just disappeared.

Bernice was later checked out in a P-51. On her first ferry mission she left Long Beach on the usual heading and after getting the gear up, the flaps up and the plane trimmed out she got out the maps to see where she was. She was already on the third sectional chart before she located her position. Cruising at 350 knots was totally new to her.

Barbara Towne had been a model and was the mother of two boys. She was 24 years old when this picture was taken. I tried calling her and wrote several times but she felt that she had nothing to add to our recollections. I can only imagine that she had no personal knowledge of the crash. These were all corageous women who were test pilots for the planes they flew.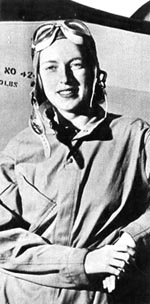 At the twilight's last gleaming
http://www.geocities.com
by Cornelia Fort, Woman's Home Companion, June, 1943
I KNEW I was going to join the Women's Auxiliary Ferrying Squadron before the organization was a reality, before it had a name, before it was anything but a radical idea in the minds of a few men who believed that women could fly airplanes. But I never knew it so surely as I did in Honolulu on December 7, 1941.
At dawn that morning I drove from Waikiki to the John Rodgers civilian airport right next to Pearl Harbor, where I was a civilian pilot instructor. Shortly after six-thirty I began landing and take-off practice with my regular student.

Coming in just before the last landing, I looked casually around and saw a military plane coming directly toward me. I jerked the controls away from my student and jammed the throttle wide open to pull above the oncoming plane. He passed so close under us that our celluloid windows rattled violently and I looked down to see what kind of plane it was. ...more
---
Who's Who in Nashville's History : Cornelia Fort
http://www.library.nashville.org
by Ophelia Paine, Nashville Historical Commission, January 1996
Cornelia Fort was the first woman pilot to die on active duty, the first Tennessee service woman to die in World War II and Nashville's first woman flight instructor. Born the fourth child in a wealthy and prominent family in Nashville, Cornelia Fort graduated from Sarah Lawrence College at the age of twenty.
She became enthralled with flying and earned both her pilot and instructor licenses. While teaching flying in Hawaii, Cornelia Fort witnessed the japanese attack on Pearl Harbor on Dec. 7, 1941. When war was declared, she becoame part of the Women's Auxiliary Ferrying Squadron. Cornelia Fort had logged more than 1.100 hours of flying time when another plane crashed into her, killing her instantly.
Her epitaph proudly reads "Killed in the Service of Her Country."
---
Cornelia Fort
http://www.wpafb.af.mil
Cornelia Fort was working as a civilian pilot instructor at Pearl Harbor on the very day the Japanese planes came over. She was the second woman to join the WAFS and became the first fatality of the WAFS when she was killed in March, 1943.
Cornelia Fort was the daughter of a prominent Tennessee family, had attended Sarah Lawrence College, Bronxville, New York, and was a flying instructor in Hawaii, being in the air with a student when the Japanese came over Pearl Harbor on December 7, 1941. Her two brothers were in the United States Army.
She learned to fly at Nashville and had first soloed on April 27, 1940. She received a private pilot's license on June 19, 1940, and an instructor's rating on March 10, 1941. She then became a Flight Instructor for the Massey and Rawson Flying Service, Fort Collins, Colorado, taking part in the Civilian Pilot Training Program (CPTP).
The WAFS suffered their first fatal accident when BT-13A, serial number 42-42432, collided in mid-air with another plane. Her plane crashed after the collision, was entirely demolished, and she was killed. The other (male) pilot was unhurt. Both pilots were stationed at the 6th Ferrying Group base at Long Beach, California, although the accident took place ten miles south of Merkel, Texas, on March 21, 1943.
At the time of the accident, Miss Fort was one of the most accomplished pilots of the WAFS and had some 1,100 hours to her credit.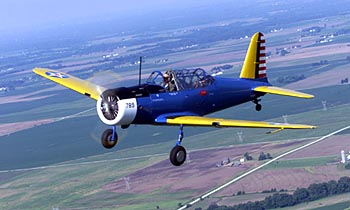 Vultee BT-13 Valiant or "Vibrator"
download a 750pixel image
http://www.quadcityairshow.com
---
Cornelia Fort
http://www.machair.net
Cornelia Fort was flying with a student pilot on the morning of December 7, 1941, when they nearly collided with a Japanese aircraft leaving the scene at Pearl Habor. Thus she became one of the few airborne eyewitnesses to the attack. Fort learned to fly after graduating from Sarah Lawrence College and she became a flight insturctor in Colorado, and then, in Hawaii.
In Jaunary 1942, Jacqueline Cochran invited her to join the group of women flying for the Royal Air Force Air Transport Auxiliary. Fort, however, was still awaiting evacuation from Hawaii. When she finally arrived back in Nashville to begin instructing for the Civilian Pilot Training Program (CPTP), she was in demand as a speaker and was even featured in a short war movie.
She was the second woman to volunteer for the Women's Auxiliary Ferrying Squadron (the WAFS, which later merged into the WASPs, or Women Airforce Service Pilots), whose members logged millions of miles ferrying aircraft to points of embarkation and towing targets for training exercises. On a routine ferrying flight in 1943, Fort died at the controls of an aircraft when another plane struck hers.
She was the first woman pilot to die in the line of duty for the U.S. military (the WASPs were granted retroactive military status in 1977.) A marker at the Cornelia Fort Airport in Tennessee bears this quote from the pilot: "I am grateful that my one talent, flying, was useful to my country."
---
Cornelia Fort
http://home.swbell.net
On this beautiful day over Texas, Cornelia (February 5, 1919 to March 21, 1943), with over 1,100 flight hours, and six male pilots, fresh from 90 days of training, were ferrying some new BT-13s to Dallas Love field. During this flight, they flew in close formation, which was not allowed during ferrying missions, for a portion of the trip.
At some point after most had returned to safer distances, the plane of Frank E. Stamme, who had 267 flight hours, collided with Cornelia's plane. His landing gear and the tip of Cornelia's left wing crashed together. The tip broke away along with six feet of the leading edge. Her plane eventually hit the ground in a vertical position. The engine went two feet into the ground. Cornelia was only 25 years old.
Cornelia was flying as an instructor in Hawaii on December 7, 1941. She was nearly knocked out of the sky by a Zero. (There is a scene in the movie "Tora Tora Tora" that recounts this.) After landing the plane she escaped being shot as another Zero strafed the field.
In September of 1942 she received an invitation to try out for the Air Transport Command. She was the second women to check in. She had 845 flight hours and most of that was as an instructor. Later she was joined by 27 other women who became known as the Women's Auxillary Ferrying Squadron.
---
Historical marker to pay tribute to female pilot
http://www.reporternews.com
By Nancy Robinson, Sunday, September 10, 2000
"The casket was sealed and draped with a flag in Abilene, and Cornelia's remains were shipped Tuesday morning on the Sunset Special from Abilene to Memphis..."
- from Daughter of the Air: The Brief Soaring Life of Cornelia Fort, by Rob Simbeck
Fifty-eight years ago today, United States Secretary of War Henry Stimson announced the formation of the Women's Auxiliary Ferrying Squadron. Although women were already flying actual combat missions in other countries, the WAFS were the first group of female flyers ever to be associated with the U.S. military.
Fewer than 50 women became WAFS. A WAF was required to have logged 500 hours and hold a commercial pilot's license in order to be accepted into the program. Later, the WAFS became part of the Women's Air Service Pilots program. The women would ferry military aircraft from factories to bases in order to free male pilots for combat duty in a war that had begun on Dec. 7, 1941, at a place called Pearl Harbor. ...more
---
Further Reading
Simbeck, Rob
Daughter of the Air
Grove/Atlantic, Inc., 1997, ISBN : 0871136880
http://search.barnesandnoble.com
From Publisher's Weekly
The first woman pilot to die on active duty in U.S. history, Cornelia Fort (1919-1943) was a member of the Women's Auxiliary Ferrying Squadron (WAFS), a civilian unit established during WWII to transport newly manufactured military planes from the factories to U.S. air bases.


Raised in a wealthy Nashville family and slated to become a privileged Southern socialite, Fort had first flown in 1940 and "was happiest in the sky." She quickly earned her commercial and instructor's licenses and was in the air over Honolulu training a student pilot on the day Pearl Harbor was attacked. ...more

From Library Journal
This slim volume documents the U.S. Women's Auxiliary Ferrying Squadron, a group of pilots who delivered aircraft wherever they were needed in North America during World War II. Simbeck tells the story through Cornelia Fort, the Sarah Lawrence-educated Southern belle who was the second woman to enlist and the first to be killed in the line of duty.
The text is thoroughly grounded in Fort's own words and in the recollections of her family and friends. Unfortunately, Simbeck's analysis sometimes tends toward the simplistic: for example, in his eagerness to promote a forgotten history, he blames all the women's difficulties on misogyny--an argument that is contradicted by Marianne Verges's seminal history, On Silver Wings: The Women Airforce Service Pilots of World War II, 1942-1944 (Ballantine, 1991). ...more

From Kirkus Reviews
A biography of aviator Cornelia Fort, from her wealthy Nashville (Tenn.) childhood to her pioneering career as a pilot and early death. Simbeck, a seasoned professional writer, has consulted letters, books, and articles of the time, interviewing many of Fort's family members and friends.
Born in 1919, she grew up on her family's farm with three older brothers and a younger sister, leading an active, privileged life bound only by the strict rules of her father, a medical doctor, successful businessman, and major landowner-first citizen of the city. ...more
---
Daughter of the Air: The Brief Soaring Life of Cornelia Fort
http://members.aol.com
by Rob Simbeck
It was not yet eight o'clock on Sunday December 7, 1941, and Cornelia Fort was flying. She and a student pilot had risen from the runway of Honolulu's John Rogers Airport into a brightening blue sky. Since October 1941, she had been working at Honolulu's Andrew Flying Service.
Her student, Sumala, was practicing takeoffs and landings in an Interstate Cadet when a squadron of Japanese fighters filled the sky. One attacked the little, unarmed Cadet and Cornelia was barley able to get the plane safely down.
Bob Tyce, a civilian and manager of the airport, was killed as were other civilians and servicemen. Cornelia survived, but because she was a woman she could not fight in the war. Dr. Rufus Elijah Fort, Cornelia's father, was one of the founder's of the National Life and Accident Insurance in Nashville and had a 365-acre estate called Fortland. ...more
---
Daughter of the Air
http://www.canadian99s.org
On the morning of December 7, 1941, Cornelia Fort was a 22-year-old flight instructor helping a student practice takeoffs and landings at the John Rodgers Airport in Honolulu. Just before 8 a.m., her life--and the history of the world--changed dramatically.
Cornelia watched as a military plane flew straight for the tiny Interstate Cadet she and her student were in. Startled, she grabbed the controls and jerked the plane out of the way. As the other plane passed close enough to rattle their windows, Cornelia saw that it was a Japanese fighter. The attack on Pearl Harbour had begun, and Cornelia landed amid machine gun fire.
Daughter of the Air, a new book from Atlantic Monthly Press, tells the story of how Cornelia, a Nashville debutante from a family synonymous with wealth and high society, became an unwitting participant in one of history's major turning points. ...more
---
Passionate Pilot
http://www.businessweek.com
As a young woman, my mother was a misfit in a world of debutantes and doilies. Her Nashville family, like those of many other well-to-do Southerners of the 1930s and '40s, had a butler, a chef, and various accoutrements of comfort. But Mom wasn't comforted: Among my early memories are her tales of how much she hated attending vapid and rigidly formal society dances. As soon as she could, she fled east to the intellectual safe haven of Wellesley College.
Imagine my inward glee, then, when I read in Rob Simbeck's Daughter of the Air of another young Nashville woman who had resented being forced to attend the very same dances at that city's Belle Meade Country Club. This woman, Cornelia Fort, eventually escaped her privileged past for the relative independence she discovered at Sarah Lawrence College in Bronxville, N.Y. Fort went on to live an extraordinary, if truncated, life as one of the first noteworthy female fliers in U.S. aviation history. ...more
---
More about the Women's Auxillary Ferrying Squadron
http://www.atterburybakalarairmuseum.org
Top | Pioneers Home