---
Jean Marie (Jeannie) "Tally" Flynn
Pilot : F-15 Strike Eagle - First female USAF fighter pilot
---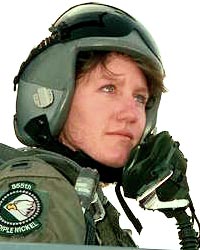 Jeannie Flynn
http://soe.stanford.edu
1994. Jean Marie (Jeannie) Flynn, MS '92 (Aero/Astro), USAF, is the first U.S. woman selected for combat training.

Call sign "Tally"
http://archives.indenial.com
The first female F-15E front seater Jeannie Flynn - was given the call sign of "Tally", as in "Tally-ho". Apparently she loved it.
---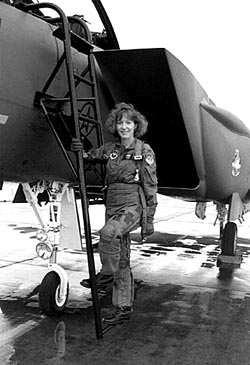 1st Lt. Jeannie Flynn
download a 500pixel image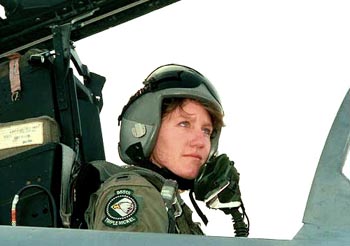 1st Lt. Jeannie Flynn
1st Lt. Flynn is assigned to the 555th for six months for F-15E tactical training.
Location: LUKE AFB, Arizona, USA, Oct. 21 1993
Photo : Staff Sgt Brad Fallen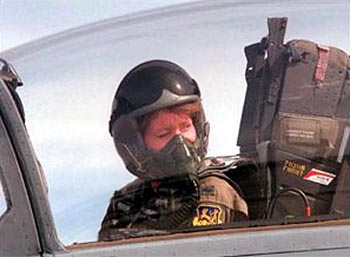 1st Lt. Jeannie Flynn
1st Lt. Flynn is assigned to the 555th for six months for F-15E tactical training.
Location: LUKE AFB, Arizona, USA, Oct. 21 1993
Photo : Staff Sgt Brad Fallen
---
Women Warriors : Can They Hack it in a Real War?
http://www.usvetdsp.com
by Ted Sampley U.S. Veteran Dispatch, August/September 1996 Issue
which says in part...
As the United States' involvement in Bosnia escalates, so does the possibility that some of our female combat pilots will also be shot down. Air Force Capt. Jeannie Flynn, stationed at Seymour Johnson Air Force Base in North Carolina, could be one of those women.
In 1994, Capt. Flynn made history when she became the first woman to break into the once exclusive male domain of United States Air Force combat pilots. On the surface, the ground breaking assignment of Capt. Flynn to the cockpit of an F-15E Strike Eagle fighter appears to be a victory for women seeking equal "career opportunities" within the military.
"I think it comes down to a personal level--your own challenge, coordination, reaction, things like that," Capt. Flynn, 28, told the Raleigh News and Observer. "I don't think it's gender specific."
It is not the intention of this article to single out Capt. Flynn for personal criticism. However, she chose to be the first in the Air Force to assert herself as a female combat pilot.

She has set herself up to be discussed and evaluated in relationship to a critical question about the wisdom of assigning women to combat units. That question is what are the advantages to combat readiness and the defense of the United States in substituting women for men in combat?

[...]

BLOOD AND GUTS BATTLEFIELD

Other pilots who know Capt. Flynn say she is a pretty good pilot. But, like many young, inexperienced pilots, Capt. Flynn's perception of real war comes only from textbooks.

Targeting an enemy on a video screen from five miles high in the sterile, push-button environment of an air conditioned fighter is not all that is involved in combat.

On the battlefield where the bombs explode, the fighting environment is much more hostile and personal and one thing is sure--sooner or later some U.S. pilots will end up on the ground in the combat zone.

The purpose of our armed forces is to fight and win when diplomacy fails. For those unfortunate enough to be assigned to fight, they serve for one purpose--to seek out and destroy the enemy by whatever means available.

Graphically stated, the combatant must, by the aggressive use of various weapons reduce other living humans to piles of mangled dead and rotting flesh. In combat, there is no other purpose.

To survive in these conditions, the combatant on the ground must be in top physical condition with a long term and inborn stamina that will not wain, regardless of the obstacles that must be overcome. By nature, women are smaller, slower and have 40% less upper body strength than men.

The U.S. Veteran Dispatch asked the Air Force if it was satisfied that if shot down Capt. Flynn, who weighs 110 pounds, could carry her 200 pound backseater if he had the misfortune of being seriously wounded.
"We do not use a crew member's ability to carry other members of the crew as a selection criteria . . . that capability is simply not a reasonable expectation of any crew member, male or female," the Air Force responded.
Top | Pioneers Home