---
Lt. Kelly Flinn
Pilot : B-52H Statrofortress

. First woman to pilot a B-52H Statrofortress
---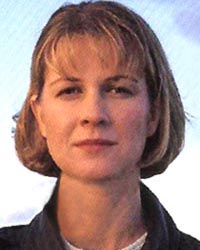 First female bomber pilot enters training
http://www.af.mil
COLUMBUS AFB, Miss. (AFNS) -- A Columbus student pilot will make history March 31 when she takes the initial step toward becoming the country's first woman pilot to enter B-52 combat crew training.
Following undergraduate pilot training graduation and several weeks of follow-on training, 2nd Lt. Kelly Flinn will enter the formal training unit at the 11th Bomb Squadron, Barksdale AFB, La., to learn to fly the B-52 Stratofortress.


During the recent assignment selection process for UPT class 95-04, Flinn gained national attention when she picked the venerable bomber. Although she was aware there was a possibility she would be the first woman to get a B-52 assignment, it did not factor into her decision.
"There were several aircraft available that had the mission I wanted," she said. "But the B-52 encompassed them all. It's a combat aircraft with a worldwide mission, and it's involved in almost all our defensive and offensive actions."
After talking to several B-52 pilots during the two weeks she had to finalize her decision, Flinn said she realized it was the mission she wanted. "The fact I'm the first is an additional benefit to an already great assignment," she said. ...more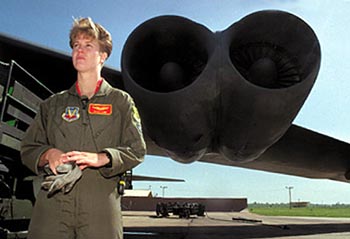 Lt. Kelly Flinn
The Military Career of Lt. Kelly Flinn
http://www.kellyflinnfoundation.org
Although much of the public attention has focused Lt. Flinn's status as the first female B-52 pilot, her record reflects far more than that immense achievement. In fact, Lt. Flinn's record as an Air Force Academy cadet, officer and pilot must be described as nothing less than exceptional. Lt. Flinn has served the Air Force honorably for almost eight years and her discharge characterization should reflect this honorable service.
Lt. Flinn became interested in the Air Force after she, along with most of the American public, watched the first space shuttle lift off. She became intrigued with the sky and space immediately. A trip to Space Camp in Huntsville, Alabama when she was 14 crystallized her desire to fly and someday be an astronaut. One of only five girls at a camp of 60 children, she was named outstanding camper and she has never looked back since. ...more
---
Further Reading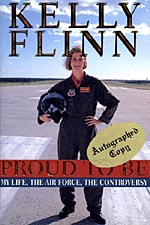 Flinn, Kelly
Proud to Be : My Life, The Airforce, The Controversy
Random House, 1997 ISBN: 0-375-50109-6
http://www.chron.com
"...Flinn, the first female bomber pilot in the United States Air Force, achieved a different sort of notoriety when she was forced to leave the service in the wake of an affair with a married enlisted man.
In the civilian world, stories like Flinn's are a dime a dozen and, though painful for the parties involved, hardly the stuff of national controversy. In the military, however, sex is a hot-button issue."...


"Think what you will about Flinn, but her book raises some important and troubling questions about America's military establishment." (Review by amazon.com)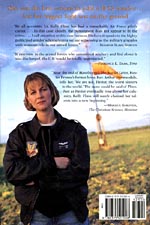 Excerpt
CHAPTER ONE : Playing to Win
No one can predict to what heights you can soar, even you will not know until you spread your wings. --FROM A POSTER ENTITLED "GOALS"
Anyone who says that women aren't meant to be warriors doesn't know much about little girls.
Little girls are intense, stubborn, and passionate. Some, of course, put their intensity into pushing baby buggies and dressing up their dolls.

But others are simply wildcats. They're the fastest kids in the class. They're the terrors of the jungle gym and swings. They play competitive sports to win. They don't mind getting down and dirty in the mud. And they're no less girlish for it. ...more
---
Flinn, Kelly
Proud to Be : My Life, The Airforce, The Controversy
Random House, 1997 ISBN: 0-375-50109-6
An extraordinary young woman. An extraordinary controversy. This is Kelly Flinn's story--the one she couldn't tell when she was in uniform.
"I fell in love with the wrong man."--Kelly Flinn
She is the first woman to pilot a B-52, a charismatic twenty-six-year-old from a proper Georgia family who has always distinguished herself--as a fifteen- year-old at U.S. Space Camp and as a cadet at the U.S. Air Force Academy. There, she overcame considerable odds and earned a coveted position as a combat pilot.
But nothing prepared Lieutenant Kelly Flinn for the controversy that erupted when the military began an investigation into her relationship with Marc Zigo, a man who lied to her about his marital status and then betrayed her to military authorities. Flinn was forced to resign amid charges of disobeying orders--charges she disputes in this poignant and powerful memoir.
This is the story of Flinn's love affair with flying ...and the love affair that ended her trailblazing Air Force career. This is also the story of a determined young woman fighting for her rightful place in a military establishment run by men, many of whom are not yet ready to accept a female combat pilot. Flinn reveals examples of hypocrisy and sexism in the military that are, by any standard, infuriating.
She rose higher and fell harder, but Kelly Flinn's story is universal, and it powerfully dramatizes the fault lines between our private and professional lives. With disarming candor, Flinn takes us inside her world. We feel her exhilaration as she soars through the sky and commands her own plane,and we share her horror as the love she dreamed of turns into a nightmare and she must battle the military's sex police behind closed doors.
Kelly Flinn has been called "the Hester Prynne of our time," and her life has been depicted in the media as a combination of Top Gun and The Scarlet Letter. In Proud to Be, she speaks in her own voice--determined, vulnerable, and all too human.
Top | Pioneers Home