---
Rosina Ferrario (1888-1959)
---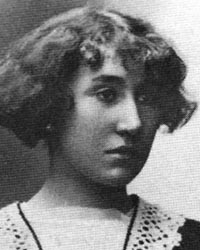 Rosina Ferrario
http://erewhon.ticonuno.it
Milan 1912. Rosina Ferrario (b. 28/7/1888) attends Giovanni Caproni's Flying School1 at Vizzola Ticino
On January 3, 1913 she gains her pilot's licence #203, the first woman in Italy to do so.
Also at the school with Ferrario was Ester Vietta, of Tortona.
Rosina Ferrario sul campo di Vizzola Ticino, 1912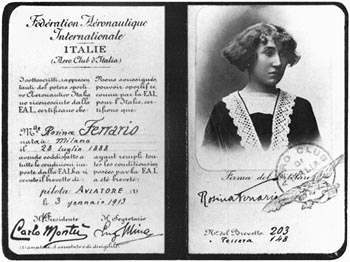 Rosina Ferrario, Licence No. 1, 1913
Moolman, Valerie, Women Aloft, Time Life, 1981
download a 1000pixel image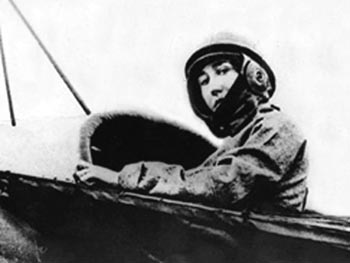 Rosina Ferrario, c.1912
---
1 Giovanni (Gianni) Battista Caproni, Conte De Taliedo (1886-1957)
http://www.allstar.fiu.edu
Pursuing a broad technical education Gianni Caproni (b. Massone D'Arco, July 3 1886 - d. October 1957) graduated in Civil Engineering from the Polytechnic Institute of Munich. Other degrees followed in Electrical Engineering from the Montefiore Institute of Leige, and in Aeronautical Engineering from his studies in Paris.
After returning to his native Italy in 1910, he designed and built his first airplane, a single-engine, twin propeller biplane, the Ca.1. The next year [1911] he established the Caproni Company and Flight School, the forerunner of the Caproni organization which was to build 180 different types of aircraft over the next half a century.
During World War I, Caproni designed a number of heavy bombers which played a major role in the allied strategic bombing campaign. The highly successful Ca.33 bomber design was mass produced in England, France, and the United States as well as Italy, with an unprecedented total of 745 bombers manufactured by the Milan Caproni works alone.
Postwar, Caproni turned his design talents to civil aviation, converting his famous bombers to passenger and cargo aircraft. Among these were: the Ca.60 transport, capable of carrying 60 passengers; the six-engined, 6000 HP. Ca.90 biplane which in 1930 set a world's record for altitude and duration; and the Ca.161 which in 1938 flew to an altitude record for propeller driven aircraft of 65,000 feet. During World War II he was in charge of all aircraft production in Italy. He remained active in the Caproni Company until his death.
Invested 1983 in the International Aerospace Hall of Fame
From "These We Honor," The International Hall of Fame; The San Diego Aerospace Museum, San Diego, Ca. 1984
---
Further Reading
http://erewhon.ticonuno.it/riv/storia/aerei/ferrario.htm
Top | Pioneers Home