---
Henry 'Henri' (1874-1958), Maurice Alain (1877 - 1964)
and Richard (Dick) Farman (*-*)
---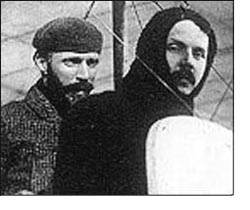 The Farman Brothers
http://www.philately.com
Henry (Henri) Farman (1874-1958). French aviation pioneer. Born in Paris on May 26, 1874, the son of an English journalist, he was trained as a painter at the Ecole des Beaux Arts, but his interest shifted to cycling and he achieved some prominence as a champion bicycle racer. After a successful career as a manufacturer of bicycles and then motor cars, he devoted his attention to airplanes.

Henry (Henri) and Maurice Farman (right) c.1908
With his brother Maurice Alain Farman (Mar. 21, 1877 - Feb. 25, 1964) he modified a Voisin pusher biplane. In that year he made a flight from Bonny to Reims. In 1909 he set world's endurance and speed records. As early as 1908 Henry Farman had a school of aviation and construction works at Buc near Versailles. Somewhat later Maurice Farman began to manufacture aircraft and in 1912 the brothers merged their interests in the Farman works at Boulogne-sur-Seine, making many planes of their characteristic pusher biplane type for military and training purposes.
The 1914 model was extensively used for artillery observation and reconnaissance in World War I. The Farman Goliath was the first long-distance passenger airliner, beginning regular Paris-London flights on February 8, 1919. In 1932 Henry Farman developed a new Farman monoplane, in which he hoped to ascend to the stratosphere. He was unsuccessful, but his observations from this type of experimentation contributed to later high-altitude aviation developments.
Farman-type planes derived from the Voisin machine of 1908, which depended on inherent stability for lateral control; the landing gear had wheels. After the Wright brothers' public flights in 1908 first disclosed wing warping for latereral control, Farman machines adopted ailerons, a simpler aerodynamic equivalent; the Wright machines adopted wheels. Subsequently ailerons and wheeled landing gear came into general use on all planes. Henry Farman was made a chevalier of the Legion of Honor in 1919 and retired a naturalized french citzen in 1937, when the French aircraft industry was nationalized He died in Paris on July 18, 1958.
---
Editors Notes : Though born Henry, Farman adopted the French spelling 'Henri' early on and reportedly spoke little English [A Who's Who in Aviation History, Longyard, p. 66] . This author suggests that his linguistic prowess was as equally good as the rest of his skillset and more than likely selective, depending on the language best understood by his 'audience'.
A third brother Richard 'Dick' Farman concentrated on the business side of the company and rarely rates a mention in most accounts of the Farman story.
Finally the matter of 'Horace' Farman. The name 'Horace' H and Maurice (sic) was the name sometimes? given to the machines co designed by the brothers. There was no such person as Horace Farman.

---
Henry Farman
http://members.lycos.co.uk
which says in part...
Henry 'Henri' Farman was born in 1873 the son of a respected English newspaper correspondant working in Paris. Henry trained as a painter at the École des Beaux Artes, but quickly become obsessed not with painting, but with the new mechanical inventions that were rapidly appearing at the end of the nineteenth century. Since the Farmans were well-off he was able to pursue this interest as an amateur sportsman.
Farman had a natural flair for getting the 'feel' of a piece of machinery, and enjoyed considerable success. In the 1890s he became a championship cyclist, and at the turn of the century he discovered motor racing. Driving Panhard cars he came fifth in the Paris-Berlin road race of 1901, and then won the Paris-Vienna in 1902. With his mechanic he covered the 615 miles to the Austrian capital in just 16 hours.
In 1903 he came in third in that year's Gordon Bennett Race, which was held in Ireland after the French government banned racing on open roads as too dangerous. Farman himself became a casualty of the sport when he was involved in a serious accident. He fully recovered, but the experience destroyed his enthusiasm for cars. Nevertheless his fascination with technology endured.
He was aware of the Voisin float-glider experiments on the Seine in 1905 and '06, and when the Voisins began to produce a powered aeroplane for sale in 1907 he was one of their first customers. He made his first flight at the end of September and, displaying his usual sure feel for machines, he was soon able to stay in the air longer than anyone else.
On 26 October he flew for 771 metres at Issy. For this flight he won a cup sponsored by Ernest Archdeacon of the Aéro-Club. Later on Claude Graham-White met him at Reims and of Henry's piloting skill he wrote,
[Henry] "Farman is small, quick, and eager in his movements. He seems the ideal airman, with eyes that see everything, and hands that move with the greatest delicacy."
By early November Farman was coaxing turns out of the Voisin, despite it being built without any roll control. This meant that all turns were a delicate skid round on rudder alone. If the outside wing picked up too much air speed it would rise, and if the turn was persisted in, the plane would be in danger of side-slipping into the ground lower wing first.

Henry Farman made a number of modifications of his own to the Voisin during the autumn, including a reduction in the size of the tail surfaces, removing one of the forward elevators, and rigging a slight dihedral angle into the wings. Thus the Voisin-Farman 1 became the Voisin-Farman 1bis.


Read the full article
---
Also on this site, a companion Illustrated History of Farman aircraft 1907-1918
---
The Conquest of the Air : Success of an Englishman
The Times, 14 January 1908
http://members.lycos.co.uk
Plain of Issy, France, 13 January 1908 In the domain of the air, at all events, the number 13 would seem to bring good luck. In any case, to-day has been an epoch-making date, that of the victory before official witnesses of human intelligence in its efforts to solve the problem which brought Icarus to grief, which tormented the brain of Leonardo da Vinci, and which during the last few years has become possible of solution only through the invention of a light and stable motor whereby to animate the gigantic wings of a machine heavier than air.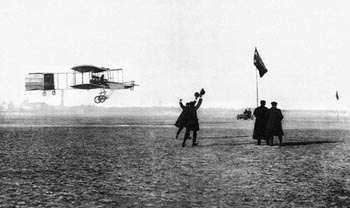 Henry Farman flies the first one-kilometer circuit, January 13, 1908


This morning, a little after 10 o'clock, Mr. Farman succeeded on rising on such a machine of his own invention [sic: the Voisins had actually invented it], in flying over a kilomètre towards a goal previously fixed, which he rounded in perfect conditions of stability, and in returning to his starting point, where he alighted without a hitch.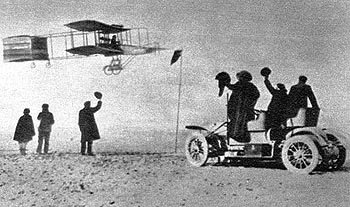 Henry Farman flies the first one-kilometer circuit, January 13, 1908

download a a 750pixel image


Nothing of the kind has ever before been acomplished. [sic: the Wrights had of course done it, but not in front of official witnesses] Mr. Farman thus wins the 50,000f. (£2,000) prize of aviation offered by M. M. Henry Deutsch and Archdeacon. But he wins as well a unique fame. more...
---
Avions Voisin and Farman
http://www.cjbalm.com
The Voisins had built an aeroplane for Henry Kpferer and then one for Léon Delegrange in which Gabriel Voisin achieved flight in 1907. They then built an aeroplane for Henry Farman which was the first to fly a kilometre circuit. Voisin then built another for Farman, but instead sold it to J.T.C Moore-Brabazon. This infuriated Farman so much that he established his own company to compete with Voisin. The first aicraft Farman produced was the Type III of 1909.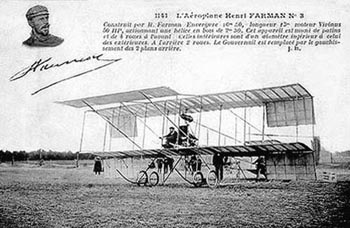 Henry Farman III, 1909
---
Voisin and Farman
http://members.lycos.co.uk
In November Henry sold his trusty HF 1-bis and waited for delivery of a new and improved Voisin. A machine in the Voisin workshops was earmarked for him, but instead the brothers sold it to a wealthy young Englishman newly arrived in Paris, J.T.C. Moore-Brabazon. Farman's relations with the Voisin brothers were already less friendly than they had been.
J.T.C Moore-Brabazon aboard his newly acquired Voisin 'Bird of Passage', 1909

Download a 750pixel image


This episode was the final straw. Farman resolved to build his own aeroplanes from now on, and set to work that winter. The result would be the Farman boxkite aeroplane, that proved immensely popular with the growing band of amateur aviators. Henry went into business with his brothers Maurice and Dick in order to manufacture and sell the design, and the firm soon rivaled the Voisin company.
---
Also on this site, a companion Illustrated History of Farman aircraft 1907-1918
---
A History of Aeronautics
by E. Charles Vivian
http://www.bookrags.com
Part II - 1903-1920 : Progress in Design, I
By Lieut.-Col. W. Lockwood Marsh
I. The Beginnings
The other chief French experimenters at this period were the Voisins, Charles and Gabriel, whose first two machines--identical in form--were sold to Léon Delagrange and Henry Farman, which has sometimes caused confusion, the two purchasers being credited with the design they each bought.
The Voisin machine was thus experimented with by Henry Farman and Léon Delagrange from about June 1907 onwards, and was in the subsequent years developed by Farman; and right up to the commencement of the War upheld the principles of the box-kite method of construction for training purposes.
The chief modification of the original design [thus becoming the Farman-Voisin 1bis. -Ed] was the addition of flaps (or ailerons) at the rear extremities of the main planes to give lateral control, in a manner analogous to the wing-warping method invented by the Wrights, as a result of which the end curtains between the planes were abolished.
An additional elevator was fitted at the rear of the fixed biplane tail, which eventually led to the discarding of the front elevator altogether. During the same period the Wright machine came into line with the others by the fitting of a wheeled undercarriage integral with the machine. A fixed horizontal tail was also added to the rear rudder, to which a movable elevator was later attached; and, finally, the front elevator was done away with.
It will thus be seen that having started from the very different standpoints of automatic stability and complete control by the pilot, the Voisin (as developed in the Farman) and Wright machines, through gradual evolution finally resulted in aeroplanes of similar characteristics embodying a modicum of both features.
---
A Turn for the Purse
http://www.first-to-fly.com
In 1907, The Voisins made an airplane for Ferdinand Léon Delagrange, mounting a 50-horsepower Antionette engine and a propeller on the lower wing to push it through the air. Although it had no roll control, Delagrange was able to make short hops of up to 500 meters (1650 feet). As such, the Voisin-Delagrange I was the first European airplane to best the Wright's first powered flights in 1903.
Henry Farman also ordered a Voisin aircraft and on September 30, 1907 flew his Voisin-Farman I , making a modest hop of just 30 meters (100 feet).
Farman also modified the airplane as he gained more flying experience, eliminating the side curtains, reducing the size of the tail, and adjusting the dihedral angle of the wings, all to reduce drag, improve stability, and make the airplane more maneuverable. However, even in its final form as with the Voisin-Delagrange I, it had no roll control - Farman made do with an elevator and rudder only.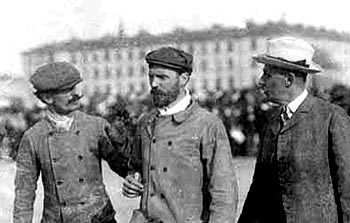 Gabriel Voisin, Henry Farman with Count Henri de la Vaulx

Download a 350pixel or 750pixel version of the original image


On October 26, 1907, Henry Farman made a flight of 712 meters (2,350 feet) and won a second Archdeacon Cup. This was a prize that Ernest Archdeacon had offered to the aviator who made the longest flight during the year. On November 19, 1907, Farman made a run at the Grand Prix de Aviation, but didn't quite complete the circular course.

Orville Wright, who was still in Europe, witnessed Farman's flight. When asked by the reporters for a comment on the rapid progress of French aviation, he was cool and criticized the French airplane's control system obliquely.
"Time will show whether the methods of control used in the Farman machine are adequate to meet the conditions encountered in windy weather," he was quoted. Privately, he wrote to Chanute that the French were busy but "we see no indication of a practical machine in the near future."
Archdeacon, ever the Wright detractor, took affront at Orville's attitude.
"The famous Wright brothers may claim all they wish," he blustered. "If it were true - and I doubt it more and more - that they were the first to fly through the air, they will not have the glory. The first authentic experiments in powered aviation have taken place in France; they will progress in France; and the Wrights will, I am sure, be beaten by us as well before they will have decided to show their phantom machine."
On January 13, 1908, Henry Farman took off again in pursuit of the Grand Prix de Aviation and its 50,000 franc purse. He made a flying start, crossing the starting poles about 4 meters or 13 feet off the ground. He flew straight out for about 500 meters, slowly climbing to 12 meters or 40 feet, then made a wide, flat turn, using rudder alone to slide around the marker. He came back and made another turn, crossed the point at which he started, and landed gently.

The entire flight lasted 28 seconds, and covered the prescribed kilometer. It didn't matter that his turns were clumsy and he was in constant danger of losing control of the Voisin-Farman I. Henry Farman had won the most coveted prize in aviation, and for the moment - as far as the French were concerned - the Wright brothers were beaten.


Voisin-Farman --> Henri Farman 1bis
http://members.lycos.co.uk

With 50,000 francs in his pocket, [the prize of January 13, 1908] Farman could afford to make further modifications to his aeroplane in preparation for a new flying season. In March 1908 he had the machine re-covered in rubberized fabric and re-engined with a 50hp Renault. The Voisin-Farman 1bis became the Henri Farman 1bis.

The new engine did not last long and he reverted to the Antoinette, but Farman's constant tinkering with his plane show how confidently he had grasped the essentials of aeronautics. During the summer he added 'side-curtains' to the wings, to make them true box-kites, and importantly put in ailerons of his own design so that the machine could be banked.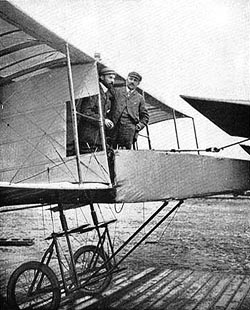 Henry Farman and Ernest Archdeacon (r), Issy-les-Moulineaux, 1908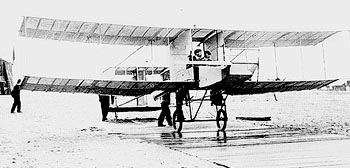 Henry Farman and Ernest Archdeacon (r), Issy-les-Moulineaux, 1908

download a 750pixel image


On 29 May Farman took the first passenger in Europe into the air. Appropriately enough it was Ernest Archdeacon, the man who had done so much to encourage aviation in France since 1903.
---
Henri et Maurice Farman
http://perso.club-internet.fr
D'origine anglaise, né à Paris le 26 Mai 1874 (il sera naturalisé Français en 1937), Henri Farman s'intéressa très tôt à l'aviation naissante. Il remporta la coupe Archdeacon-Deutsch de la Meurthe le 13 Janvier 1908 en couvrant le premier kilomètre réalisé en circuit fermé, à Issy-les-Moulineaux, sur un appareil Voisin à moteur Antoinette.
Il continua sur sa lancée, et réalisa d'autres prouesses : premier vol avec passager le 28 Mars 1908 (il sera le passager, et Léon Delagrange le pilote); premier vol de ville à ville, de Bouy à Reims (27 kilomètres en 20 minutes), le 30 Octobre 1908, sur biplan Voisin; plusieurs records de vitesse et d'altitude dans différents pays d'Europe.
Enfin, en 1911, il ouvrit la première école de pilotage sans visibilité à Toussus-le-Noble et constitua, en 1919, l'une des premières compagnies aériennes ouvertes au public en France. Il mourut à Paris le 17 Mai 1958.
Son frère Maurice, né à Paris en 1877, fut également le détenteur de plusieurs records aéronautiques. Il inventa un biplan en 1910 et s'associa par la suite avec son frère, au début de la Première Guerre Mondiale, pour fonder l'une des premières entreprises de construction aéronautique qui produisit de nombreux avions et hydravions civils et militaires. Il mourut à Paris en 1964.
---
Also on this site, a companion Illustrated History of Farman aircraft 1907-1918
---
Here we present a miscellany of images of Henri and Maurice 1907 - 1964
1907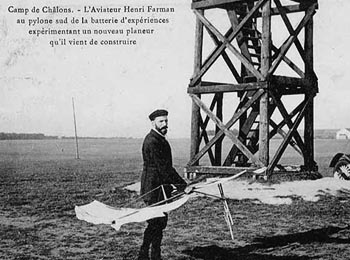 Henry Farman, rare image with model aircraft?
download a 1000pixel image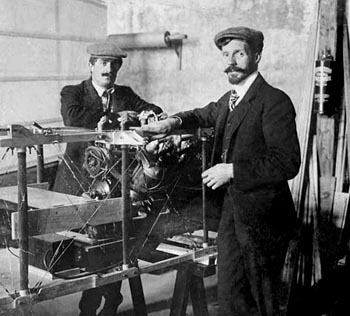 Charles Voisin and Henry Farman, 1907
Download the uncropped original image

Henry Farman, portrait and biography, c.1907
download a 500pixel image
Henry Farman, c.1907
download a 500pixel image
download a cropped 200pixel head and shoulders portrait
1908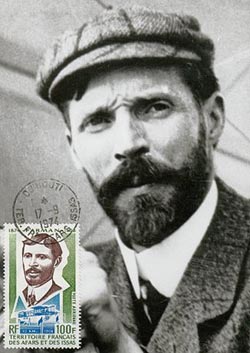 Henry Farman, c.1908, 100th Anniversary Stamp, 1974 - 1974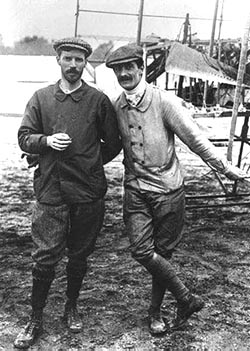 Henry Farman and Gabriel Voisin, c.1908
Download a 500pixel image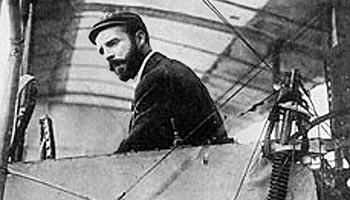 Henry Farman, c.1908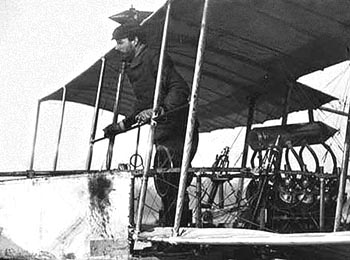 Henry Farman, January 13, 1908
download the original postcard and note the very crude retouching of the image above the nacelle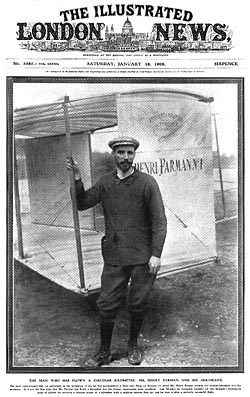 Henry Farman, Grand Prix de Aviation winner, Jan., 13, 1908
Illustrated London News, Sat. Jan 18, 1908
download a 750pixel image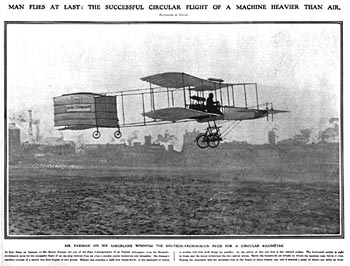 Henry Farman, Grand Prix de Aviation winner, Jan., 13, 1908
Illustrated London News, Sat. Jan 18, 1908
download a 1000pixel image
1909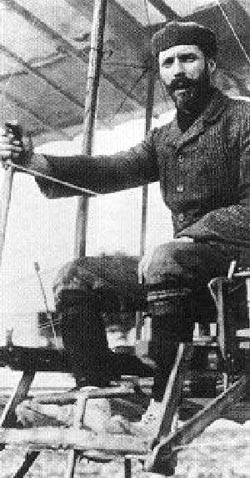 Henry Farman, c.1909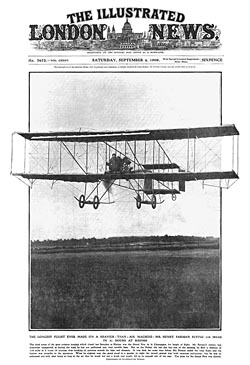 Henry Farman, Longest Flight, Reims, France
Illustrated London News, Sat. Sept. 4, 1909
download a 750pixel image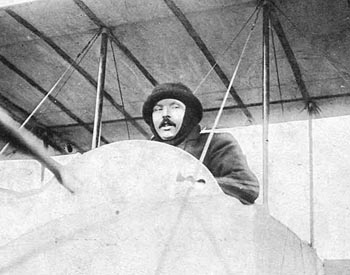 Maurice Farman, Dec., 1909
download a 1000pixel image
download a cropped 200pixel head and shoulders portrait
1920s -30s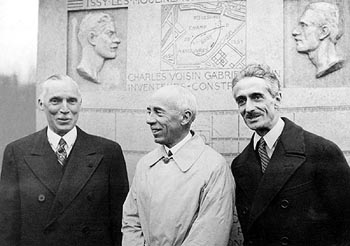 Henry Farman, Alberto Santos-Dumont and Gabriel Voisin, Jan.13, 1928
On the 20th Anniversary of the first one-kilometer circuit flown by Henry Farman in a Voisin Biplane, Jan.13, 1908.
download a 1200pixel image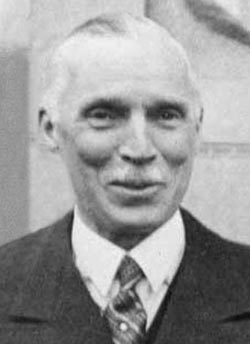 Henry Farman, Jan.13, 1928 (detail from above image)
download a cropped 200pixel head and shoulders portrait image
1950s -60s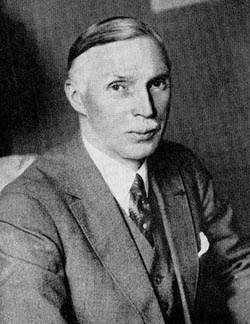 Henry Farman, c.1950
download a 500pixel image
download a cropped 200pixel head and shoulders portrait image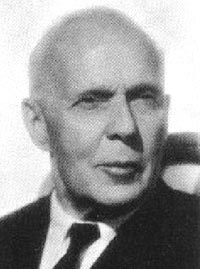 Maurice Farman, 1957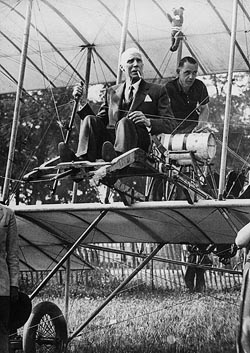 Henry Farman, 1958
download a 1500pixel image [800k]
Henry Farman, 1958
download a 500pixel image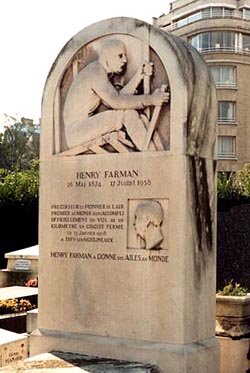 Henry Farman, 1874 - 1958
Top | Pioneers Home