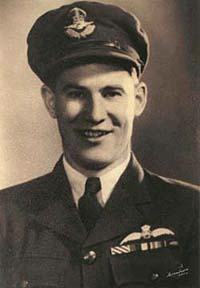 Terence 'Terry' Lawless Duigan
The Aircraft From May 1940 to August 1945 'Terry' Duigan flew a total of 3380 hours on Short Empire Flying Boats (540), Consolidated Catalinas (2240) and Consolidated B-24 Liberators (600 odd), and thus was one of the longest if not THE longest serving pilot in the RAAF during the war.
He was also recommended for the Distinguished Service Order - DSO - for his missions on Liberators but with the cessation of hostilities, processing these decorations for temporary ranks also ceased.
This page details in words and pictures the aircraft he flew during those wartime years
---
The Short Empire Flying Boat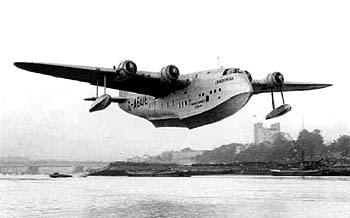 CAMERONIAN S.847 G-AEUE. In service 1937-47

Short S23 C Class Empire Flying Boats

In the late 1930s, Imperial Airways, then Britain's national airline, saw their future lying with air mail and the flying-boat. Their specification was met by the Short Bros. Empire Flying-Boat.

Forty-two 'boats were built at Rochester, upon the River Medway. The aircraft marked the watershed between the ponderous British leviathan airliners, like the Handley Page H.P.42s, and the graceful power of the Douglas DC-4 and other American aircraft, which later dominated the post-war years.

This was a period when air mail held the British Empire together and luxurious air travel was for the privileged few. Every journey was an adventure for both passengers and crew. The spirit of Boy's Own Paper accompanied aviation's golden age across the last days of the British Empire.

Finally, the sun did set and a lavish standard of service, never since surpassed, was snuffed out following the commencement of hostilities in 1939. Many of the 'boats were forced into military service, seeing action in Europe and the Far East.

http://www.coorong.demon.co.uk/Press/philrelease.htm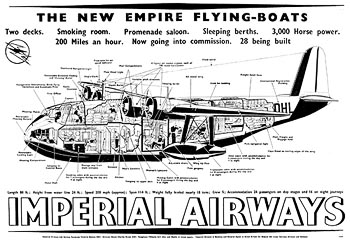 Short Empire Flying Boat - Cutaway
Download a 1500pixel image
---
Further Reading

Short S23 C Class Empire Flying Boats
http://www.airwaveyachts.com.au/Aircraft/c_class.html
then, in alphabetical order with possibility of some links being edited out at a future time

Aircraft of World War Two : Short Empire, Flying Boat, 1939-43
http://www.iol.net.au/~conway/ww2/aircraft.html
Beyond the Dawn: Venturing Overseas
http://www.qantas.com.au/company/history/dawn/qa09.html
Bombardier Aerospace / History
http://www.aero.bombardier.com/htmen/10_4.htm
"C" class Empire Flying Boat
http://www.qfm.org.au/v2/aircraft.htm
Camilla Short S.23 C Class G-AEUB
http://www.lpe.nt.gov.au/place/ntroads/recent/ntg13-9.htm
Empire Air Mail Service
http://www.stampsau.com.au/html/stories/952990312851s.html
Empire Short S.23 "Empire" passenger flying boat 1936.
http://avia.russian.ee/air/england/short_empire.html
Gateway to Victory
http://home.star.brisnet.org.au/~dunn/bretts.htm
History Of Aviation - Short Empire Flying Boat
http://www.spaghoops.com/squelch/bb_aviate.htm
Kiwi Aircraft Images: Short S-45A Solent IV
http://www.kiwiaircraftimages.com/solent.html
QANTAS
http://www.ozemail.com.au/~diving/articles/qantas95.htm
QANTAS flying boat services
http://www.airlines.freeuk.com/a112.htm
QANTAS Posters
http://www.chariot.net.au/~theburfs/qantasposters.html
School of Earth & Environmental Sciences - The Short Brothers
http://www.gre.ac.uk/directory/earthsci/medwho.htm
Seawings Photogallery
http://www.terencebarkertanks.co.uk/seawings/photogallery.htm
Flying Boat Plans
http://www.terencebarkertanks.co.uk/seawings/planspage.htm

Flying Boat Plans Gallery
http://www.terencebarkertanks.co.uk/seawings/empplansgal.htm
Short Empire
http://www.iol.net.au/~conway/ww2/aircraft/shortempire.html
Short Brother's, S-23 Cavalier Empire Flying Boat # G-ADUU
http://www.blueridgephotographs.com/FLYINGBOATS.HTM
Short C Class Flying Boat
http://www.allstar.fiu.edu/aerojava/FLYINGBOAT.htm
Story of the Short Empire Flying-Boats
http://www.aerobookcompany.com/pages/page902.html

In Print
Sims, Phil, Adventurous Empires, Airlife Publishing Ltd, of Shrewsbury UK
"...the culmination of over a decade's research into what was once the pride of Britain's fleet of airliners."
"In a similar vein, to help raise awareness of flying-boats, Phillip has written a web site. The site is called "Adventurous Air Tales" and may be found at: http://www.coorong.demon.co.uk/ The site contains other true stories from aviation's past."


Cassidy, Brian, Flying Empires, Queens Parade Press, Bath
Coster, Graham, Corsairville, Viking
Fry, Howard The Best Years of Flying, The Book Guild
Harrison, Paul, Lockstone, Brian and Anderson Andy, The Golden Age of New Zealand Flying Boats, Random House, New Zealand
---
The Consolidated Catalina Flying Boat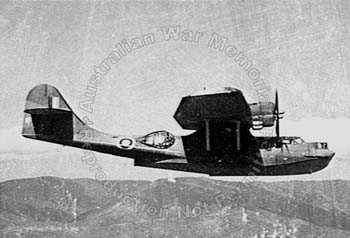 Consolidated PBY Catalina A24-11
Australian War Memorial
download a larger version of this image
A24 Consolidated Catalina
http://www.raafmuseum.com.au/research/aircraft/a2series/cata.htm
The prototype XPBY-1 (Experimental Patrol Bomber, Consolidated-1) first flew in 1935 and the PBY-1 entered USN service in 1936. Progressive developments followed, and in 1939 the PBY-4 appeared with large blister gun-turrets on the fuselage sides.
In 1940, the PBY-5 version was ordered for the RAAF as the Catalina, a name derived from the island near the consolidated factory at San Diego. The flying-boat was already familiar in Australia, for Capt. P.G. Taylor had used the civilian PBY-'guba' in 1939 to survey the alternative Indian Ocean route.
RAAF Catalinas were ferried across the Pacific by a combination of Qantas and RAAF crews and the first aircraft, A24-1, was accepted on February 5 1941, and the last A24-386 on September 3 1945. In all, 168 Catalinas operated under the following serials: A24-1/114, A24-200/206, A24-300/309, and A24-350/386.
These aircraft include Mks I and II (PBY-5 flying boats), Mk III (PBY-5A amphibians) and the high-tail, radome fitted Mk IV and Mk VI (Boeing built PB2B-1, -2). One exception was A24-28 which arrived on June 5, 1942, as a Dutch East Indies PBY-3 with sliding gun-panels, and was modified to PBY-5 standard with blister-turrets in 1944.
in late 2005 I received this eMail from L. B. Dorny, Commander, U. S. Navy (ret.)
Your write up on Terry Duigan is excellent.

Might I add a detail, not all that important, but a detail...

You write about the Catalina

"These aircraft include Mks I and II (PBY-5 flying boats), Mk III (PBY-5A amphibians) and the high-tail, radome fitted Mk IV and Mk VI (Boeing built PB2B-1, -2). One exception was A24-28 which arrived on June 5, 1942, as a Dutch East Indies PBY-3 with sliding gun-panels, and was modified to PBY-5 standard with blister-turrets in 1944."

The correct data on A24-28 is that it was a standard PBY-4 flying boat, Bureau Number 1219, delivered to the USN in the winter of 1938-39 at San Diego and subsequently served in the Philippines with the USN's Patrol Wing TEN in VP 101 during the early months of the war in the Far East.

As one of three PW10 Cats flying from tender CHILDS at Exmouth Gulf, 101-P-3, with very high engine hours, made it Tjilatjap, Java, for passengers for evacuation early on the morning of 2 March 1942. Unable to get the starboard engine to start, the USN crew abandoned the plane and departed in one of the other Catalinas.

A Royal Netherlands Naval Air Service / Marineluchtvaardtdienst Catalina crew arrived at Tjilatjap and worked on the abandoned plane, which they renamed Y 3 in the Dutch Navy pattern. They flew it out to Australia a few days later just before the surrender.

Badly in need of new engines and general rework and overhaul after the strenuous Indies campaign, Y 3 was soon moved to an RAAF overhaul site (Rathmines or Lake Boga), and subsequently to RAAF service.

If you need more dope, just say so,

Cheers, Lou

L. B. Dorny, Commander, U. S. Navy (ret.)
Seattle, WA
With their long range and endurance, the Catalinas established an impressive war record and operated with Nos 11, 20, 42, 43 Sqns, Nos 6 and 8 Communications Units, and Nos 111, 112, 113 ASR (Air Sea Rescue) Flights.

Post war, one PBY-5A was attached to ARDU (Aeronautical Research and Development Unit) for JATO (Jet Assisted Take Off) experiments, and in 1951, A24-385 was modified as "Frigate Bird II" for Sir Gordon Taylor's South American survey flight. Finally, in 1952, the last Catalinas departed from RAAF Rathmines which had been their main base for 12 years.

Technical Data : Catalina, Mk II - PBY-5 flying boat

DESCRIPTION: General reconnaissance flying-boat with 8 or 9 crew. All metal stressed-skin construction.

POWER PLANT: Two 1,200 hp Pratt and Whitney Twin Wasp R-1830 radial engines.

DIMENSIONS: Span, 104 ft; length, 65 ft 13/4 ins; height, 17 ft 11 ins.

WEIGHTS: Empty, 14,240 lb; loaded, 27,030 lb.

PERFORMANCE: Max speed, 190 mph at 10,500 ft; cruising, 110 mph; initial climb, 920 ft/min; range, 2,000-3,500 miles; service ceiling, 21,600 ft.

ARMAMENT: One 0.303 gun in bow, two 0.303 guns in each side blister, plus one 0.303 gun in central position aft of step; bomb load, 2,000 lb.


Some More Facts about Catalinas
Flight Lieutenant A.E. Minty

Appendix 2 of Black Cats by A.E. Minty


Speed

Most people regard the speed of an aircraft as the most important factor determining overall performance. But does it really matter if it takes 21 hours rather than 15 to deliver a given load of bombs or mines to a given target with great reliability and accuracy of placement, particularly if the slower speed allows a greater bomb load or a greater range?

From our experience dog-fighting' with Spitfires over Darwin we found, amongst other things, that we could turn inside the turn of a Spitfire provided we kept up a Rate Four Turn, i.e. our wing was kept nearly vertical. Thus, our slow speed could be an advantage when under attack. If the aircraft's speed is only 85 knots, a mine or bomb can be laid much more accurately than it could be if its speed is much higher.

Despite all the above, we must still admit the first of these facts, that no other Australian front line aircraft had a slower speed.


Load/range

In war time, aircraft are generally loaded up well beyond their nominal rated capacities. The high load/range characteristics of the Catalina were due to such factors as:
The bullet-proofing in the fuel tanks being removed from Catalinas to increase range.

Armour-plating was reduced to a minimum.

Most Catalinas did not have to carry a heavy undercarriage.

Unlike heavy bombers such as the Liberator, the Catalina did not have to carry two extra engines and all the extra fuel to operate those engines.

The thrust needed to drive an aircraft at a given speed is more related to the square of the speed rather than the speed itself. The low speed of the Catalina was thus much more economical on fuel allowing a greater range.

The live load of a fully laden Catalina (apart from ammunition for the limited number of guns) consisted of 14,600 lb of fuel and 4000 lb of bombs or mines. Hence, even a 5 per cent reduction in fuel consumption would allow us to take and extra 730 lb of bombs. Similarly, a 5 per cent increase in fuel consumption due to a greater speed would make a corresponding reduction in bomb load capacity.[end p233]
For these sorts of reasons, no other front line aircraft in the Pacific War could carry a greater load a greater distance. We must also confess that sometimes the only way we coaxed these overloaded, under powered aircraft into the air was to take advantage of the curvature of the earth.


Versatility

The Catalina has been called the most versatile aircraft ever built. Throughout the Pacific War, that versatility was exploited to the full by Royal Australian Air Force Squadrons and Air-Sea Rescue Flights. This accolade of versatility was due to the characteristics of the aircraft and its geographical flexibility, demonstrated by the range of mission types completed and the range of places from which they operated, from small billabongs in enemy jungle, from rivers or harbours or even from the open sea.

When war came, there were few airfields suitable for land-based military aircraft. The urgency for meeting this need, and the saturated muddy ground conditions led to the use of improvisations like the perforated steel sheets of Marsden matting. But the Catalina could work from most areas where there was water.

To allow us to move as deeply as possible into enemy territory, we often had a ship anchor in some forward vulnerable position not far from the fighting (e.g. Manus Island where the ship was within the range of the enemy artillery). The ship provided refueling and board and lodgings for our Catalina's penetration a further 1000 nautical miles into enemy territory.

Our independence from established airfields gave us this unique geographical versatility, and the aircraft itself gave us a versatility in the wide range of mission types including bombing, mine laying, torpedo attacks, 'Milk Runs', 'Z Force' work, supply drops, air-sea rescues, air-sea rescue cover, searches and convoy escort.


Navigational accuracy

Catalinas had a crew of nine or ten including a navigator and two or three pilots who had completed a navigation course. Because our primary flight took from 16 to 22 hours, some captains used to have the navigator get the aircraft to the target and lay the bombs or mines. Then, after escape from the target, one of the second pilots would navigate back to base.

We had a large navigation compartment with all the facilities we needed (except an astrodome). Apart from its lower serviceability in the earlier part of the war, the radar was a great help for navigation. We used a lot of astro navigation, and could range out 1000 nautical miles or more, formed a tiny coral atoll, and lay mines with an accuracy of plus or minus 10 yards. With our long endurance, even continuous bad weather seldom led to a failure to reach the long distant target.

Because of our navigation abilities, Australian Catalinas were used as Pathfinders for American heavy bombers as early in the war as mid 1942.


Front line aircraft

No other RAAF aircraft fought at the front line of the Pacific War from the beginning of that war until stopped, 500 nautical miles from mainland Japan by the imminent dropping of the atomic bomb. [end p234]

From 1940 to 1952 the RAAF operated a total of 168 Consolidated Catalinas, including the PBY-5, PBY-5A, PB2B-1, PB2B-2 and PB2B-2R. The aircraft weighed 14,240 lbs empty and 27,080 lbs fully loaded. It was 65' 1 3/4" long, and 17' 11" high and had a wingspan of 104'. Maximum speed was claimed to be 190 mph at 10,000 ft, cruise speed was 110 mph.[end p235]

Consolidated PBY Catalina A24-10


RAAF Catalinas were ferried across the Pacific by a combination of Qantas and RAAF crews and the first aircraft, A24-1, was accepted on February 5 1941, and the last A24-386 on September 3 1945. In all, 168 Catalinas operated under the following serials: A24-1/114, A24-200/206, A24-300/309, and A24-350/386.

http://www.raafmuseum.com.au/research/aircraft/a2series/cata.htm


Catalina flying-boat tales
http://www.hartingdale.com.au/~abiggs/Catalina.html

extract..."the first air-sea rescue of the Pacific war"
6 April 1942 - We were on patrol over the Solomon Sea, searching for Japanese warships and troop transports, when I received an urgent Morse code message telling us to proceed immediately to Woodlark Island to pick up the crew of a US army B26, that had been damaged in a raid on Rabaul and had just made it to the island. As our search pattern had at that stage taken us quite close to Woodlark Island we were soon over the island and spotted the survivors in a rubber life raft on the lagoon.

There were coral reefs everywhere, but our captain, Pilot Officer Duigan, managed to land between them and taxi to the life raft. We hauled the crew aboard without delay, as this was an area rapidly coming under Japanese control. To our surprise amongst the crew was our commanding officer, Wing Commander Thomas MacBride Price.

While Price was uninjured, some of the Americans were. We flew the crew back to Port Moresby. Until that day we had seen no Americans in New Guinea. Apparently a squadron had just arrived and decided to make an early strike on Rabaul. However they were unfamiliar with the area, and so our commanding officer went along to lead them to the targets. I believe this was the first air-sea rescue of the Pacific war.
Catalina Flying Boats of World War Two
http://www.dropbears.com/av/KFXart/articles/catalina.htm
extract...
A not uncommon occurrence was to mine or bomb more than one target on each mission, or be instructed to carry out procedures to induce "alarm and despondency" over a protracted period. An almost famous example of this is the five hour continual harassment of the Bismark Sea convoy by Flight Lieutenant Duigan and crew with only four 250lb bombs! This convoy was later almost totally destroyed during the battle of the Bismark Sea.

Mutiny Over Rabaul
Squadron Leader Norman Robertson DFC

from Black Cats by A.E. Minty


p15 : By late February 1942, 11 and 20 Catalina Squadrons from Port Moresby had been harrying the Japanese shipping installations at Rabaul most nights since their occupation on 22nd January. At first four or five planes went per night until our number of available planes dwindled to the odd one or two.

At this time the Catalinas and John Lerew's remaining Hudsons were the total attacking force the RAAF or indeed the Allied Air Force - possessed in this theatre of war. The first nights we had to contend with only anti-aircraft fife and searchlights, but with the arrival of Japanese night fighters our task became more and more difficult.

Our order this night was to deliver sixteen 250 lb bombs on to Lakunai, the fighter strip situated on the edge of Rabaul Harbour. Close by was the active volcano Matupi, which at that time was belching quite a quantity of smoke and steam, carried away to the southeast with the northwest monsoon wind.

This night it was a one plane operation with Pilot Officer Terry Duigan as captain/navigator and myself as second pilot/bomb-aimer. Because of pilot shortages at that time it was not unusual for two junior captains to be crewed together. It was a case of who was available on the night.

So - take-off from Moresby mid-afternoon, down the Solomon Sea, towering cumulus on the other side, coast to Milne Bay, north through the equatorial front with its lightning and rain to New Britain and our target Rabaul.

We flew several times over Rabaul at our customary height of 6000 ft without success, being hampered by a layer of strato-cumulus cloud below. But Rabaul stayed asleep: no searchlights; no anti-aircraft fire - just black. Frustrated, Terry announced his brilliant scheme. We would go away to seaward, descend through the cloud and make a low level attack. [end p15]
---
p16 : Should the opposition prove too fierce we would take refuge by flying into the smoke of Matupi. However, in the meantime we lost ourselves in the murk and it was an hour later before we found Rabaul again, sneaking around the 'South Daughter', an extinct volcano. Before us lay the strip - beyond that the harbour crowded with ships, all still quiet and black - sleeping or waiting?
'Bombs away...'. As I was extracting myself from the bomb-aimer's compartment to return to the cockpit all hell broke loose - crash banging on the hull, flashes through the windows. Had Rabaul woken up? Regaining my seat we gazed back on the scene. Rabaul and the ships were still silent. The commotion was only the continuing detonation of our stick of sixteen 250 lb bombs!
Before us lay a line of bright fires. Our first bombs had hit the living quarters, then the workshops, then a fuel dump on one side of the strip - across the strip to a line of nine fighters parked wing-tip to wing-tip. The first one was well ablaze and the second catching fire.
As we looked back on the scene Terry was banking the Catalina to make another pass over the target saying this was so wonderful he was going in for a closer look. There was no room for argument above the engine noise, but conscious of the empty bomb racks and more so of the line of grey hulls by now clearly illuminated in the firelight, the insubordinate subordinate grabbed the controls and headed the Catalina away into the safety of the darkness.
Seventy minutes later as we headed for home, back under the tail plane lay the clouds above Rabaul - still glowing dull red, while every so often an orange burst indicated the explosions were continuing. As to the extent of the damage we inflicted we were never to know, for there was no Hudson to do a reconnaissance the next day - and we hadn't stayed around to find out.[end p16]
p151 : At Milne Bay now, with Squadron Leader Havyatt and his eight Catalinas, we had the only mass briefing I can remember. General MacArthur, starting his island-hopping strategy, had by-passed Rabaul and Kavieng leaving them to the Australian military forces to clean up in what Prime Minister John Curtin had pointed out to him were Australian Mandated Territories, New Guinea, New Britain, New Ireland and the Solomons.
However our night-time navigation skills and, in particular, our precision mine laying skills were appreciated by the North Pacific Commander, so we were to take-off from Milne Bay the next morning, fly north to Manus Island, currently being retaken from the Japanese, and put down in Seeadler Harbour. From there, we would carry out a series of operations, laying mines at Woleai Atoll, 900 nautical miles north in the Caroline Islands.
The next day, we flew north from Milne Bay heading up through the Vitiaz Straits where Flight Lieutenant Terry Duigan in his Catalina had found the large Japanese convoy which Allied bombers went on to slaughter the next morning at what became known as the Battle of the Bismark Sea. The flight across the Bismark Sea between New Britain and Manus Island was uneventful except that I had never seen so many water spouts curling up from the sea to the clouds at least 1000 ft higher.
The daylight arrival over Manus Island, just below the Equator, gave us the opportunity to view its large Seeadler Harbour where our attention was immediately drawn to the fighting going on along the shore of the harbour southeast of the town of Lorengau. [end p151]
---
p157 : Early 1943 found him [SqnLdr Coventry? Ed.] gaining experience as a first pilot (co-pilot) on Catalina flying boats in the wide variety of missions being undertaken at that stage. This was a lead up to a captaincy. During that preliminary phase, probably the most important operation in which he participated was one involved in a major battle at sea.
On 2nd March 1943 he accompanied Flight Lieutenant Terry Duigan in Catalina A214 [A24-21? Ed.] on a search mission, which was later recorded as playing an historic part in the Battle of the Bismark Sea, one of the crucial turning points in the war against Japan in the South Western Pacific Area.
A large convoy of heavily laden Japanese merchant ships, with a powerful escort of eight destroyers, was proceeding from Rabaul, New Britain, to Lae in New Guinea. The route taken was in the Bismark Sea, off the northern coast of New Britain, and thence through Vitiaz Strait into the Solomon Sea.

The objective was the reinforcement of the Japanese forces recently repelled at Wau, Gona, Buna and then failing back to Salamaua and Lae. The convoy had been attacked when north of New Britain by heavy bombers of the US Air Force, following which contact had been lost in appalling weather and darkness.

Flight Lieutenant Terry Duigan, operating from Cairns via Milne Bay (eastern New Guinea), proceeded that night towards the search area between the western tip of New Britain and the coast of New Guinea. At 10 pm his Air-to-Surface Vessel radar (ASY) picked up the convoy in the search area west of Umboi Island. He shadowed the convoy throughout the night dropping flares and 250 lb bombs at intervals, whilst SqnLdr Coventry maintained an accurate plot on the navigation chart of the convoy's movements, recording each change of course.

Upon leaving the convoy just before dawn, they were able to transmit its position accurately to the aircraft proceeding to attack. It was destroyed that day, 3rd March, by US Air Force and RAAF air attacks, whilst air battles raged fiercely overhead.
Following his term as a first pilot, SqnLdr Coventry spent a period at RAAF Rathmines during which he qualified as a Catalina captain. He was posted back to Cairns in June 1943, this time joining 11 Squadron and was allocated a crew of his own. During that month his operations comprised anti-submarine searches in the Solomon Sea (the Milk Run) and a convoy escort patrol

In July, during the early stage of Catalina mine laying activities, he undertook his first mine laying mission, in Silver Sound off Kavieng, New Ireland, and experienced some anti-aircraft fire and searchlight opposition. The next operation was a night 'Milk Run' in the Solomon Sea during which a submarine was sighted, but submerged before an attack could be made. Near Gasmata (south coast of New Britain) a fast moving craft, believed to be a motor torpedo boat (MTB), was depth charged with no visible results.

On 13th July SqnLdr Coventry and crew proceeded on detachment to Port Moresby in Catalina 4-52 for approximately 10 days to undertake a series of transport flights (personnel and supplies) to the Sepik River area of New Guinea. Three flights from Moresby to the Sepik were made between 16th and 21st July.

On the latter date his aircraft carried Major-General Basil Morris, the commander of the Australian and New Guinea Administrative Unit (ANGAU), plus two other Army officers and 16 RAAF personnel, with an alighting being made at the junction of the Sepik and Yellow Rivers. This area was under Japanese occupation and there were Allied Intelligence parties there to report on the, [...activities? Ed.] [end p157]

Consolidated PBY Catalina A24-17
source being traced
---
Further Reading

Men and Machines

11 Squadron RAAF : Cats Downunder
Formed at Port Moresby New Guinea in March 1939 with Empire flying boats and Seagull amphibians, 11 squadron's first role was to monitor Japanese shipping movements in the region. After Japan's entry into the War, 11 Squadron was re-equipped with Catalina flying boats and despite having to operate out of remote bases throughout the region, the squadron sustained a very high rate of operations.
Throughout the War, the Catalina's flew long range patrols of up to twenty hours, often involved night bombing attacks on Japanese island strongholds. After the war, 11 Squadron was re-equipped with Lincoln's.

11 Squadron RAAF
http://www.raafmuseum.com.au/research/squadrns/011sqn.htm
11 Squadron "Shepherd or Destroy"
http://dove.net.au/~hqmpg/11sqn.htm
Black Cats
http://www.ixpres.com/ag1caf/blackcat/
The Catalina
http://www.ipas.com.au/aviation/aviationcatalina.html
PBY Catalina International Association
http://www.pbycia.org/
PBY.com
http://www.pby.com/
PBY Home
http://www.powerup.com.au/~tpkelly/pbyhomepage.htm
Catalina Photo Album
http://www.powerup.com.au/~tpkelly/pby_photo1.htm
PBY Catalina pages
http://www.catalina.demon.nl/index.htm
---
Events

Battle of the Bismark Sea
www.pacificwrecks.com
http://www.pacificwrecks.com/provinces/png_bismarksea.html
New Guinea - low-level aerial operations
http://www.senet.com.au/~mhyde/new_guinea_operations.htm

Places in and around Papua New Guinea as mentioned in the above essay
Note : these are summaries of a given PNG province. You will need to search the page for specific references.
also...

Finally, a somewhat long but interesting read on tactics using in part the Battle of the Bismark Sea as a test case
The Minimax Theorem http://www.cs.byu.edu/info/mikeg/CS501R/lectures/Minimax2.html
---
In Print

Burbank's Books
http://www.senet.com.au
Honan, Robert F., That's That

pby.org/books - a selection
http://www.pby.org/Books.html
Knott, Richard C., Black Cat Raiders of World War II

Wilson, Stewart, Catalina, Neptune and Orion in Australian Service

Riddell Jack, First and Furthest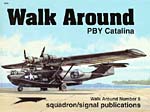 Scarborough (Ret.) Capt. W.E., Walk Around PBY Catalina


almost done, a site remembering those Catalina crew who did not return. Lest we Forget.
RAAF Catalina Casualties
http://www.powerup.com.au/~tpkelly/crashindex.htm
Last Update 02 July 2000

In closing, a simply stunning photograph by Neville Dawson of a lovingly restored PBY in full flight. The image comes from The Catalina Club of New Zealand [ © Neville Dawson 1999 ]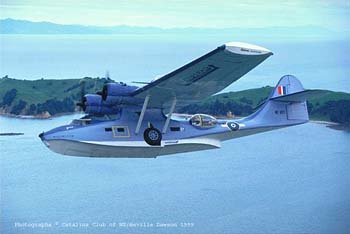 New Zealand's only PBY-5A "Catalina" twin-engine WW2 Canso amphibious flying boat, ZK-PBY. It is currently the only airworthy PBY-5A in Australasia
View more pictures of this wonderful aircraft.
---
The Consolidated B-24 Liberator Bomber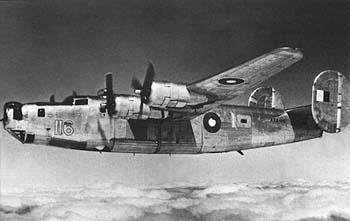 Liberator A72-116, one of 83 B-24L's supplied to the RAAF

This aircraft belongs to No.7 Operational Training Unit at Tocumwal, N.S.W

http://www.fortunecity.com/meltingpot/statuepark/620/liberator.html

download a larger version of this image

In 1943, US General G. C. Kenney (commander of Allied Air Forces in South West Pacific) decided that RAAF should form seven bomber squadrons equipped with Liberators. The first B-24s were intended to be supplied to 99 Squadron (scheduled to be formed in March 1944 in Queensland), but a withdrawal of the Vultee Vengeance of 21, 23 and 24 Squadrons from New Guinea meant that Liberators would be supplied to these squadrons first.

Australian crews were attached to 380th BG for training and operational experience. The first bombers were delivered in February 1944 to 7 OTU and then to 24 Squadron. The 21 Squadron was operational in January 1945 and 23 Squadron three months later. Other RAAF operational units equipped with B-24s were: Nos 12, 99, 25 and 102 Squadrons. Also Nos 200 and 201 Flights flew Liberators on electronic surveillance and covert missions.

Australian heavy bombers played an important role during the last months of the war, particularly in the Borneo campaign. Total of 287 aircraft were delivered to RAAF including 12 B-24Ds, 145 B-24Js, 83 B-24Ls and 47 B-24Ms. They remained in service until 1948 and were replaced by Avro Lincolns.

http://www.geocities.com/CapeCanaveral/Hangar/7252/b24.htm
---
The B-24 Liberator was produced in greater quantities and flown in more theaters of war by the air forces of more countries than any other four engine bomber in World War II.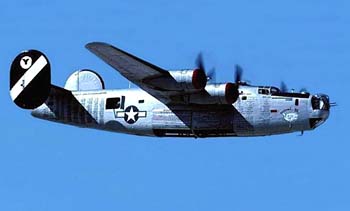 From some 19,250 made, one of the last airworthy B-24s

WebPix

A 500 pixel or 750 pixel image may also be downloaded


19,256 planes (in several versions) were produced by Consolidated Vultee, Ford Motor Company, Douglas Aircraft and North American Aircraft between the years of 1939 and 1945.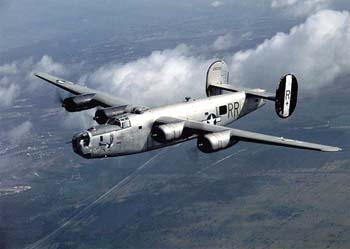 From some 19,250 made, one of the last airworthy B-24s

WebPix

A 500 pixel or 750 pixel image may also be downloaded


Today there are only two flight-worthy B-24's in existence, and it's history and role in WW II is only dimly recalled except by those who flew in them.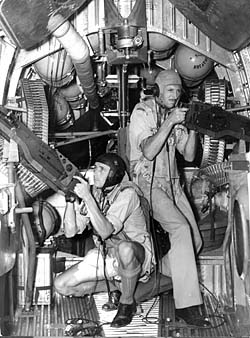 RAAF Liberator Waist Gunners F/O. G. S. Thomas, (Clunes), F/O. D. P. Dewhurst, (Sydney); Darwin, c.1944/45 (ed.)

Argus Newspaper, Melbourne, Vic., Reproduction rights owned by the State Library of Victoria. Library Record Number: 1154063. Accession Number: H99.200/45


A fully armed and combat-ready B-24 carried a crew of ten men. Its gross weight when loaded was greater than 60,000 pounds. It had, in the most common versions, four movable turrets, each with two .50 caliber machine guns and two individual .50s in the waist, making a total of ten. It was powered by four 1,200 horsepower engines and carried 2,750 gallons of fuel. Many B-24 missions were round trips of 1,500 miles and some extended ranges were near 2,000 miles.

The most common bomb-load was ten 500 pound bombs or five 1,000 pounders. It's operating environment against heavily defended targets in the European Theater was from 18,000 to 28,000 feet, although many missions (particularly in the Pacific) were flown at much lower altitudes. The planes were not pressurized or heated; crewmen wore oxygen masks on high altitude missions and were exposed to temperatures that reached -30 degrees farenheit and below.

The Internet B-24 Veterans Group
http://www.b24.mach3ww.com/
---
Designed in 1938 by Consolidated Aircraft in San Diego, California, to try to improve on the performance of the Boeing B-17, the proposed Model 32 bomber incorporated the new Davis airfoil and the high aspect ratio wing design of their Model 31 experimental flying boat, Fowler wing flaps, the first tricycle landing gear on a heavy bomber, and the twin tails of the Model 31 was actually removed and installed on the prototype for it's first flight.
Wind tunnel tests confirmed the improved performance of the design and in February, 1939, the U.S. Army Air Corps issued a Type Specification to cover the Consolidated design. After allowing nominal time for other manufacturers to submit designs, a contract to build the XB-24 was signed on March 30, 1939. The USAAC was so confident of the design, seven YB-24 service test airplanes were ordered on April 27, 1939, before the final design of the XB-24 was complete. Additionally, 38 B-24A's were ordered in August, 1939, prior to the first flight of the prototype. The XB-24 made it's first flight on December 29, 1939, one day under nine months after the contract was signed.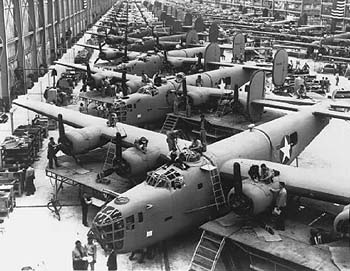 Consolidated B-24 Liberator Bomber, production line

http://www.collingsfoundation.org/planes/24J/dragon/walkaround/b24walk.html


As the war in Europe escalated, France placed an order with Consolidated in May 1940 for B-24's, but France was overrun by the Axis before they were built and these aircraft were later diverted to Britain as LB-30's.

Britain desperately needed a long range bomber for use in a coastal patrol and defense squadron, and Consolidated received permission to divert 6 of the 7 YB-24 aircraft to Britain as LB-30's with British serial numbers (AM258 to AM263), along with the first 20 (S/N 40-2349 to 40-2368) production aircraft in the USAAC order for 38 B-24A's. These 20 aircraft were assigned British serial numbers (AM910 to AM929) and the USAAC serial numbers were reassigned to the first 20 B-24D aircraft.

Of the remaining 18 B-24A aircraft, 9 aircraft (S/N 40-2369 to 40-2377) were built and delivered to the USAAC as B-24A's. The other 9 aircraft (S/N 40-2378 to 40-2386) were modified on the production line to B-24C models by replacing the original Pratt & Whitney R-1830-31 radials with -41 turbo supercharged radials, adding the elliptical engine cowling, installing an A-6 type power turret in the tail with twin 50-cal machine guns, and mounting a Martin power turret on the top forward fuselage. These aircraft were used for testing and training, none were ever flown in combat.

In an effort to increase performance, the remaining YB-24 was retrofitted with R-1830-41 turbo supercharged engines, self sealing fuel tanks, and the elliptical engine cowlings that were characteristic of all B-24 models starting with the -D. The converted aircraft was designated the XB-24B and the improvements were incorporated into the B-24D design when the Army exercised a 1939 option and ordered 56 more airplanes.

http://www.cafb29b24.org/history-b24.shtml
---
With over 18,000 aircraft built the Consolidated B-24 Liberator was produced in even greater numbers than the other famous Second World War US bomber, the B-17 Flying Fortress
The Liberator gained a distinguished war record with its operations in the European, Pacific, African and Middle Eastern theaters. One of its main virtues was a long operating range, which led to it being used also for other duties including maritime patrol, antisubmarine work, reconnaissance, tanker, cargo and personnel transport. Winston Churchill used one as his own transport aircraft.
The aircraft was originally designed to a United States Army Air Corps requirement, and the prototype first flew on December 29,1939. Meanwhile, orders for production aircraft had also been received from Great Britain and France, who had tried desperately to build up and modernize their air forces for the war which had been inevitable. However, the Liberator was not available to France by the time of its capitulation, and French-ordered aircraft were diverted to Britain.
Among the first Liberators to go into British service were six used as transatlantic airliners with BOAC, while others went to Coastal Command as patrol aircraft. As production in the States continued to expand, taking in other manufacturers to help build the type, versions appeared with varying armament and other differences. Liberators also found their way into the United States Navy, the Royal Canadian Air Force and the armed forces of other countries.
In Europe, Bomber Command of the Royal Air Force concentrated mainly on night bombing, while the United States Army Air Force operated mainly as a day bombing force. On December 4,1942 US Liberators of the 9th Air Force attacked Naples, recording their first raid on Italy, followed on July 19,1943 by the first raid on Rome by 270 Liberators and B-17 Flying Fortresses of the USAAF casualties among the US day bombing forces were high, until the perfection of formation flying and the support of long-range escort fighters.
This was well illustrated on August 17,1943 when 59 bombers were shot down while attacking German ball-bearing factories, followed by 60 losses in a similar raid in October. In March 1944 a large force of US Liberators and B-17 Flying Fortresses attacked Berlin in daylight, the first of several such raids.
Incredibly, Liberators are recorded as having dropped over 630,000 tons of bombs, while several thousand enemy aircraft fell to their guns. Some were converted to carry the first US air-to-surface, radar-guided missile, the Bat, and in April 1945 a Bat sank a Japanese naval destroyer. After the war the Liberator continued to serve with the United States forces, notably as an air rescue and weather reconnaissance aircraft with the Coast Guard in the 1950s. ...more
---
Fire in the Sky : The Air War in the South Pacific
Allied Bombers : The B-24 Liberator pp. 276-79
When the time arrived to phase B 17s into less strenuous duties (some finally ended up in the States for maintenance training), they were replaced by the Consolidated B 24 Liberator. In the late 1930s Consolidated Corporation had made its reputation on producing fine trainers and flying boats.
Just prior to World War II Consolidated hired the young David Davis, a brilliant engineer with unorthodox ideas on wing design. The resulting "Davis" wing showed tremendous promise in wind-tunnel testing and was used on a successful flying boat.
It was the core of Consolidated's proposal to build a successor to the B 17. A cross-section of the new wing was shaped something like a teardrop. It was thick at the wing root (engineers would say that it had a large "camber") but very narrow, long, and tapered in both cross-section and width.
In theory this meant efficient lift and great load-carrying capacity. With very high wing-loading, Davis incorporated an extensible Fowler flap to his wing to aid in providing lift for take-off and lower stall speeds on landing. (More elaborate versions are found on large jets today.)
The B 24 prototype flew in December 1939, just six months after a contract was approved. Particularly when compared to the graceful B 17, the new bomber was not appealing to the eye. Many of its crewmen dubbed the plane the "Flying Boxcar," and rarely has a nickname been more apt. Although ungainly, the aircraft had many attractive features.
It was powered by four fine Pratt and Whitney 1830 radials. Early in the war Consolidated fitted turbochargers to the engines. Because the Davis wing was set above the midpoint of the fuselage, nothing interfered with the bomb bay, giving the B 24 a large payload.
Good airframe design and engines offered excellent range. Tricycle landing gear aided ground-handling and allowed take-off from shorter strips. Much design effort was directed toward creating an aircraft that would be quicker and less expensive to build than its competitors.
World War II aircraft were too complex to mass-produce in the typical sense, yet Consolidated saw to it that major components be assembled with less labor and specialized skills than was the case with the B 17 (much less the B 29). When full-scale production began it proved possible to have several companies produce the aircraft. By war's end the United States produced 18,000 B 24s, more than any other U.S. warplane.
http://www.westviewpress.com/fireinthesky/b-24.html
Fire in the Sky Home
http://www.westviewpress.com/fireinthesky/index.html
---
B-24 Walkaround - selected images from the site
http://www.collingsfoundation.org/planes/24J/dragon/walkaround/b24walk.html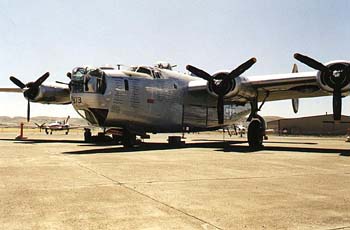 Consolidated B-24 Liberator Bomber
http://www.collingsfoundation.org/planes/24J/dragon/walkaround/b24walk.html
download a larger version of this image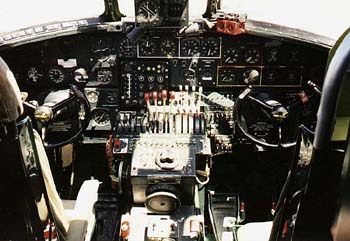 Consolidated B-24 Liberator Bomber, cockpit detail
http://www.collingsfoundation.org/planes/24J/dragon/walkaround/b24walk.html
download a larger version of this image
---
Further Reading

The B-24 at war for Australia
http://www.fortunecity.com/meltingpot/statuepark/620/liberator.html
B-24 Liberator reconstruction project
http://www.geocities.com/CapeCanaveral/Hangar/7252/b24.htm
b24
http://www.users.bigpond.com/paulmcc/b24/b24.htm
B-24 Liberator Main Page
http://www.chariot.net.au/~theburfs/b24MAIN.html
Consolidated B-24 Liberator - prime data site
http://home.att.net/~jbaugher2/b24.html
B-24s for Australia http://home.att.net/~jbaugher2/b24_30.html
b24.mach3ww.com
http://www.b24.mach3ww.com/new/
B-24's on virtual display on the World Wide Web
http://life.csu.edu.au/~dspennem/MILARCH/Virtual_B-24s.html
HeavyBombers: Restored & Static Display B-24 Liberators
http://www.heavybombers.com/B-24restored.html
---
In Print

Wilson, Stewart, Boston, Mitchell and Liberator in Australian Service, Aerospace Publications, (1992). ISBN 1 875671 00 5 (out of print - try bibliofind.com)