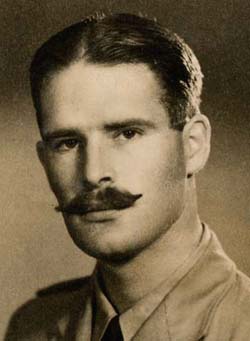 Brian Lawless Duigan
The Aircraft This page details in words and pictures a selection of the many aircraft Brian Duigan flew during the wartime and post wartime years.
The aircraft include the Vickers Wellington, AVRO Lancaster, De Havilland Mosquito and the English Electric Canberra but we begin this essay with the broader issues of Bomber Command and Strategic Bombing and The Pathfinders


As a novel starting point however, you may like to read a contemporary account of Brian Duigans's exploits as published in the Melbourne Argus Newspaper, Saturday November 20, 1943. A weekly feature about Australians on active service and written in a 'cartoon' style, the account originally spread right across a broadsheet page. For practical reasons it is presented here as ten individually ordered 'cells'...more
---
Overviews
RAF Strategic Bombing: From Art to Science and Back
http://www.stable.demon.co.uk/bomb.htm
At the outbreak of World War 2 the RAF had bomb carrying capacity with its Armstrong Whitworth Whitleys, Handley Page Hampdens, Fairey Battles, Bristol Blenheims and Vickers Wellingtons, albeit modest by its later standards. As weapons, however, these aircraft were sadly lacking in accuracy and defensive armament.
The undoubted courage and skill of the aircrews, largely time-serving professionals and reservists, were not enough to overcome these shortcomings but the lessons these men were to learn the hard way laid the foundations for the awesome destructive machine Bomber Command was to become....more
Bomber Command 1940
http://www.stable.demon.co.uk/bomber.htm
RAF Strategic Bombing
http://www.ww2wa.com
RAF 550 Squadron
http://www.550sqn.theraf.co.uk/550bkgrd.htm
The Valour and the Horror : Bomber Command - World War Two
http://www.valourandhorror.com/BC/Script.htm
This is the complete script of the television show 'The Valour and the Horror'
Sir Arthur 'Bomber' Harris
http://www.hellzapoppin.demon.co.uk/harris1.htm
Perhaps more than any other military leader of this century, Sir Arthur Harris was surrounded by controversy, right up to his death in 1984, and indeed, even past it to the present day. He was known affectionately by his aircrews (or "Old Lags" as he affectionately called them!! ) as Butch, but to the public at large he was known famously as "Bomber" Harris. He was the Commander-in-Chief of Bomber Command from 1942 until 1945, and under his direction he turned it into the highly honed force that undoubtedly helped to win the war.
---
'The Pathfinders'
Pathfinder
http://home.freeuk.net/stigsccf/pathfinder.html
On the night of 18/19 August 1942, 118 Bomber Command aircraft attacked Flensberg, in northern Germany. In the lead were 31 bombers - Sterlings, Halifaxes, Lancasters and Wellingtons - from No. 7, 35, 83 and 156 squadrons of the Pathfinder Force. For the first time the target was to be marked by Pathfinders, for these were then just four squadrons to operate with the newly formed force. [...]
Though it was born in controversy - and indeed was never to be loved by No. 5 Group - the force grew from the small beginning of four squadrons in August 1942, to a mature force as No. 8 Group, Bomber Command. By the wars end it operated from 11 stations with 19 squadrons, 8 equipped with four engine Lancasters, and 11 with Mosquitoes.
---
Further Reading

The Pathfinders Arrive
http://british-forces.com
On 15th August 1942, the Path Finder Force (PFF) came into existence, with its origins in the raid on the oil-refinery at Bremen on 17-18th May 1940, when a force of 24 Whitleys had been given a target which was marked by flares by the leading aircraft. 3 Group contributed 7 and 156 Squadrons (equipped with Stirlings and Wellingtons respectively), 4 Group contributed 35 Squadron and 5 Group released 83 squadron.
Initially No.109 Squadron was not included as part of the PFF but this changed with the arrival of the Oboe fitted Mosquitoes and before the war was over, the reputation of 109 Squadron as a PFF formation was legendary.
The Pathfinder Force
http://www.lexicom.ab.ca/~nanton/pathfind.html
The idea of using an elite corp of crews with high navigational ability evolved from the somewhat limited accuracy of bomber crews during the early years of the war together with the development of more sophisticated and difficult to use electronic navigational aids. Although originally opposed by Arthur Harris, the officer in charge of Bomber Command, hand-picked crews from operational bomber squadrons were transferred to form the Pathfinder Force in August of 1942.
The P.F.F. was commanded by veteran Australian bomber pilot, D.C.T. Bennett, who retained command throughout the war. It began operations within a few hours of its formation and continued its work of leading the main force against the enemy until the bombers' offensive ceased, shortly before V.E. Day.
A variety of techniques for marking targets with green, red, and yellow flares were utilized depending on cloud conditions. Often and initial marking of the target was improved upon or altered as the raid progressed. The gallantry of the Pathfinder Force is legendary, and its contribution to the war effort immense, perfecting as it did techniques for precision main force bombing.
Probably the greatest of many successes was its part in the sustained Battle of the Ruhr. The PFF flew a total of 50,490 individual sorties against some 3440 targets. The cost in human lives was grievous. At least 3727 members were killed on operations including Nanton native, Glen Ransom, a pilot with 83 Sqd RAF, which served with the Pathfinder Force.
Pathfinder Force
http://www.aceshighgallery.co.uk/page%2018.htm
The Pathfinder Force of RAF Bomber Command was formed during 1942, comprising specially selected crews. Very experienced and highly trained, their task was to spearhead, locate and mark targets at night for attack by the main bomber stream. This was achieved using aircraft equipped with an extremely accurate radar bombing aid coded OBOE and dropping clusters ofr coloured flares (target indicators) on or near to the target.
The de Havilland Mosquito, outstanding in the roles of fighter, bomber and photographic reconnaissance and capable of operating at up to 30,000 ft where anti-aircraft defences were ineffective, was ideally suited for the task.
Navigation Pathfinders
http://www.danshistory.com/ww2/navigate.html
The idea of using specially trained bomber crews to find and mark a target for the main bomber force was first tried on the night of March 3rd, 1942 when bomber Command attacked the giant Renault works at Billancourt, near Paris. The 235 bombers came in three waves, each carrying as many flares as their bomb loads would permit.
Trinidad Express Features
http://209.94.197.2/nov99/nov15/features.htm
IN World War Two, some 250 Trinidadians served in the British Royal Air Force (RAF), of whom 52 were killed in action, their names now displayed on a memorial at Chaguaramas. Among the servicemen marking yesterday's Remembrance Day was former Justice Ulric Cross, who flew on 80 bombing missions to Germany and occupied France during World War II.
Cross, a former Trinidad and Tobago High Commissioner to the United Kingdom, joined the RAF in 1941 as a navigator in Bomber Command, flying in a very fast, small, plyboard, two-man bomber, the Mosquito. "We did a lot of low-level daylight bombing.
We flew at just 50 feet instead of the normal 25,000 feet. We dropped four 500-pound bombs. You flew in to your target at 50 feet and as you approached it you went up to 1,200 feet. You then did a shallow dive onto the target and released your bombs. The bomb had an 11-second delay, so you shot up to avoid the bomb blast.
We went over in formation and we bombed in formation, but we came back independently. I did eight such missions," he recalled. Cross said that although the Mosquito's speed initially allowed it to escape German flak (anti-aircraft fire), the Germans soon twigged and started shooting down a lot of pilots.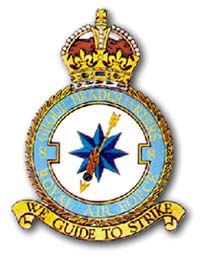 No.8 (Pathfinder) Group of the RAF: History
http://british-forces.com
No.8 (Pathfinder) Group was created from the original Pathfinder Force, itself created from squadrons drawn from all of the operational Bomber Command Group in 1942.

The force coming into existence on 15th August 1942, with its headquarters at Wyton in Huntingdonshire. It was formed at the direct request of the Air Ministry and initially comprised of five squadrons:
No.156 from No.1 Group flying Wellingtons
No.109 from No.2 Group flying Wellingtons and Mosquitos
No.7 from No.3 Group flying Stirlings
No.35 from No.4 Group flying Halifaxes
No.83 from No.5 Group flying Lancasters.
These squadrons were located on adjacent airfields within No.3 Group's area, but remained under the direct control of AOC-in-C Bomber Command. Picked crews were transferred without the delay of conversion to a new aircraft from the other groups and the force soon expanded into No.8 Group which formed on 8th January 1943 and eventually re-equipped to operate Lancasters and Mosquitoes the two most suitable aircraft for its job.


Mosquito Pathfinders
http://www.eagle.ca/~harry/aircraft/mosquito/st5.htm
We are now able to reveal that long-range Mosquitos, alone with Lancasters and Halifaxes, are being used by the R.A.F. Pathfinder Force. The Pathfinders, as you doubtless know, precede the main bomber force to light up the target area. As the first phase starts, cascades of routemarkers fall from the first pathfinding plane.

Fused to cascade at the required height, they are visible for many miles. With the first hint to oncoming bombers still visible, more Pathfinders drop loads of flares in bomb-containers to light up the whole target. By their light the exact target is positively identified and marked with red target-indicator bombs. At this stage a photographic flash is also dropped.

By this time, the bombers, now coming into position for the attack, have been told by the seeming confusion of white, yellow and red light, just where the target is. But the Pathfinders are not satisfied even with that degree of help to the bomb-aimer. The floating rainbow is now pierced by vivid green lights. These are more target indicating bombs used to back up the marking already done and act as the bull's eye bombs, the final guide put down right in the centre of the objective. In these few minutes the Pathfinders have done their job and the target now belongs to the bombers.
[4.2] Navigation Systems: GEE & OBOE
http://vectorsite.tripod.com/ttwiz4.html#m2
GEE
http://www.danshistory.com/ww2/navigate.html

A navigation aid developed by the British. The name GEE came from the first letter in the word "grid." This system allowed a bomber to fix its position anywhere within 400 miles (640 km) of the home GEE transmitters using a cathode-ray tube and grid charts. At its maximum range of use a bomber could find its position to within 6 miles (10 km) without any visual fixes.

OBOE
http://www.danshistory.com/ww2/navigate.html

RAF target-finding bombing aid using two transmitting stations CAT and MOUSE. A blind bombing system introduced in 1942 by the RAF OBOE worked quite well but could only guide one plane at a time so it was fitted to pathfinders to accurately mark the target for the rest of the bomber force. OBOE had a maximum range of 300 miles (480 km.)
---
Vickers Wellington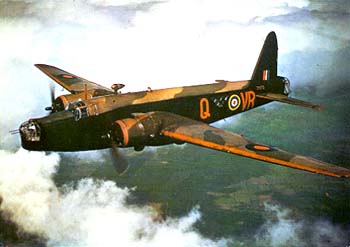 Vickers Wellington Medium Bomber
Webshots
Vickers Wellington Medium Bomber
http://www.accessweb.com/users/mconstab/welling.htm
The Wellington was the main British bomber for the first two years of the war, although once it had been supplanted from the European theatre by Lancasters it flew until the war's end in many other theatres and in many roles. It was particularly effective in North Africa, where it could fly faster than most of the Italian fighters, and carried a heavier bomb load than the Italians. Its utility is proven by the large number built, 11,461.
Technical Details
One of the Wellington's claim's to fame was the unique geodetic construction of the fusilage. This can be seen in the cross members visible in the side windows of the pictured Mk II bomber. Combined with a fabric covering, the manner of construction made it extremely strong while light, able to absorb a lot of punishment and easy to repair.
The Mk IC was crewed by 6, a pilot, radio operator, navigator/bomb aimer, observer/nose gunner, tail gunner and waist gunner. It was powered by two 1050hp Bristol Pegasus XVIII engines that pulled it to 235 mph. It had a ceiling of 19,000 ft and a range of 1,805 miles. It came armed with eight 0.303 machine guns and could carry 4,500 lbs of bombs.
The Vickers Wellington Bomber
http://www.emmador.com/331_Wing/wimpy.htm
First delivered for squadron duty to RAF in 1938, 11,461 Wellingtons of different Mks and configurations were eventually produced. The last Wellington was phased out of the Royal Air Force in 1953. Aptly described as the "workhorse" of Bomber Command, the Wellington fought in every major theatre. The "Wimpy" as it was known could do almost anything.
From carrying the 4,000 lb. bridgebuster or "cookie" to precisely laying mines at sea,in estuaries and canals, sub hunting, anti-shipping, crew training, transport, radio counter-measures, photo recon, mine clearing, and masking enemy radar to cover the Salerno landings; the Wimpy did it all. During the course of the war, Wellingtons sank 19 U-boats and shared in the kills of 9 more.
Near war's end the Wellington would carry loads of 6,500 lbs. on short trips. The imaginative geodetic construction of the Wellington allowed it to survive tremendous structural damage and still fly. It was more economical to build and operate than 4 engine aircraft, required fewer crew, and had a respectable range of operation.
To an Island Nation supplied with Avgas from across the submarine infested Atlantic, this was an important consideration. The Wellington won the confidence of the crews who flew her and a number of Wellington squadrons continued with their faithful bomber throughout the war in Europe. Wellingtons flew their first bombing operation on September 4, 1939 and were still flying bombing operations in March 1945 in Italy
Further Reading

Wellington aircraft page
http://www.14wing.dnd.ca/415/Wellington.htm
Wellington Bomber
http://www.aviationartprints.com/wellington_bomber.htm
Vickers Wellington Medium Bomber
http://www.accessweb.com/users/mconstab/welling.htm
Vickers Wellington in detail
http://www.hotel.wineasy.se
Vickers Wellington
http://www.rcaf.com/aircraft/wellington.shtml
Vickers Wellington
http://www.military.cz
'Wimpy and Lanc'
http://www.netlink.com.au/~gstooke/460squadron/aircraft.htm
The Vickers Wellington Wimpey
http://www.ophetweb.nl/ww2w/ww2htmls/vickwelling.html
---
Avro Lancaster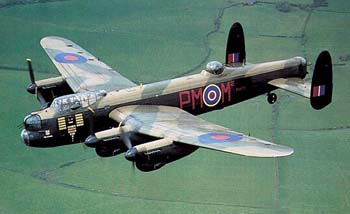 Avro Lancaster
Webshots
The Avro Lancaster
http://www.hellzapoppin.demon.co.uk/avrolancaster.htm
In July 1940, displaying uncharacteristic foresight, the Air Ministry issued a new specification, B1/39, which called for a four engined bomber capable of carrying 10,000lbs of ordnance to a range of 2,500 miles, and should be capable of cruising at 280mph at 15,000 feet.
---
Further Reading

dambusters.org
http://www.dambusters.org.uk/lancs.htm
Image Archive - Lancaster
http://www.exn.ca/mini/flightdeck/images
AWM Redevelopment - Photos
http://www.awm.gov.au/events/redevelopment_photos.htm#george
Avro Lancaster Heavy Bomber
http://www.accessweb.com/users/mconstab/lanc.htm
Avro Lancaster - Great Britain
http://freespace.virgin.net/barry.hobson/lancstory.html
Avro Lancaster Bomber Page
http://www.nucleus.com/~ltwright/lanc_1.htm
Avro Lancaster
http://www.military.cz
Lancaster Story & Reference Links
http://home.westman.wave.ca/~hillmans/lancast1.html
Avro Lancaster Aviation Art
http://www.aviationartprints.com/avro_lancaster.htm
Avro Lancaster
http://www.ophetweb.nl/ww2w/ww2htmls/avrolanc.html
---
De Havilland Mosquito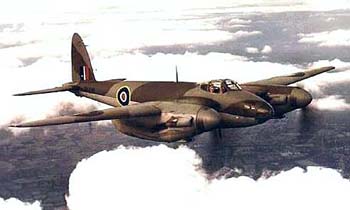 De Havilland Mosquito
source:
De Havilland Mosquito MK XVI
http://www.shillelagh.org/planes/mossie.html
Designed by R.E. Bishop, the Mosquito, affectionately known as the "Mossie" by her pilots and ground crew, was based on the unpopular concept of the fast unarmed bomber capable of outflying its enemy opposition. The concept had been long abandoned by the RAF, and the design was directly contrary to official requirements.
Bishop would persist in spite of exceedingly high official skepticism. His persistence would pay off, and his retrograde all wood design would become on of the most highly adaptable and capable combat aircraft of the entire war, as well as being one of the most elegant, beautiful planes of all time.
The mosquito was a highly successful bomber whose speed gave it the lowest Bomber Command loss rate of the war. It was so fast, in fact, that it was the RAF's fastest aircraft in service until 1944, and Bomber Commands fastest until the appearance of the jet powered Canberra in 1951! In this regard, it made for an ideal night bombing pathfinder which preceded the main bomber formation, marked the target, then outran enemy defensive fighters.
While know primarily as a bomber, the Mosquito found its true calling as a fighter. In this role it demonstrated itself as the most versatile of the war, performing the entire gambit of fighter roles. Everything from night intercepter and intrusion fighter, to long range fighter-bomber, to anti-shipping, the Mossie did it all and did it well.
This incredible fighter performance was not realized by chance, in fact, the fighter potential was appreciated very early in development and space was allocated in the nose for a heavy armament. The fighter prototype flew just six months after the bomber prototype. In the this capacity, the Mosquito account for the majority of RAF night victories.
Production continued until 1950 with 7,781 Mosquitos being built. Of this number 4,650 were in the fighter configuration.
---
Further Reading

The Mosquito Page - the premier Mosquito website by Dr. Andy Dawson
http://www.mossie.org
De Havilland Mosquito
http://www.ualberta.ca
Nick-named 'The Wooden Wonder' - it started life as a low-cost private experiment by de Havilland and in the beginning was ignored by the RAF top brass. To them there was no place in the modern RAF for an old fashioned all wood aircraft with fabric covered control surfaces. These 'experts' were proved wrong in a grand fashion because 7,781 of these aircraft were built and went on to be used with outstanding success in almost every role from long-range bomber to night fighter.
It also proved to be almost as fast as its contemporary RAF stable-mate - the much smaller and lighter F.21 Griffon powered Spitfire. The Mosquito was the RAF aircraft of choice for the 'Oboe' equipped 'Pathfinder' groups; and when a 'surgical bombing strike' was called for, it was the this aircraft with up to 4,000 lbs. of ordanance that was used. Not bad at all for an obsolete technology.
De Havilland Mosquito
http://www.aviation-history.com/dehavilland/mosquito.html
It is one of the paradoxes of aircraft development that some of the world's greatest aeroplanes have achieved their fame doing jobs other than the one for which they were originally designed. No better example of this could be found than the Mosquito, which, conceived as a bomber, became one of the war's most potent fighters. More than this, indeed, it was probably the most successfully versatile of any twin-engined type built between 1939 and 1945. It excelled in all the widely varied roles.
Its duties included the duties of low-level and high-attack day and night bomber, long-range photo-reconnaissance, mine layer, pathfinder, high-speed military transport, long-range day and night fighter, and fighter-bomber. It served in Europe, the Middle and Far east and on the Russian front. In fact the ubiquitous Mosquito reigned supreme among General Purpose types; and of the grand total of 7,781 Mosquitos built, 6,710 were delivered during the war years.
De Havilland Mosquito
http://www.214th.com:ww2:england:mos
In many respects the Mosquito was the most versatile aircraft of the war, serving in the photo-reconnaissance, bomber, antiship, fighter-bomber, night fighter and pathfinder roles. In most roles the Mostquito was superior to its contemporaries and was the fastest aircraft of any type in the RAF from Sept. 1941 until early 1944. As Jane's All the World's Aircraft editor J.W.R. Taylor observed, "The Mosquito was the realization of an ideal: an unarmed bomber that would depend for its defence on sheer performance."
U-boat Net - Fighting the U-boats - Aircraft - de Havilland Mosquito
http://uboat.net/allies/aircraft/mosquito.htm
The Mosquito was designed as an unarmed, high-speed bomber. By dispensing with defensive armament the size, weight and drag of the aircraft could be greatly reduced. It was assumed that the resulting small, fast aircraft bomber would be almost impossible to intercept. The de Havilland design team lead by R.E. Bishop, R.M. Clarkson and C.T. Wilkins proposed the design of a twin-engined bomber, able to carry 1000 pounds (454kg) of bombs over 2400km, and able to reach a speed of 655km/h.
The staff officers of the RAF and the officials of the Air Ministry where highly skeptic. They had earlier seen how some "fast" bombers had fallen short of the promised performance, or had been overtaken by progress in fighter designs, and became highly vulnerable. Also, de Havilland proposed a wooden construction, which is generally heavier than a metal one, but could be given a very smooth finish. However, a wooden structure was certain to deteriorate in a tropical climate, an important consideration for the RAF.
De Havilland Mosquito
http://www.214th.com/ww2/england/mosquito/
In many respects the Mosquito was the most versatile aircraft of the war, serving in the photo-reconnaissance, bomber, antiship, fighter-bomber, night fighter and pathfinder roles. In most roles the Mostquito was superior to its contemporaries and was the fastest aircraft of any type in the RAF from Sept. 1941 until early 1944. As Jane's All the World's Aircraft editor J.W.R. Taylor observed, "The Mosquito was the realization of an ideal: an unarmed bomber that would depend for its defence on sheer performance."
De Havilland Mosquito
Bomber, Fighter-bomber and Night-Fighter variants
http://www.ophetweb.nl/ww2w/ww2htmls/dehamosqbfn.html

Mosquito Thunder
http://www.saxonct.co.uk/itm00443.htm
Here, for the first time, and containing many previously unpublished photographs, is the full story of No 105 Squadron's Mosquito operations.
A comprehensive and true account of the heroic exploits of this famous Pathfinder squadron.


No 105 Squadron was the second RAF bomber squadron to fly the de Havilland Mosquito, and the author uses vivid first-hand accounts from surviving crews to support the detailed narrative of pioneering low-level and shallow dive attacks on enemy targets.
Scott, Stuart R. Mosquito Thunder Foreward by Air Marshall Sir Ivor Broom, Hardback, 244 x 172 mm. 224 pages. 130 b/w illustrations
---
English Electric Canberra
English Electric Canberra
Webshots
A Tribute to the English Electric Canberra : Background
http://www.netcomuk.co.uk/~lesb/canb02.html
The Meteor and Vampire were already flying - jet engined aircraft had arrived on the scene and were in service. It became obvious that the next step was to produce a jet bomber. In 1944, The Ministry of Aircraft Procurement issued a specification calling for design concepts for a fast, high-altitude, jet-powered medium bomber to replace the Whirlwind/Typhoon/Mosquito style of aircraft.
A Ministry of Aircraft Production requirement evolved which sought a jet engined medium bomber and it was initially considered that this new aircraft would take the RAF's Main Force into the jet age with a jet bomber which would be suitable until the heavy bombers, (the "V" bombers), were developed. At English Electric Aircraft at Preston (UK), W.E.W. Petter took up the challenge and in the same year, 1944, conceived the aircraft that was to become the world-famous Canberra.
The Canberra was initially envisaged as a single engined, straight winged bomber with a circular cross-section (to ease the problems inherent at that time in pressurising aircraft), but this idea was soon dropped in view of the limited bomb and fuel capacity that would be imposed. An aircraft with engines mounted at the wing roots was considered but wing-mounted engines became favoured when the Rolls Royce Avon 109, an engine of relatively small overall diameter, became available. The designers opted for straight, broad wings and retained the aircraft's circular cross-section fuselage - the Canberra's classic shape was settled.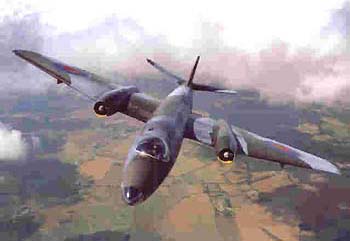 English Electric Canberra PR9
Webshots
Australia
http://www.netcomuk.co.uk/~lesb/austral1.html
Australia was one of only two nations to licence-build the Canberra (the other was the USA). Production started in 1951 at the Government Aircraft Factory, Fisherman's Bend, near Melbourne. The first Australian built Canberra, A84-201, flew from Avalon on 29 May 1953. Twenty-nine years later after a long and distinguished career which included operational bombing sorties in Vietnam, the RAAF withdrew its Canberras from active service.
---
Further Reading
Canberra Links go here
---
In closing, a chilling reminder of what occurred in those darkest moments of WW2 is soon to come to Television

Night and Day : TV to portray true horror faced by bomber crews
By Tom Leonard Media Correspondent
THE harrowing experience of serving in a Lancaster bomber during the Second World War is being recreated by the BBC in a forthcoming UKP2.5 million drama starring Christopher Plummer and Edward Woodward. The pair, who play a pilot and navigator who survive the war, were joined outside Somerset House in central London at the weekend by 60 real war veterans to film a recreation of the Cenotaph parade.
Set in 1943 and the present day, Night and Day was written by William Ivory, the creator of the television dramas The Sins and Common As Muck, and inspired by his father's experience as a Lancaster navigator. Producers say the drama will reflect the hazardous nature of the RAF's bombing missions - 55,000 Bomber Command personnel were killed during the war, and while crews had a one in 20 chance of not surviving a mission, they had to fly 30 such missions before their tour finished.
Plummer, who makes a rare appearance on British television, plays Harry Peters, a former pilot who meets his old navigator, Vic Green, played by Woodward, at the Cenotaph. Green introduces him to Ted (Kenneth Cranham), the son of their rear gunner who was killed, whose relentless questioning forces the veteran to relive his wartime experiences.
Ivory said he wanted to pay tribute to an arm of the services that had undergone a terrifying ordeal and yet, after the war, was "swept under the carpet". He added: "What shocked me about the whole Bomber Command experience is that a lot of them were bright boys and yet, after the war, available records showed a huge degree of dysfunctional behaviour such as alcoholism, failed businesses and marriages.
"If ever there was an environment in which men would struggle to return to a nine-to-five life after the war, this would have been it and that was the premise for the drama. "I hope those who flew, and their families, think it's a fair reflection of what they went through."
The producers have built an entire Lancaster interior at Bray Studios to recreate the cramped conditions inside and are filming real Lancasters in Lincolnshire, from where so many of them flew during the war. Hilary Salmon, the producer, said a combination of guilt over the bombing of Dresden, the controversial figure of Bomber Harris and the comparative glamour of Spitfires had meant that Bomber Command's role had been overlooked. "Yet the bravery it took to get back in that plane night after night was extraordinary," she said. "The memories that some of the veterans have told us were heartbreaking." The two-part series will be shown on BBC1 this autumn.
---
We are not at war
Posted Sun Sep 10 11:56:21 2000 by steveg
Why is everyone so serious?
After you wade through memo after memo from the dotcom crowd, there's only one conclusion you can come to. People are talking themselves way too seriously. There's a difference between climbing in a Lancaster or Mosquito Bomber and heading towards Germany and selling scooters online. Here is an illustration of my point:
On 3 November 1943 on the way to Dusseldorf, Germany, Flight Lieutenant Reid's windscreen was shattered by fire from a Messerschmitt and the gun turrets and cockpit badly damaged. Saying nothing of his multiple injuries, he continued on his mission and soon afterwards was attacked again, his navigator being killed and the wireless operator fatally wounded. He was wounded again, and also the flight engineer, while the Lancaster received more serious damage. Pressing on to his target, Flight Lieutenant Reid released his bombs, then set course for home and in spite of growing weakness from loss of blood, managed to land his crippled aircraft safely.
William Reid is one of 1,350 to ever win the Victoria Cross and one of the few to live to tell the tale. He was 21 at the time he won the VC and is still alive.

found at
http://www.netslaves.com/comments/968601381.shtml