---
Denny Righter Scratchpad 6 : 'Muroc' & '24 Palm's Dry Lakes
Images will temporarily be placed here so you can enjoy them (and make comment) before they go on the site proper. Basically, I have to work out where they are best suited to what text support etc. This page is coded to be invisible to search engines. You can ony access it by knowing the URL. The images are not in any order - just as I made them
---
Muroc Dry Lake : Edwards AFB : Flight Test Excellence
http://www.sdslink.com
Edwards AFB evolved from an aerial bombing range first established at Muroc Dry Lake in 1933 1. By 1937, a small permanent encampment had grown up there, and when war erupted four years later, the lakebed range was used to train Army Air Corps (AAC) fighter and bomber crews.
In 1942, the site was selected by the AAC for secret testing of the United States' first jet airplane, the Bell XP-59. It was shipped there by train in September of that year and made its maiden flight the following month. Recognizing the site's long-term potential for test activity during this project, Army authorities designated it a Flight Test Base at the end of 1942.
Classified and unclassified testing activities have been conducted there in comfortable isolation ever since, involving almost all of the fighter, bomber, and transport aircraft considered for or brought into service by the Air Force over the past 45 years.
1 Subsequently renamed Rogers Dry Lake
Muroc in 1979
---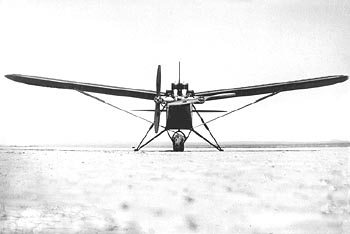 RP-4 / OQ-1
download a 1500pixel image
La Salle Sedan launching the RP-4 / OQ-1, 1939
Walter Righter is driving his car with Reg Denny in the back seat.
Righter Family Archives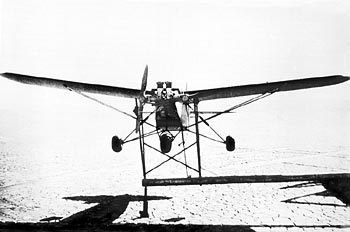 RP-4 / OQ-1 launch cradle
download a 1500pixel image
RP-4 / OQ-1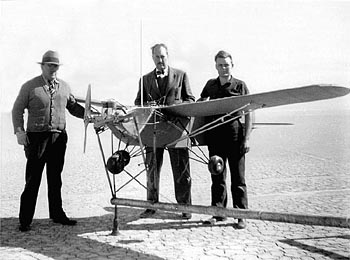 Walter Righter, Harold Powell and Kenneth (Ken) Case
RP-4 / OQ-1, Lake Muroc, c.1939

Righter Family Archives


Fran Righter recalls : "I guess I haven't mentioned that Muroc Dry Lake, CA where all the early tests took place, is now Edwards Air force Base.

When Reg Jr. and I were reminiscing about going to New Port Beach and Balboa Island for vacations in the summer when we were kidlets, we remembered riding along New Port Road in Santa Ana, CA past acres and acres of sugar beet farms and the old dirigible hangers. I remember being in them with my Dad on one of our trips to the beach. Reg told me that the local navy drone group operated from a very small section within or adjoining one of these hangers.

During WW-2 the drones were kept and maintained there. Even without freeways, it was a relatively short drive from there to Newport Beach. The drones were trucked to Newport Harbor and loaded aboard 63 foot AVR boats from which they were launched for navel target practice from ships off of San Clemente Island. Later the navy relocated the drone base to Point Mugu, or Port Hueneme, CA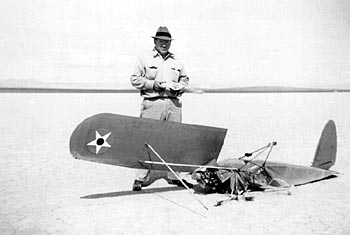 RP-3 Crash at Lake Muroc


Fran Righter recalls: "Usually things went along well in the drone business, but some times there were mistakes, crashes and down days.

February 21, 1939 the crew started from Burbank on a long trip to Muroc to test their latest ship. The drone was neatly covered with a tarpaulin and fastened down on top of the truck. They were almost to Palmdale when they discovered that the tarp moorings had parted and the tarp had been flapping in the wind beating the whole tail off the plane. The results were "hellish". They had to turn around and drive all the back to Burbank.

The flight the next day at Muroc was a huge success!"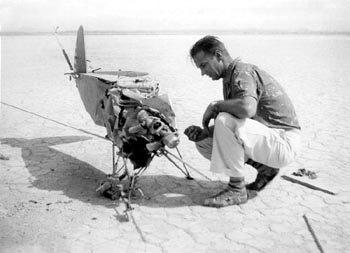 RP-3, Crash at Lake Muroc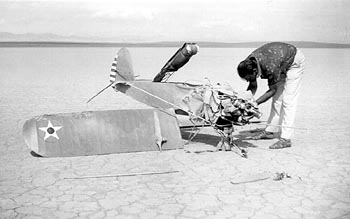 RP-3, Crash at Lake Muroc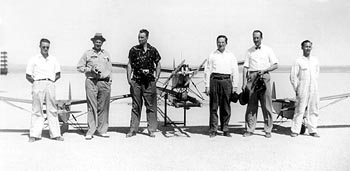 Personnel at Lake Muroc, first three RP-4 / OQ-1
L to R: Ken Case, Reg Denny, Paul Whittier, Whit Collins
Harold Powell, Al DeLise
download a 1500pixel image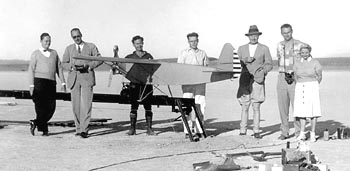 Personnel at Lake Muroc, RP-3
L to R: Whitley H. Collins, Harold Powell, Al DeLisle
Ken Case, Reg Denny, Paul Whittier and ?
download a 1500pixel image
Ken Case and Al DeLisle, Sept. 29, 1938
RP-3, 24 Palms Dry Lake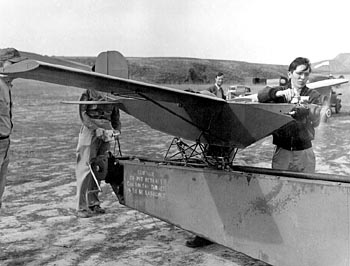 Ralph "Woody" Woodhouse, OQ-3
Robert "Bob" Ilg (ILG) in the background
download a 1500pixel image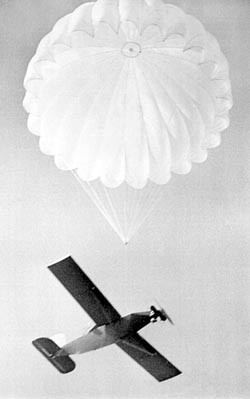 OQ-3 Recovery


Reginald Denny notes: "According to Dad's story I was instrumental in solving that [the landing] problem. There was a room off the backyard of our home in Hollywood where dad and his technicians did most of the development work on these drones. I recall spending hours watching and annoying them with conversation and questions.

Dad had taken me to one of the many air shows we attended together. There was an army parachute jump demonstrated at that air show. I clearly recall that air show. After returning from the air show according to Dad's story, I asked "why don't you land your plane by parachute like those guys in the air show". Bingo. He went right to work on that idea.

The parachute release device really made the drone operational. I of course don't recall the actual conversation with Dad, but I do clearly recall the parachute demonstration. I also recall constantly pestering Dad and the other developers with my presence, bombarding them with questions and suggestions.

This I'm certain wasn't appreciated by the other men working on the project. Particularly when I became bored and threw dirt balms at the windows of the room in which they were working. Because I recall being very impressed with that parachute demonstration and hanging around while Dad worked on the drone, his story could very well be accurate.

Dad sometimes took a little poetic license when explaining some occurrences. But then, "Out of the mouths of babes come words of wisdom", or something like that. :-) So perhaps Dad's story of the parachute idea is accurate. Who knows. I recall watching the development and discussing the parachute release with Dad, but not actually suggesting it."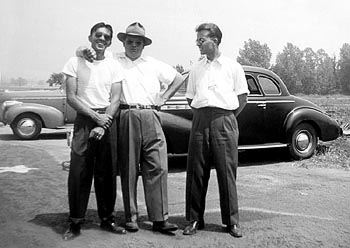 Ralph "Woody" Woodhouse, Walter Righter and Harold "Al" Koester


Fran Righter adds: "...our little car is on the left. Dad let me drive it to and from high school and college most every day. It was my job to see that the engine, carburetor, battery cable, sparkplugs, etc. were clean and working right. Loved that little car"