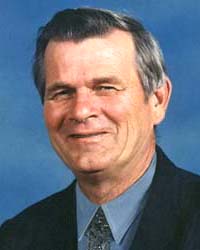 HARGRAVE, Kevin (Dick) : 1947 -
Kevin 'Dick' Hargrave was born in 1947 in Coledale NSW, just south of Stanwell Park where his great, great uncle, Lawrence Hargrave resided for a number of years.
Stanwell Park was the site of Lawrence Hargrave's most notable achievement when, on November 12, 1894, he was the first person to be lifted aloft by 'kite power'.
Read a report of the kite event and see how it was done
Dick joined Australian Iron and Steel at Port Kembla (BHP) as an apprentice boilermaker. On completing his training in 1968 he moved to Bairnsdale joining Elliott Engineering to work on recompression chambers destined for oil rigs in Bass Strait.
He then went on to work with William Adams Tractors (Caterpillar) also in Bairnsdale and during that time, designed and developed several new pieces of equipment used in, amongst other things, machinery used in forestry operations.
Dick married Carolyn Croll in 1968 and they 'engineered' two children, Shelley Joy, b.1970 and Keith William b.1973. Shelley, who now has three children of her own is studying at Monash University's Churchill campus. Keith has followed in his father's footsteps being both a welder and a diver. He also is a licensed diving instructor.
Carolyn has degree in humanities and social sciences and graduated from Monash University with an Honours degree in October 1999. Dick has concentrated on his specialist area and gained a number of senior supervisory and inspector level welding qualifications through the Welding Technologies Institute of Australia.
Dick's hobbies include SCUBA diving with a specific interest in shipwrecks on which he has lectured to local clubs and organisations. Like his famous great, great uncle, Dick is also involved with the world of steam and steam engines.
Serving the community that supports his business, Dick is also involved with the ambulance service. He was a board member of the former East Gippsland Ambulance Service and is a current member Bairnsdale Ambulance Auxiliary.