---
Reginald Denny (1891-1967)
Stage and Screen
---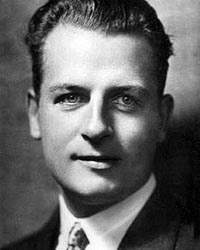 Reginald Denny
http://www.silentsmajority.com
by Tim Lussier, © 1997 All rights reserved.
"The screen is crowded with Americans trying to act like Englishmen, but Reg is the only Englishman we know of who tries to act like an American and gets away with it. His comedies are both typically American and very funny,"
Motion Picture, January, 1928



Reginald Denny, born Reginald Leigh Dugmore, (Nov 21, 1891, Richmond, Surrey, England, Died June 16, 1967, in Richmond, Surrey, England) first appeared on the stage at age seven in England, but left school at age 16 to pursue a theatrical career in earnest. In 1911, he came to America as a part of The Quaker Girl cast.
He returned to England in 1912, and, in the ensuing years, performed in India, Australia and the Orient. He married Irene "Renee" Haisman, a British musical comedy star, during this time and returned to the United States in 1914. He toured until 1917 when he went to New York to enlist with the Royal Flying Corps. Stationed in Hastings, England, the war ended before he completed his training.
---
Reginald Denny : Stage and Screen
The film links will take you to pages on The Internet Movie Data Base IMdB
Filmography as : Actor, Writer, Director, Editor, Notable TV guest appearances
Actor - filmography
(1960s) (1950s) (1940s) (1930s) (1920s) (1910s)
Assault on a Queen (1966) .... Master-at-Arms
Batman (1966/I) .... Commodore Schmidlapp
aka Batman: The Movie (1966) (USA: video box title)
Cat Ballou (1965) .... Sir Harry Percival
Advance to the Rear (1964) (uncredited)
aka Company of Cowards? (1964) (UK)
Phantom, The (1961) (TV)
Scarlet Pimpernel, The (1960) (TV)
Around the World in Eighty Days (1956) .... Police Chief
Escape to Burma (1955) .... Commissioner
Sabaka (1954) .... Sir Cedric
aka Hindu, The (1954)
World for Ransom (1954) .... Major Bone
Abbott and Costello Meet Dr. Jekyll and Mr. Hyde (1953) .... Inspector
Fort Vengeance (1953) .... Inspector Trevett, NWMP
Iroquois Trail, The (1950) .... Capt. Brownell
aka Tomahawk Trail, The (1950) (UK)
Screen Actors (1950) (uncredited) .... Himself
Mr. Blandings Builds His Dream House (1948) .... Henry Simms
Escape Me Never (1947) .... Mr. MacLean
Christmas Eve (1947) .... Phillip Hastings
aka Sinner's Holiday (1947) (USA: reissue title)
Secret Life of Walter Mitty, The (1947) .... R.A.F. Colonel
Macomber Affair, The (1947) .... Police Inspector
My Favorite Brunette (1947) .... James Collins
Locket, The (1946) .... Mr. Wendall
Tangier (1946) .... Fernandez
Love Letters (1945) .... Defense counsel Phillips
Song of the Open Road (1944) .... Director Curtis
Crime Doctor's Strangest Case (1943) .... Paul Ashley
aka Strangest Case (1943) (UK)
Over My Dead Body (1943) .... Brenner
Eyes in the Night (1942) .... Stephen Lawry
Hedda Hopper's Hollywood No. 6 (1942) .... Himself
Thunder Birds (1942) .... Barrett
Sherlock Holmes and the Voice of Terror (1942) .... Sir Evan Barham, Intelligence Inner Council/Heinrich von Bork, Nazi Agent
aka Voice of Terror (1942) (UK)
Captains of the Clouds (1942) .... Commanding officer
Appointment for Love (1941) .... Michael Dailey
International Squadron (1941)
Picture People No. 1 (1941) .... Himself
One Night in Lisbon (1941) .... Erich Strasser
Spring Parade (1940) .... Captain
Seven Sinners (1940) .... Captain Church
aka Cafe of the Seven Sinners (1940)
Rebecca (1940) .... Frank Crawley
Bulldog Drummond's Bride (1939) .... Algernon 'Algy' Longworth
Hollywood Hobbies (1939) (uncredited) .... Himself
Bulldog Drummond's Secret Police (1939) .... 'Algy' Longworth
Everybody's Baby (1939) .... Dr. Pilcoff
Arrest Bulldog Drummond (1939) .... Algernon 'Algy' Longworth
Unusual Occupations (1938/III) (uncredited) .... Himself
Bulldog Drummond in Africa (1938) .... Algernon 'Algy' Longworth
Blockade (1938) .... Edward Grant
Four Men and a Prayer (1938) .... Captain Douglas Loveland
Bulldog Drummond's Peril (1938) .... Algernon 'Algy' Longworth
Bulldog Drummond Comes Back (1937) .... Algernon 'Algy' Longworth
Jungle Menace (1937) .... Ralph Marshall [Chs.1-3]
Let's Get Married (1937) .... George Willoughby
Women of Glamour (1937) .... Frederick Eagan
Bulldog Drummond's Revenge (1937) .... Algernon 'Algy' Longworth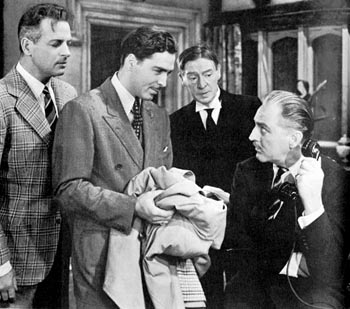 Bulldog Drummond's Revenge, 1937

L-R: Reginald Denny, John Howard, E. E. Clive, John Barrymore


Beg, Borrow or Steal (1937) .... Clifton Summitt
Sunday Night at the Trocadero (1937) .... Himself
Great Gambini, The (1937) .... Mr. Randall
Bulldog Drummond Escapes (1937) .... Algernon 'Algy' Longworth
aka Bulldog Drummond's Escape (1937) (USA: review title)

Join the Marines (1937) .... Steve
Rest Cure, The (1936) .... Dan Linton
aka We're in the Legion Now (1936)

More Than a Secretary (1936) .... Bill Houston
Two in a Crowd (1936) .... Anthony
Romeo and Juliet (1936) .... Benvolio, nephew to Montague and friend to Romeo
It Couldn't Have Happened - But It Did (1936) .... Greg
Preview Murder Mystery (1936) .... Johnny Morgan
Midnight Phantom (1935) .... Prof. David Graham
Remember Last Night? (1935) .... Jake Whitridge
Lady in Scarlet, The (1935) .... Oliver Keith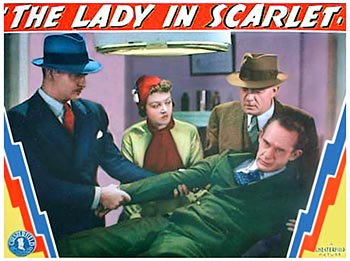 The Lady in Scarlet, 1935


Starlit Days at the Lido (1935) .... Master of Ceremonies (As Himself)
Anna Karenina (1935) .... Yashvin
Here's to Romance (1935) .... Emery Gerard
No More Ladies (1935) .... Oliver
Without Children (1935) .... Phil Graham
aka Penthouse Party (1935)

Vagabond Lady (1935) .... John Spear
aka Girl Is Mine, The (1935)

Lottery Lover, The (1935) .... Captain Payne
Dancing Man (1934) .... Paul Drexel
Little Minister, The (1934) .... Captain Halliwell
Richest Girl in the World, The (1934) .... Phillip 'Phil' Lockwood
One More River (1934) .... David Dornford
aka Over the River (1934)

We're Rich Again (1934) .... Bookie
Of Human Bondage (1934) .... Harry Griffiths
World Moves On, The (1934) .... Erik von Gerhardt
Lost Patrol, The (1934) .... George Brown
Fog (1934) .... Dr. Winstay
Iron Master, The (1933/I) .... Steve Mason
Big Bluff, The (1933/I)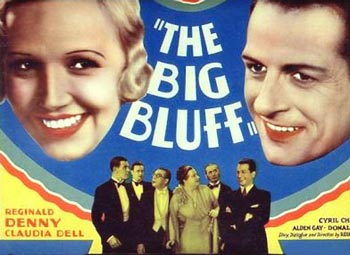 The Big Bluff, 1933


Only Yesterday (1933) .... Bob
Barbarian, The (1933) .... Gerald Hume, Diana's Fiancee
aka Arab, The (1933)
aka Man of the Nile (1933)
aka Night in Cairo, A (1933) (UK)

Talking Screen Snapshots (1932) .... Himself
Strange Justice (1932) .... Henry I. Judson
Lovers Courageous (1932) (uncredited) .... Photo of Jimmy
Christmas Party, The (1931) (uncredited) .... Himself
aka Christmas Story, A (1931)

Private Lives (1931) .... Victor Prynne
Stepping Out (1931) .... Tom
Kiki (1931) .... Victor Randall
Parlor, Bedroom and Bath (1931) .... Jeffrey Haywood
aka Romeo in Pyjamas (1931) (UK)

Oh, for a Man (1930) .... Barney McGann
Lady's Morals, A (1930) .... Paul Brandt
aka Jenny Lind (1931) (UK)
aka Soul Kiss (1930) (UK)

Those Three French Girls (1930) .... Larry
Madam Satan (1930) .... Bob Brooks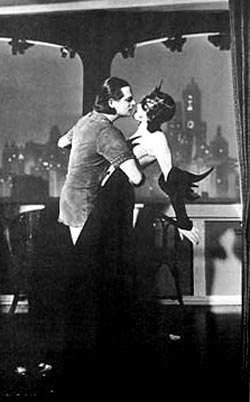 Madam Satan, 1930


What a Man (1930) .... Wade Rawlins
aka Gentleman Chauffeur, The (1930) (UK)
aka His Dark Chapter (1930) (USA)
aka They All Want Something (1930) (USA)

Embarrassing Moments (1930) .... Thaddeus Cruikshank
Voice of Hollywood No. 3, The (1929) .... Guest Host
One Hysterical Night (1929) .... William 'Napoleon' Judd
His Lucky Day (1929) .... Charles Blaydon
Clear the Decks (1929) .... Jack Armitage
Red Hot Speed (1929) .... Darrow
Night Bird, The (1928) .... Kid Davis
Good Morning, Judge (1928) .... Freddie Grey
That's My Daddy (1928) .... Jimmy Norton
On Your Toes (1927) .... Elliott Beresford
Out All Night (1927) .... John Graham
Fast and Furious (1927) .... Tom Brown
Cheerful Fraud, The (1927) .... Sir Michael Fairlie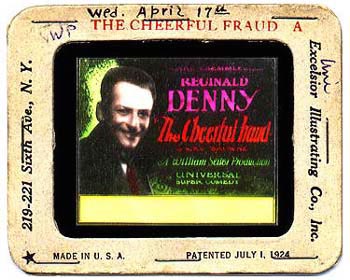 The Cheerful Fraud, 1927, Theatre Lantern Slide


Take It From Me (1926) .... Tom Eggett
Rolling Home (1926) .... Nat Alden
Skinner's Dress Suit (1926) .... Skinner
What Happened to Jones (1926) .... Tom Jones
Where Was I? (1925) .... Thomas S. Berford
California Straight Ahead (1925) .... Tom Hayden
I'll Show You the Town (1925) .... Alec Dupree
Oh, Doctor! (1925) .... Rufus Billings Jr.
Fast Worker, The (1924) .... Terry Brock
Reckless Age, The (1924) .... Dick Minot
Sporting Youth (1924) .... Jimmy Wood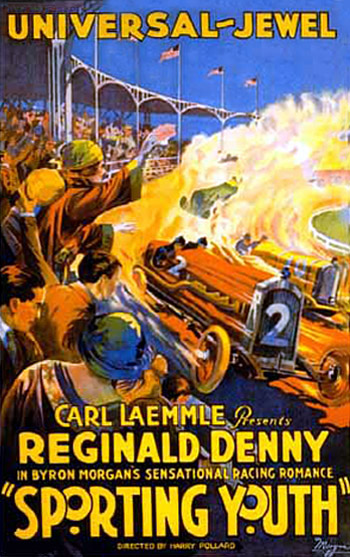 Sporting Youth, 1924


Thrill Chaser, The (1923)
Abysmal Brute (1923) .... Pat Glendon, Jr
Kentucky Derby, The (1922) .... Donald Gordon
Leather Pushers, The (1922) .... Kane Halliday
aka Kid Roberts (First, Second, Third Series)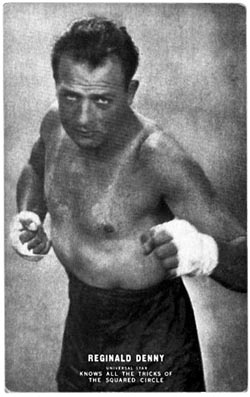 The Leather Pushers, 1922, promotional postcard


Sherlock Holmes (1922) .... Prince Alexis
aka Moriarty (1922) (UK)

Paying the Piper (1921) .... Keith Larne
Iron Trail, The (1921) .... Dan Appleton
Tropical Love (1921) .... The Drifter
Beggar Maid, The (1921) .... The Earl/King Cophetua
Footlights (1921) .... Brett Page
Disraeli (1921) .... Charles, Viscount Deeford
Experience (1921)
Price of Possession, The (1921) .... Robert Dawnay
39 East (1920) .... Napolean Gibbs Jr.
Dark Lantern, A (1920) .... Prince Anton
Oakdale Affair, The (1919) .... Arthur Stockbridge
aka Bringing Up Baby (1919) (USA)

Bringing Up Betty (1919) .... Tom Waring
---
Filmography as:Actor, Writer, Director, Editor, Notable TV guest appearances
Writer - filmography
Big Bluff, The (1933/I)
One Hysterical Night (1929) (story) (dialogue)
That's My Daddy (1928) (story)
Fast and Furious (1927) (story)
Tropical Love (1921)
Beggar Maid, The (1921)
---
Filmography as: Actor, Writer, Director, Editor, Notable TV guest appearances
Director - filmography
Big Bluff, The (1933/I)
That's My Daddy (1928) (uncredited)
---
Filmography as:Actor, Writer, Director, Editor, Notable TV guest appearances
Editor - filmography
---
Filmography as:Actor, Writer, Director, Editor, Notable TV guest appearances
"Batman" (1966/II) playing "King Boris" in episode: "When the Rat's Away the Mice will Play" (ep. #1.12) 2/17/1966
"Batman" (1966/II) playing "King Boris" in episode: "A Riddle a Day keeps the Riddler Away" (ep. #1.11) 2/16/1966
"Please Don't Eat the Daisies" (1965) playing "George" in episode: "Somewhere George is Calling" (ep. #1.10) 11/16/1965
"Your Show Time" (1949) in episode: "The Invisible Wound" (ep. #1.6) 2/25/1949
Top | Reginald Denny Home