---
Reginald Denny (1891-1967)
Introduction
---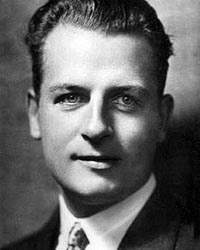 The study into the life and work of Reginald Denny began with reference to Hal Erickson's, All Movie Guide.
As the site grew, Denny's two surviving children, Reginald Jr. and Deborah McBride came to our aid offering a wealth of material about their father.
To 'Reggie' and 'Debbie' we dedicate these pages.
It would also be amiss to not thank the other dedicated contributors to this work, Peter Soule, Jim Dunkin and Fran Tucker, daughter of Walter Righter.


Debbie McBride (Denny) writes... "My grandfather's parents came over from Dublin, Ireland to England c.1871/72 as actors when my grandfather, W. H. Denny was a boy. (Real name: William Henry Leigh Dugmore) Note 1.
Reginald Denny Jr. writes... "...to my knowledge our father never used the name Dugmore. I believe he may have been born with that name, but his father (our grandfather) changed his name to Denny, either before our father was born or when he was a very young child. I'm not certain of the timing."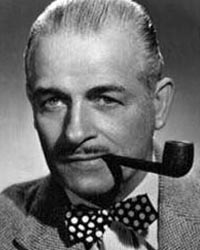 Hal Erickson continues... "Reginald Denny (b. Reginald Leigh Dugmore 20 Nov. 1891, Richmond, Surrey, Eng., UK., d : 16 Jun., 1967 Richmond, Surrey, Eng., UK.,) was on stage at the age of 8 years old in England.
Denny came to the U.S.A. in a 1912 production of Quaker Girl, then returned to England to star in musical productions."
"After World War I service as a Lieutenant in the Royal Flying Corps, Denny appeared in several Broadway productions and made his film bow at the New Jersey-based 'World Film Studios'.(sic.)"


"Hired on the basis of his finely tuned physiques, Denny starred in Universal's boxing short-subject series The Leather Pushers before being promoted to features. He made more than a dozen light domestic comedies, including Skinner's Dress Suit (1925), before American moviegoers had any idea he came from England."


The Leather Pushers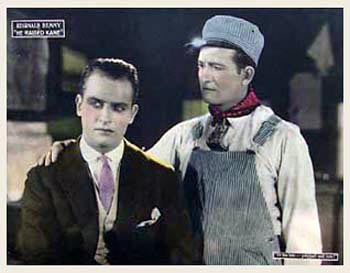 Lobby Card, "He Raised Kane", 1923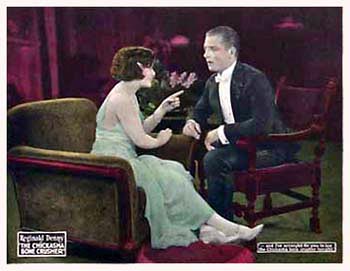 Lobby Card, "The Chickasaw Bone Crusher", 1923


NB: The two titles above do not appear in the IMdB listing - they may be for stage plays - to be investigated. [Ed.]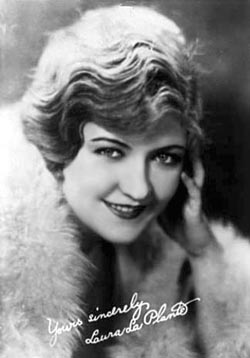 Laura LaPlante


"During the 1920s, Denny was one of Universal's most popular stars, headlining a series of frothy domestic comedies, most of which co-starred Laura LaPlante and were directed by William A. Seiter."

"In talkies, Denny's British accent made it difficult for him to continue in the "all-American" roles he'd been playing at Universal, but he continued to flourish as a character actor, showing up in everything from Romeo and Juliet (1936) to Abbott and Costello Meet Dr. Jekyll and Mr. Hyde (1937)." "He also played the "silly ass" second lead of Algy [Longworth - Ed.] in several Bulldog Drummond "B" pictures."


Hugh "Bulldog" Drummond
http://www.a-1video.com/

Hugh "Bulldog" Drummond was the creation of writer Herman C. McNeil. Drummond was an British ex-army officer who had a restless nature and lived an adventuresome life solving mysteries with his long time companion "Algy". There was usually a girl or two who try to tie him down with a wedding ring but somehow Drummond usually escapes the gallows of the last mile of matrimony.
Debbie McBride (Denny) continues...Dad was 47 when I was born (Sep. 3, 1937) and 43 when Joan was born (Nov. 25, 1933). Barbara, dad's daughter by his first marriage to Irene "Renee" Haisman died at the age of 30 from polio when I was just 11

Irene "Renee" Haisman (b: 7 March 1897, Rochester, England, UK; m. 1913; divorced 1927; d. (polio) 19 August 1950, Los Angeles, California, USA)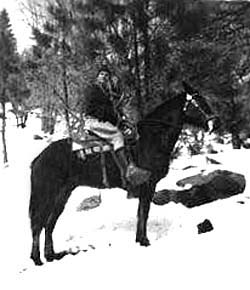 Just a man and his horse, Running Springs, Calif.

Source : The Denny Archives


Dad had a love for animals and was an avid horseman. He had a ranch in Running Springs, California. He also loved to sail and owned a 34 ft. sloop that he and my brother Reginald Jr. 'Reggie' used a lot.

Reggie took after him in his love for sailing and I took after him in his love for horses. My elder sister Joan was the one that wanted to be an actress but she married and didn't pursue it. She passed away at the age of 54, fifteen years ago (1987) with Lou Gehrig's disease. Dad never wanted any of us to go into acting. He always discouraged it.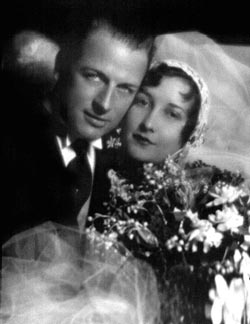 Reginald and Isobel Denny, (neé Steiffel), 1928

Source : The Denny Archives

download a 1000pixel image


My father met my mother Isobel Steiffel (b. May 8, 1907 Utah, USA d. 19 December 1996, Woodland Hills, California, USA) at Universal Studios where she was an extra. Under her stage name Betsy Lee she was his leading lady in The Night Bird in 1928 (dir. Fred C. Newmeyer) but gave up acting when she married my father. Everyone knew her by her nick name "Bubbles".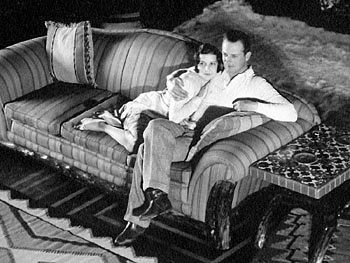 Reginald Denny and wife Isobel Steiffel

At their 'log cabin' in the town of Running Springs

download an uncropped image


Recently John Desens, a reader of our pages, sent us this fascinating story of the 'log cabin'...
The log cabin is located in the town of Running Springs, California located in the San Bernardino mountains of Southern California. My father-in-law Charlie Bacon, a long time resident of Running Springs, purchased the property with the log cabin several years ago. As I understand the cabin was originally built and owned by actor Edmund "Hoot" Gibson, later sold to Reginald Denny who later sold it to producer David O. Selznick.




Reginald Denny and wife Isobel Steiffel

At their 'log cabin' in the town of Running Springs

download an uncropped image


I have been trying to research the history of the property and cabin for Charlie. I have been able to locate 2 other photos of Reginald Denny on the property. In one of them the original cabin can be seen in the background. I have found nothing so far to connect the cabin to either Hoot Gibson or David O. Selznick directly.




Reginald Denny and wife Isobel Steiffel

At their 'log cabin' in the town of Running Springs

download an uncropped image


The original cabin was damaged by the Bear fire of 1970 as it swept through the mountains. Most of the cabin was still standing but had been vandalised over a period of time. Charlie's intent was to rebuild the log cabin keeping it original as possible. He formerly owned an excavating business in Running Springs and has also built many spec houses there so was quite familiar with the local building codes and laws.




Reginald Denny, wife Isobel Steiffel and their caretaker, Art Manning (r)

At their 'log cabin' in the town of Running Springs


Debbie McBride (Denny) notes... "Mom really wasn't a horsewoman despite all Dad's efforts and the only way she would get on her horse "Peanuts" was if someone held the rope. Their caretaker Art [Manning] would hold onto the rope but Dad would make him take it off as he wanted to see Mom do it by herself. Well, then she would dismount and "Peanuts" would take off and they would be chasing him all over the mountains" :-)

John Desens continues : As he began to develop the plans for rebuilding it became evident he would need to replace all the logs. He contacted a builder in Canada and drew up plans for a new log cabin to be built. The plans retained the existing stone walls around the original foundation and the rooms beneath the upper structure.

A new foundation was set amongst the original foundation. The plans also kept the original stone fireplace which was made with rocks split from the property itself. The fireplace has been fitted with a functional wood stove. The new log cabin was completed and shipped from Canada by truck to be reassembled on the site. Work began in March 2002 and is close to being completed

John Desens

Reg Denny Jr. responded...
John, I vividly remember my very early childhood days at the cabin in Running Springs. I recall riding by horse to the little general store and the pet racoon they had. I believe the cabin was sold about 1938 for if I'm not mistaken, eight thousand dollars.

Several years ago, the late eighties I believe, I had an opportunity to arrange to meet with John Huston but didn't act quickly enough and sadly John died before I made an effort to contact him. His father Walter Huston, had the large cabin on the adjoining property.

I recall swimming in the pool at Walter Huston's place with him and dad. Interestingly, I don't recall having met John Huston. John was somewhat older than I. As I recall Selznick owned a cabin nearby. I remember dad mentioning "the Selznick place", but don't recall if dad sold the cabin to Selznick.

I was in the area during the mid seventies and at that time I believe the cabin was being used as a home for under privileged children or some sort of school. I haven't been to that cabin since I was a very young child. I would be delighted to have an opportunity to see the place now. Although visiting there I'm certain, will be a bitter sweet experience. I wasn't aware the place had suffered damage during a fire.

Dad was a good friend of Hoot Gibson. "Hooter" as dad referred to him. It's highly likely dad did purchase the property from Hoot Gibson. Dad mentioned that property was a former ranger lookout station until the lookout was relocated.

Reg Denny (Jr.)

Now back to Debbie McBride's story... "Dad was a family man. He didn't like to be away from home and turned down My Fair Lady when they wanted him originally but when they contacted him again finally he accepted. We moved to New York leaving my brother and sister in Los Angeles both of whom were married at the time. It was hard on him however as he loved having his family together.

Dad is survived by Reggie, myself and 7 grandchildren and 7 great grandchildren.

He always was telling stories about his life. I remember one about when he went to India on a ship and he smelled this wonderful aroma coming from the galley so he went in and they were cooking curry. He sampled it and came out and told a friend that that was the most wonderful curry he had ever had. His friend said "good God, you didn't eat that, not only is it tabu for a white man to eat their food but it was made with the ship's rats"
---
Music Circus memories: Reminiscences of 50 seasons under the big tent
http://classic.sacbee.com
By William Glackin, Sacramento Bee, 'Critic at Large' (Published July 9, 2000)
Fifty years of the Sacramento Music Circus. Fifty years of laughs, songs, romance, drama, music and unpredictable fun. Fifty years for what started out as a risk, a challenge and a kind of revolution, and has become an institution.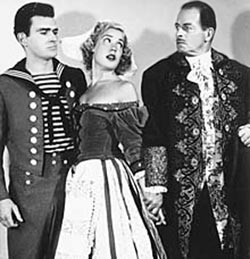 Tom Rosqui, left, Gale Sherwood and Reginald Denny

"The Red Mill", from the first season of the Music Circus, 1951


With plans announced to give it a home befitting an institution in 2002 -- a permanent theater called the Wells Fargo Pavilion -- it starts up again Monday night in the tent at 15th and H streets with a new production of Andrew Lloyd Webber's "Evita."

Essentially, the form of entertainment has not changed: a professional music theater production, with a live orchestra, played before an audience that completely surrounds it. But there are some profound differences between the Music Circus opening on June 19, 1951, and Monday night's situation. In several ways, it has been indeed a revolution. ......more
---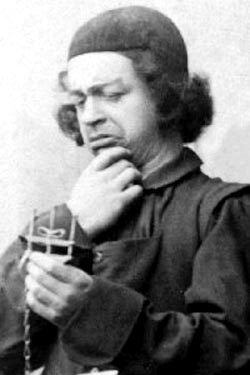 'W. H. Denny' (1853-1915)
http://math.boisestate.edu
W. H. Denny, whose real name was William Henry Leigh Dugmore was born at Balsall Heath, Birmingham on 22 Oct 1853. He died at Herne Bay, Kent on 31 Aug 1915.
He got an early start in the theatre, appearing as the child in The Stranger in Worcester at the age of six. His mother, Mrs. H. Leigh, was the original Diana in Gilbert & Sullivan's Thespis (Gaiety, 1871).
Denny played juvenile parts for several years, tackling his first adult role in Dundee in 1870. His first London engagement was at Sadler's Wells Theatre in an 1872 revival of Mazeppa.
After a series of Shakespearian parts and plays and comedies by H. J. Byron at the Gaiety, he was engaged by Richard D'Oyly Carte in 1876 for a tour as Trénitz in La Fille de Madame Angot, Barthel in The Duke's Daughter, and Tarapote in La Périchole.
Denny then toured America for three years with Lydia Thompson, also appearing in Philadelphia under Mrs. John Drew. Returning to London in 1879, he appeared in a number plays with Marie Litton, John Hare and the Kendals, before going on tour with Lillie Langtry in 1882. He was back in New York in 1884-85, but returned to London for parts at the Princess's and the Court in 1886-87.
Denny was rehired by D'Oyly Carte for the Savoy upon the departure of Rutland Barrington in 1888, and remained there until April 1893. He created the parts of Wilfred Shadbolt in The Yeomen of the Guard (October 1888), Don Alhambra in The Gondoliers (December 1889), Bumbo in The Nautch Girl (June 1891), Bedford Rowe in The Vicar of Bray (January 1892), The McCrankie in Haddon Hall (September 1892).
He left after the run of Haddon Hall was complete in April 1893, appearing briefly at the Prince of Wales's in a musical comedy called Poor Jonathan in June, before returning to the D'Oyly Carte and the Savoy to create the part of Scaphio in the penultimate Gilbert & Sullivan opera, Utopia (Limited) in October 1893. He left the Company at the end of the Utopia run in June 1894.
After leaving the Savoy he was seen again at the Prince of Wales's in 1895, and then at the Lyric, 1897, and later toured Australia and New Zealand in a Shakespeare company. He returned to London in 1900, but was back on the New York Stage from 1906 until 1910, appearing in several plays including the original New York production of Henry Arthur Jones's The Hypocrites . He once more returned to London, making his last appearance in that city as Stuff, a theatre manager, in Walter Browne's Everywoman at Drury Lane in 1912.
W. H. Denny was also the author of several one-act plays, the most notable being A Mutual Mistake (first performed at the Court Theatre, London, March 1891). He was the father of popular film actor Reginald Denny.
Photo W. H. Denny as William Shadbolt in The Yeoman of the Guard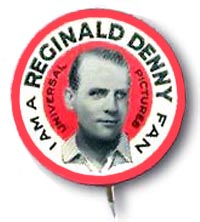 Top | Reginald Denny Home