---
Marquis d'Ecquevilly (date - date)
(also spelled elsewhere as d'Equevilly, d'Equevillay and d'Ecqueville - ed.)
---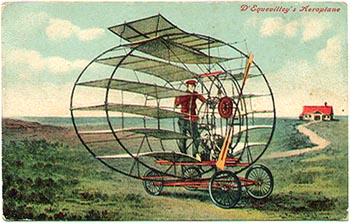 Marquis d'Ecquevilly - a contemporary Postcard
Marquis d'Ecquevilly
http://www.geocities.com/raravia/dequev.htm
translation:
Hardly the news of the flight of the brothers is known in Europe Wright, begins to spread the fever of aviation, innumerable people begin to design apparatuses to undertake the flight.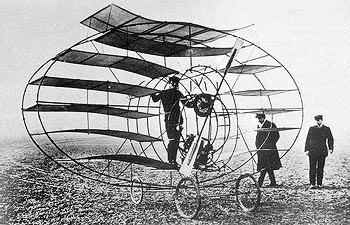 Marquis d'Ecquevilly, 1908

Download a 750pixel image


But it is in France in where many designers invent machines heavier than the air, most of these they would never fly already were more product of the imagination that of the practice. If a wing or two is sufficient to make fly it airplane, with many wings it will fly far better.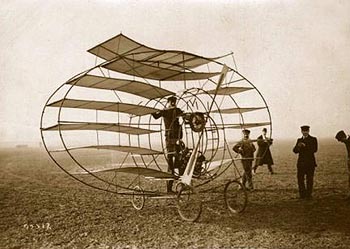 Marquis d'Ecquevilly, 1908 (alternate image)


Perhaps this went the theory that moved to Marquis d'Ecquevilly, a rich patron pawned on constructing a multiplane. It is not possible never to be denied the originality and inventiveness of this designer, but not even that was sufficient so that its apparatus flew.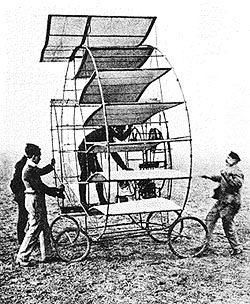 Marquis d'Ecquevilly, 1908


The peculiar machine of oval form had a wood structure, with seven planes in average the places setting of fabric, and a motor of 3 cylinders cooled by air that moved a chain that rotated a metallic helix. The pilot went seated in the middle of the elipsoidal structure grasped from the wood circles, without controls of flight, rudder, nor brakes.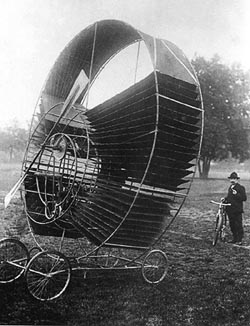 Marquis d'Ecquevilly, 1908

Download a 750pixel image


Little it has been of the history of this multiplane, as soon as a dispersed photography and some data, but of which do not fit doubt to us is that it never got to fly. Technical Specifications:

d'Ecquevilly

Experimental
Constructor: Marquis d'Ecquevilly
First flight: Data does not exist
Power plant: A semi-radial motor of 3 cylinders of 7hp
Dimensions: Spread: 5m, Height: 7m
Wing area: 25 m2
Structure: Metal wood, tubes and fabric.

Top | Pioneers Home