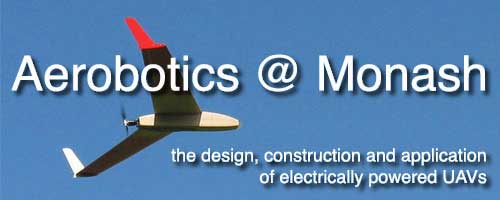 Construction of the Monash UAV 'Duigan' Airframe
by Ray Cooper

Created and Last Updated December 8, 2002

Construction Photography - Ray Cooper
---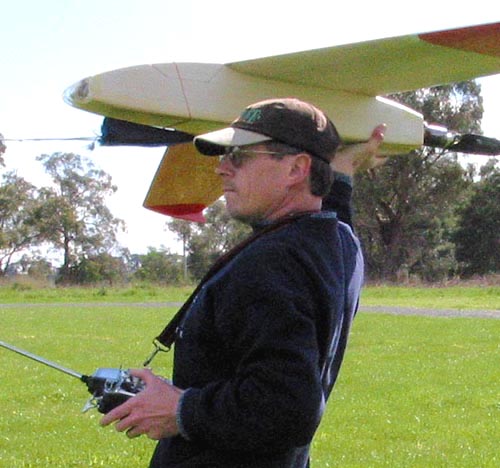 Ray Cooper is chief pilot for the Aerobotics@Monash team. He is also the designer and constructor of the Monash UAV 'Duigan' airframe©
Ray has vast experience in both fields and the Aerobotics@Monash team is very lucky indeed to have his skills and experience available for the UAV 'Duigan' project.
Below is Ray's documentation of the fuselage construction process. More images will be added soon. [Ed 081202]



---
Fuselage
click images to enlarge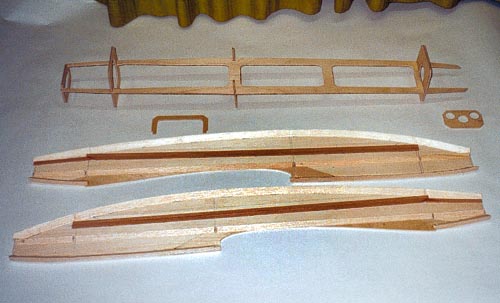 Fuselage 1: Sides and full length battery tray ready for assembly Battery tray cut from 9 ply, sides are 3mm balsa with spruce stringers and 12mm balsa triangles in corners for rounding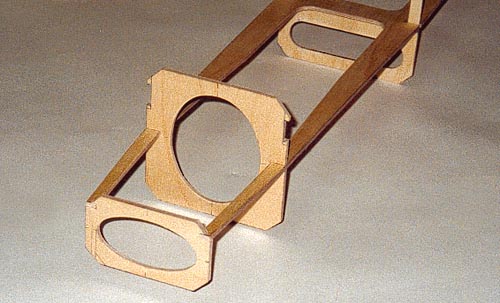 Fuselage 2 : Formers slotted into battery tray ready for sides to be glued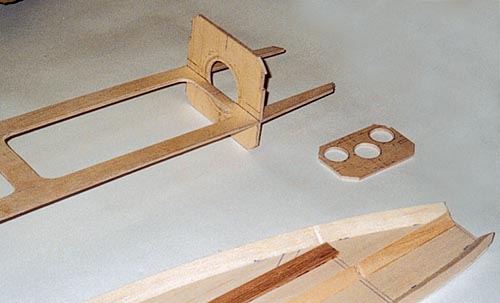 Fuselage 3 : Same as above, but at rear
Fuselage 4 " The pressure is on! Sides, tray, formers glued and clamped
Fuselage 5 : Top and bottom sheeting (3mm) fixed and corners rounded, canopy cut and clear PVC nose cone fitted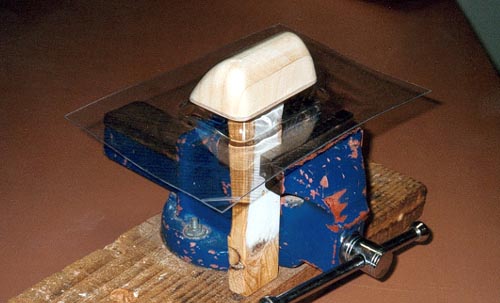 Fuselage 6 : Mould used for forming PVC nose cone. PVC is held between 2 pieces of MDF and heated in oven, when hot enough, removed from oven and forced over mould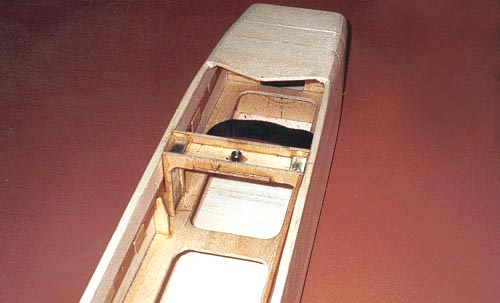 Fuselage 7 : Bracket/mount for wing retaining bolt. Battery can be slid beneath for CG adjustment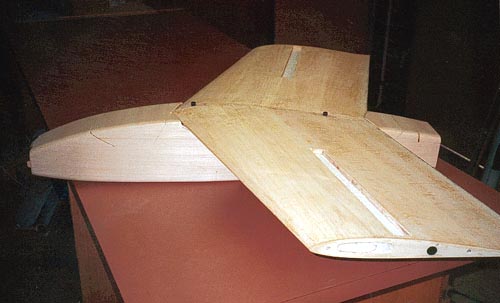 Fuselage 8 : Wing centre panel fitted to fuselage, held in place with 2 x _" Cap head screws
---
soon...
Centre Panel
click images to enlarge
Centre panel 1 : Foam cores ready for balsa covering. Solid black lines are 14mm OD carbon fibre tubes, these are used for joining centre panel to tip panels
Centre panel 2 : Foam core showing spruce spoiler bay lining. Due to torsional weakness these were later filled in
Centre panel 3 : Balsa sheeting, fibre glass, carbon fibre prepared ready for laminating to foam core. This set up was used on all wing panels
Centre panel 4 : L/H centre panel in vacuum bag after bonding balsa sheet to core with epoxy resin
Centre panel 5 : Centre panels ready for joining. Main rib has bolt holes predrilled. Bent aluminium rod is glued into carbon tubes. Centre panel joint has glass cloth bandage applied for additional strength
---
Tip Panel
click images to enlarge
Tip panel 1 : Ply reinforcement for Elevon servo bay
Tip panel 2 : Ply ribs fitted with blind nuts for bolting on tiplets
Tip panel 3 : L/H Tip panel in vacuum bag after bonding balsa sheet to core with epoxy resin
Tip panel 4 : Elevons cut out and faced
Tip panel 5 : Finished ready for outer fibre glass skins
Tip panel 6 : Tip panel jigged on workbench and covered with 3oz glass cloth
Tip panel 7 : Same as above from other end
Tip panel 8 : Electric blanket was used to keep cores warm during curing of epoxy