---
Geraldyn M. "Jerrie" Cobb (1931-)
---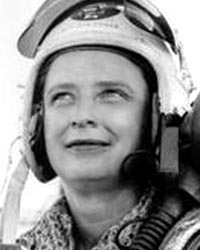 Geraldyn M. "Jerrie" Cobb (1931-)
http://www.ok-history.mus.ok.us
Geraldyn M. "Jerrie" Cobb. Aviation pioneer, entered the world on March 5, 1931, in Norman, Oklahoma.
Daughter of Lt. Col. William H. Cobb and Helena Butler Stone Cobb, Jerrie Cobb grew up in a aviation-oriented environment.
By age twelve she had learned to fly in her father's plane, and at age sixteen, while a student at Oklahoma City Classen High School, she earned a private pilot's license.


From that time, she devoted all of her energy to flying, although she played semi-professional softball and spent a year in college at Oklahoma College for Women in Chickasha. She made her living, however, by crop dusting and teaching navigation. In the 1950s, as a commercial pilot, Cobb set several world altitude and speed records in Aero Commander airplanes built by Oklahoma's Aero Design and Engineering Company. ...more
---
Pioneer flier shoots for stars, bids for spaceflight
Mercury-era astronaut trainee renews campaign to fly into space
http://www.flatoday.com
by Francis X. Donnelly, June 21, 1998
They promised her the moon
NASA officials told Jerrie Cobb in 1959 she would be the first woman in space. They praised her on national TV. And then they changed their minds. Nearly four decades later, Cobb wants another shot. With NASA planning to fly Sen. John Glenn aboard the shuttle in October, Cobb, 67, wonders whether there's room for another aviation pioneer.
But her story isn't one the space agency relishes retelling. After her rejection from the astronaut corps, Cobb turned her back on civilization and retreated to the jungles of the Amazon. She tended to primitive Indians living in squalor, getting nominated for a Nobel Peace Prize in 1981. During her 34 years as a missionary, she had always said the only thing that would remove her from the bush was the thing that put her there - space travel.
"Nothing means more to me," Cobb said in an interview last week. "Nothing in life is as important. I would do anything for the chance." She isn't sure her listener understands just how badly she wants this. "This is something I would give my life for," she says. "It wouldn't be contingent on my coming back. I would go if it was just a one-way trip. I would go if I knew I wasn't coming back." ...more
---
After more than three decades, Cobb deserves ticket to ride
http://www.floridatoday.com
June 29, 1998/ A FLORIDA TODAY editorial
CAPE CANAVERAL, Fla. - If a 77-year-old former astronaut can go back into space, why can't a 67-year-old former astronaut trainee? A private test pilot in the late 1950s, Jerrie Cobb was the first of a small group of women selected to fly into space alongside the original Mercury astronauts. Then the space agency quietly killed the women's space program before it ever got off the ground.
The official reason was a lack of training equipment, but it's more likely that some good ol' boys in Congress didn't like the idea of women sharing the spotlight with America's macho astronauts. Thirty-seven years later, Jerrie Cobb wants NASA to keep its promise to send her into space by giving her a seat aboard a space shuttle.
FLORIDA TODAY dares the space agency to comply with her request. After the rejection by NASA, Cobb spent more than three decades ministering to natives in the Amazon jungle, work for which she was nominated for the Nobel Peace Prize in 1981. Now she's back in the United States with a different quest - to win NASA's approval for a trip into orbit aboard the space shuttle. We think she deserves it. ...more
---
State-Born Aviatrix Yearns for Space
2nd Astronaut Bid Supported
http://freepages.genealogy.rootsweb.com
All she ever wanted was a flight into space. But space was out of reach for Jerrie Cobb when her first chance came 35 years ago. A second opportunity is forming for the Oklahoman-born pilot. The announcement that astronaut John Glenn, 76, will return to space this fall has sparked a movement to get Jerrie Cobb, 68, a place on a mission to space.
And even though she is being ignored by the National Aeronautics and Space Administration as casually as she was nearly 40 years ago, the possibility has brought her back from the Amazon jungle, her home now. It is, she said in an interview last week, "my destiny ... I've been waiting 38 years. I've thought about it all my life. I will do whatever it takes."
Geraldyn Cobb was born in Norman in 1931 and spent her high school years at Classen in Oklahoma City. Harvey Cobb, an Air Force officer, put his daughter in a cockpit when she was 12. She never again wavered in her determination to fly. At the first eligible age, 16, she soloed. At 18, she had a commercial license and dismayed her parents with the announcement that she didn't need college.
Her career was going to be as far up in the air as she could go. Cobb played semiprofessional women's softball on a team called the Oklahoma City Queens for money to buy a World War II surplus Fairchild PT-23 and a chance to be self-employed. She patrolled oil pipelines from the air while she took flight instructor training; she had that certificate in hand by the time she was 21. ...more
also on this site
They had the right stuff, but were the wrong sex
http://freepages.genealogy.rootsweb.com
IN SEARCH OF HISTORY : THE MERCURY 13: SECRET ASTRONAUTS
The History Channel examines why Americas first female astronaut corps never had a chance to go into space Friday, October 23 at 8 pm ET/ 9 pm PT
New York, NY, September 28, 1998 On October 29, 77-year-old John Glenn, an original Mercury Seven astronaut and the first American to orbit the Earth, is scheduled to return to space for the first time in 35 years in order to test the effects of space flight on a senior citizen.
Among those watching with interest will be 67-year-old Jerrie Cobb. For nearly four decades, Cobb has dreamt of soaring above the clouds, and she hopes that Glenns flight will open a door for her that was slammed shut years before. In 1961, she was one of thirteen women pilots who had qualified to become astronauts.
The story of their losing battle for equality in the skies is chronicled on IN SEARCH OF HISTORY's presentation of THE MERCURY 13: SECRET ASTRONAUTS, premiering Friday, October 23 at 8 pm ET/ 9 pm PT. ...more
Explored links from the above site http://freepages.genealogy.rootsweb.com
Women In Aviation
http://ninety-nines.org/wia.html

....The years since World War II have brought down many more barriers for women pilots and records continue to be broken. Jackie Cochran went on to be the first woman pilot to break the sound barrier, with Chuck Yeager acting as her chase pilot, on May 20, 1953. And, Marion Hart flew the Atlantic in 1954 at the age of 62.

Women got their first step closer to space in 1959, when Geraldine Cobb, a talented young pilot, became the first woman to undergo the Mercury astronaut physiological tests. "Jerrie" was 28 years old, had 7,000 hours of flight time, and held three world records. She was a pilot and manager for Aero Design and Engineering Company, which made the Aero Commander aircraft, and was one of the few women executives in aviation. ...more


Female flier still seeks trip into space July 11, 1998
http://www.chron.com

Female flier stills seeks trip into space. After 4 decades, woman refuses to end crusade

By MARCIA DUNN Associated Press

CAPE CANAVERAL, Fla. -- She was deep in the Amazon jungle when Neil Armstrong and Buzz Aldrin stepped onto the moon, and she was there, still serving as a missionary pilot, when NASA tapped John Glenn to fly again.

The rain forest has been Jerrie Cobb's home, and the indigenous people her family, ever since NASA spurned her in the early 1960s -- even though she passed the same torturous tests taken by Glenn and the six other Mercury astronauts. Thirty-eight years after becoming NASA's first female astronaut candidate, Cobb has emerged from the jungle to crusade for the space shot she was promised.

Glenn's return to orbit this fall at age 77 has given Cobb -- and her many supporters -- hope. "I would give my life to fly in space. I really would," says Cobb, 67, her eyes misting. "It's hard for me to talk about it," she apologizes softly, "but I would. I would then, and I will now. "It just didn't work out then, and I just hope and pray it will now." ...more


NOW Launches Campaign to Send Jerrie Cobb Into Space
October 28, 1998
http://www.now.org

FOR IMMEDIATE RELEASE
CONTACT: LORETTA KANE, 202-331-0066 x762

NOW LAUNCHES CAMPAIGN TO SEND JERRIE COBB INTO SPACE
OCTOBER 28, 1998

"As Senator Glenn lifts-off from the Kennedy Space Center, NOW is launching a campaign in support of Jerrie Cobb's quest to be an astronaut," NOW President Patricia Ireland announced. "Jerrie Cobb has prepared her whole lifetime for a journey into space. It is time for NASA to put Jerrie where she belongs - in space and in the history books as an example for women and men, girls and boys," Ireland said.

NOW kicked-off its campaign with a petition drive aimed at pressuring NASA to allow the veteran pilot to participate in the studies on space and aging.

Cobb, a 67-year-old aviator with more than 35 years of experience, began training for the space program in 1960. At that time, she had logged over 10,000 hours of flight time, twice much as any of the other trainees, including John Glenn. Nonetheless, she was denied the opportunity to fly because NASA deemed women unsuitable for space travel.

During the nearly four decades since she was booted from the space program, Cobb has dedicated herself to a career of flying humanitarian aid to people in remote areas of the Amazon. She is well-respected and highly decorated for her work, including a 1981 Nobel Peace Prize. In addition to her humanitarian work, Cobb has been a flight instructor and has delivered military fighter planes to air bases around the world. She has flown over 55,000 miles during her impressive career.

"Sexism was the only thing that kept Jerrie Cobb out of space in the 60s. And it cannot be allowed to stand in her way now. If NASA wants to study the effects of space travel on aging, then it is imperative to make these studies on women. After all, women are the majority of the elderly," Ireland concluded.

Petition to Send Jerrie Cobb Into Space
---
Florida Today : Archives
http://www.flatoday.com
Week ending June 21, 1998
NOTE: Author of this web page wrote Senator Inhofe and he replied July 16, 1998 with a nice letter and appreciation for Jerrie's accomplishments and included copies of the letter he wrote to Daniel Goldin, Administrator of NASA, and NASA's reply:
"Although Ms. Cobb has a most impressive background as a pioneering aviator, it has been almost forty years since she qualified as a Mercury program astronaut. Her current qualifications would have to be assessed, and the appropriate way for her to do this is to apply for the Astronaut Candidate Program. NASA accepts applications for the Astronaut Candidate Program on a continuous basis and selects a new class of astronaut candidates about every two years. At the current time, NASA does not have plans to fly a series of older individuals into space. Should that situation change, we would certainly be willing to consider Ms. Cobb as a candidate for flight."
Great Images attached to this file - Ed.
Kennedy Space Center Photos : Cobb : by Scott Audette, AP/Worldwide Photos http://www.flatoday.com

Images taken at the Kennedy Space Center Vistor Complex and historic images showing Cobb in training, on cover of her book and with the first man and woman in space, Russians Yuri Gagarin and Valentina Tereshkova, in 1963. Images copyright © 1998, Michael R. Brown, FLORIDA TODAY and images courtesy of Jennie Cobb.
---
NOW Launches Campaign to Send Pilot Jerrie Cobb Into Space
http://www.now.org
by Latifa Lyles, Development Analyst with research contributed by Camille Paldi
When 77-year-old Senator John Glenn blasted off in the Shuttle Discovery in October, NOW had already joined others, including lawmakers and educators, in support of a 67-year-old woman and would-be astronaut-Jerrie Cobb. NOW's campaign took off before Discovery, with a petition drive aimed at convincing NASA to grant Cobb, a record-setting pilot and Nobel Prize nominee, the space voyage she deserved, but never received.
Glenn lobbied NASA to include him in another space mission as part of a geriatric study on weightlessness and aging, a study that did not plan to include women, the majority of the nation's elderly. Thirty-eight years after becoming NASA's first female astronaut candidate, Cobb remains fit and ready to serve the space program and science in broadening this study. ...more
---
Jerrie Cobb
First woman to undergo the testing developed for the selection of the Mercury Astronauts
http://quest.arc.nasa.gov
"I have this feeling that life is a spiritual adventure, and I want to make mine in the sky."
Jerrie's life is a true love story; the story of a woman and the world into which she quite literally plunges, a world that swirls around her and beneath her, that loves her, ignores her, breaks her heart and honors her.
Jerrie was born to fly! From the time she first climbed into a cockpit of a 1936 Waco bi-wing airplane at the age of 12, she fell in love with flying and never looked back. By age 16, Jerrie was barnstorming around the Great Plains in a Piper J-3 Cub, dropping leaflets over small towns announcing the arrival of an on-elephant circus. She slept under the Cub's wing at night and scraped together the gas money to practice her flying by giving rides.
On her 18th birthday, Jerrie received her Commercial Pilot's license and began looking for a flying job. Ironically, the freedom Jerrie experienced in the sky did not did not match her experience on the ground. With the many male pilots available after WW II, no one wanted to hire a girl pilot. She took on the tough, less desirable flying jobs, like crop-dusting and pipeline patrol.
She went on to earn her Multi-Engine, Instrument, Flight Instructor and Ground Instructor ratings as well as her Airline Transport license. By age 19, Jerry was teaching men to fly, and by 21, she was delivering sleek military fighters and four-engine bombers to foreign Air Forces around the world, well on her way to becoming one of the world's top pilots. ...more
---
Jerrie Cobb
http://www.womenfly.com
In the infancy of the space age, Jerrie Cobb was chosen to undergo the Mercury astronaut selection tests. After weeks of grueling tests, she passed all three phases and qualified as America's first woman astronaut at age 29. In a sudden and devastating blow, Jerrie was denied the opportunity to fly in space due to new requirements of military jet test pilot experience initiated by NASA. For the past 35 years, Jerrie has found great joy flying everyday over the Amazon rain forest, bringing hope, seeds and help to the people who live there. Jerrie has waited 38 years for a chance to fly in space.
---
Righting The Wrong Stuff
http://www.discovery.com
Spurned by NASA, Cobb devoted her life to serving indigenous people of the Amazon jungle. A solitary missionary who preaches no religion, Cobb spends months at a time in the dense South American rainforest, delivering clothing, supplies, seeds and medications. Her work has not gone unnoticed. In 1981 Cobb was nominated for a Nobel Peace Prize, but her one true passion has remained unfulfilled.
"Nothing in my life is as important as flying in space," says Cobb, who has returned to her home in Florida to see if a campaign to restore her flight status will be successful. This time, however, Cobb is taking a low-key approach. In the early 1960s, Cobb bitterly and publicly fought NASA when managers effectively barred women from the astronaut corps by requiring military flight experience. The military, in turn, refused to allow women access to their training facilities. Cobb won a hearing before a Congressional committee on space, but the spotlight fell on John Glenn, a national hero who four months earlier had become the first American to orbit Earth. ...more
---
Jerrie Cobb : First Woman to Pass Mercury Astronaut Regimen
http://www.womeninaviation.com
Jerrie Cobb was born to fly. During the 1950's, in the infancy of the space age, America began selecting and training the first group of Mercury Astronauts. America's space program did not open the ranks of its astronaut corps to women until 1978. The Lovelace Foundation for Medical Research and Education, Albuquerque, New Mexico, selected Jerrie Cobb as the first woman to undergo the same selection - testing regimen as the men who became the Mercury 7 Astronauts.
After weeks of grueling physical and psychological fitness testing, Jerrie Cobb passed all phases with flying colors. Lovelace administrators were amazed at how well she performed her tests. She was then asked to recruit 25 additional qualified women pilots to participate in the aerospace medicine research, at the U. S. Navy Aerospace Medical Center, Pensacola, Florida. This Space Program for Womeno/oo was the first program officially adopted for women. Of the initial 25 pilots, 12 women were selected to participate with Jerrie Cobb, aviation pioneer. ...more
---
Geraldyn "Jerrie" Cobb
http://www.mercury13.com
Born in Oklahoma in 1931, Jerrie took her first flight at the age of 12 in the backseat of an open-cockpit biplane, a Waco flown by her father. That was all it took, and she no longer came back to Earth. She gained her Private Pilot's license at age 17, her Commercial Pilot's license when she was 18 and Flight Instructor's Rating soon thereafter. As someone who embodies the soul of a pilot rather than the mechanics of an "airplane driver", Jerrie is more suited to the air than earthly constraints.
She was determined to gain a career in aviation, and as a PILOT rather than a Flight Attendant or other female engendered occupation of that era. Being the 1950's it was nearly impossible for her to land a job as a pilot, so she settled for a job in Miami, Florida at the Miami airport. It was there she met Jack Ford, a veteran pilot of WWII who had a service ferrying aircraft worldwide. She talked him into a job, and her first flight was to South America flying the advanced trainer of that era, the AT-6 Texan. This first trip was indicative of the danger inherent in this job and thus began her professional pilot career. While ferrying aircraft for this firm with Jack, she flew all types of aircraft worldwide, including sleek military aircraft - she even flew 4 engine bombers to France! ...more
---
Astronaut Jerrie Cobb, Our Other American Legend
http://my.execpc.com
Deep in the Amazon jungle, Jerrie Cobb dances on the wing of her airplane by the light of the moon. She does a little jig from the tip of one wing to the other, a few small steps for a woman to celebrate that giant leap for mankind. It is July, 1969. Astronaut Jerrie Cobb is there, touching the moon's surface with Neil Armstrong and Buzz Aldrin, in spirit if not in person. But for a twist of fate, a verdict rendered in the social context of the times, her footprints might also be imprinted in the powdery crust next to the Apollo Eagle lander. ...more
---
Further Reading and Viewing

In Search of History: Mercury 13: The Secret Astronauts
http://store.aetv.com
1 Volume Set 50 Minutes
In the early 1960's, when the American space program was just getting off the ground, the world watched as "The Mercury Seven" America's first astronauts made history. But what no one knew at the time was that 13 other pilots, all women, had also qualified to fly into space.
MERCURY 13: THE SECRET ASTRONAUTS tells the surprising story of these would-be pioneers who had the right stuff but the wrong sex. Three of the surviving members of the 13 tell their personal stories how they came to the program, the tests they endured, and their feelings about never getting into orbit. Hear from one of the physicians who was responsible for selecting the "astronaut candidates," and discover how they paved the way for present-day astronauts like Bonnie Dunbar.
Overlooked and ignored for decades, the first women in the space program finally get their due. This product is unavailable for shipment outside the U.S. and Canada.
Item Number: AAE-42271
---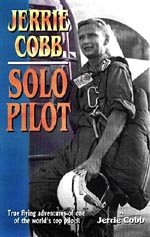 Cobb, Jerrie, Solo Pilot
True flying adventures of one of the world's top pilots

---
Gallery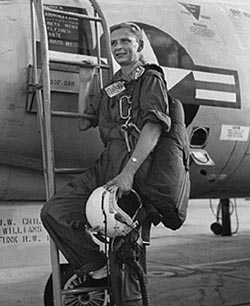 Geraldyn M. "Jerrie" Cobb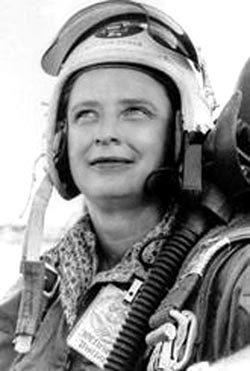 Geraldyn M. "Jerrie" Cobb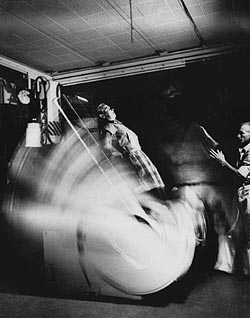 Geraldyn M. "Jerrie" Cobb
download a 500pixel or 1000pixel image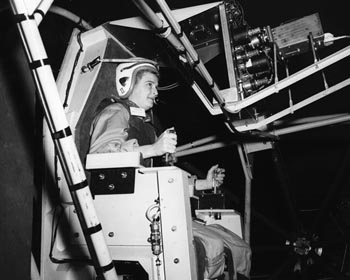 Geraldyn M. "Jerrie" Cobb

Jerrie Cobb Altitude Wind Tunnel AWT MASTIF Multiple Axis Space Test Inertia Facility, Lewis Research Center. Photo Arden Wilfong

download a 1000pixel image


Jerrie Cobb, a well known female pilot in the 1950s, testing Gimbal Rig in the Altitude Wind Tunnel, AWT in April 1960. The Gimbal Rig, formally called MASTIF or Multiple Axis Space Test Inertia Facility, was used to train astronauts to control the spin of a tumbling spacecraft.

Jerrie Cobb was the first female to pass all three phases of the Mercury Astronaut Program but NASA rules stipulated that only military test pilots could become astronauts and there were no female military test pilots. Jerrie completed this astounding feat in 1961.

The MASTIF was installed at the Altitude Wind Tunnel at the Lewis Research Center, now John H. Glenn Research Center.



Geraldyn M. "Jerrie" Cobb
download a 500pixel image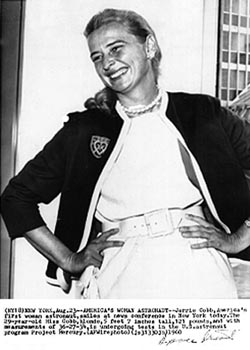 Geraldyn M. "Jerrie" Cobb
download a 500pixel image
Top | Pioneers Home