---
1st Lt. Jeanne Marie Buchanan
Pilot : EA-6B Prowler
---
1st Lt. Jeanne Marie Buchanan made history 16 August in a VT-86 winging ceremony at the National Museum of Naval Aviation, Pensacola, Fla., when she became the Marine Corps' first woman Naval Flight Officer.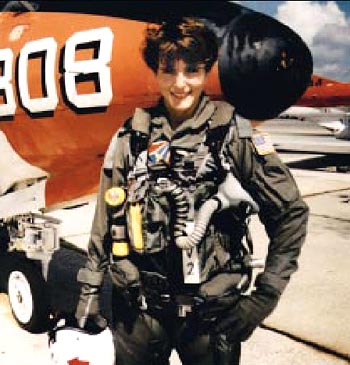 1st Lt. Jeanne Marie Buchanan

Naval Aviation News


Her first duty assignment will be with the regimental air group at NAS Whidbey Island, Wash. She will then go to MCAS Cherry Point, N.C., to an EA-6B Prowler squadron.
---
First Female Marine Naval Flight Officer Gets Wings
http://www.usmc.mil
by Scott D. Hallford, NAS Pensacola, Fla. Sep. 1996
First Lt. Jeanne Buchanan made history Aug. 16 in a Training Squadron-86 winging ceremony at the National Museum of Naval Aviation, Naval Air Station, Pensacola, Fla., becoming the first female Marine Naval Flight Officer.
Naval Flight Officer's are trained as either radar, electronic countermeasures, or weapons systems specialists.
Buchanan downplays her new distinction.
"I consider myself just another Marine NFO," she said. "Even though I'm the first female Marine NFO, I'm first a Marine."
She grew up in a small, rural agricultural community with what she jokingly said has a population of about 80 people. Raised on a farm, the Naval Academy graduate said she gained discipline and a good work ethic there.
"My dad would probably laugh at me saying this, but you learn a lot of work discipline," she said. "I'd come home from school and may have to irrigate the crops or tend to the cattle."
And Buchanan learned more discipline as an athlete, playing volleyball and basketball in high school and participating in rowing and cycling for the Naval Academy.

She said she chose the Naval Academy and the Corps because she wanted "something exciting and challenging." Although the Air Force Academy in Colorado Springs, Colo., is near her home, being a Marine is what she ultimately desired.
"I chose the Marine Corps because it is different from any of the other services," she said. "Everyone I've ever met who was a Marine impressed me with their discipline. I also think the Corps has a different type of personality and I tend to blend in well with that personality."
With a degree in computer science from the academy, she attended The Basic School at Quantico Va., where new officers learn infantry commander skills. "I thought The Basic School was a blast."

Buchanan said she learned about the Marine NFO program at the academy and was interested in it, but was leaning toward becoming a non-aviation officer.

"I had reached the conclusion that I was going to be a ground officer but the opportunity to attend NFO School presented itself and I came here. But it wasn't something I really wanted to do initially."
She said that after being in the "Cradle of Naval Aviation" for more than a year and going through the NFO program, she has learned more about the Marine Corps overall. The experience has also helped her in getting to know both the ground and air sides of the Corps.

"I felt challenged at all times, but I've enjoyed what I've been doing," she said. "The best part about being here is getting winged, but the best part about my career is being a commissioned Marine. "They're not easy programs -- Marine Corps or NFO training, but I've had a lot of fun doing it," said Buchanan. "I've always said as long as I was having fun I would stay in, and I'm having a great time and it's a great career."

Scott D. Hallford is an associate editor of the Gosport at NAS Pensacola, Fla.

Top | Pioneers Home