---
Vera von Bissing (*-*)
---
Origins to the Olympics : The First World Aerobatic Championships
http://www.wac2000.com
Although the factory pilots had all the advantages in the competition world, there were still plenty of enthusiastic non professionals going the rounds of the air show circuits including a number of women.
Most famous were the Germans: Liesel Bach, the outstanding woman pilot of her day, Vera von Bissing (a pupil of Fieseler's), Hanna Reitsch (who started as a glider pilot) and the swashbuckling Thea Rasche. Among the French were Helene Boucher and Maryse Hilsz, both of whom flew Moranes.
---

Messerschmitt M35
Vera von Bissing flew a Messerschmitt M35 at the WAC accompanying the 1936 Berlin Olympic Games.
download a 1000pixel image
---
Gallery
Lisel (Liesl) Bach, Vera von Bissing and Prof. Heinkel
Thea Rasche, Willi Stör and Vera von Bissing
download a 500pixel image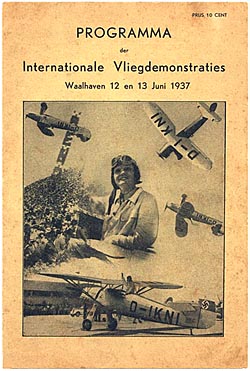 Vera von Bissing

download a 750pixel image


Het vooromslag met foto's van een bepaald opwindende stunten uithalende D-IKNI. De mevrouw met vliegeniershelm met nog vlot loshangende kinband is Vera von Bissing, heldin van menig jong luchtvaart-enthousiast in die tijd.




Top | Pioneers Home