---
Mary du Caurroy, Duchess of Bedford, (1865-1937)
---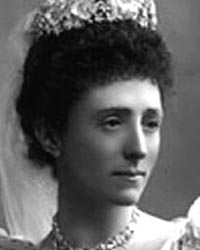 Mary du Caurroy, Duchess of Bedford
D.B.E. (cr. 1928); Member of the Society of Radiographers; made record flight to India and back (1929) and to the Cape and back (1930); obtained pilot's 'A' licence in 1933;
2nd daughter of Ven. Walter Harry Tribe, Archdeacon of Lahore; m. (1888) Lord Herbrand Arthur Russell, later 11th Duke of Bedford (1858-1937).
Photo : The Lafayette Studio
179 New Bond Street, London, W. 10., May 10, 1898
Source : Courtesy V&A Museum, London, England


---
Duchess of Bedford : Isle of Man Air Races - 1936
http://www.gov.im
Attempts were made to hold a race meeting in 1935 but it was not until the following year that the first of a series of international events was held
The judges were in position and were headed by the Duchess of Bedford who had flown to the Island in her own DR 60G Moth, the flight from Devon taking just over three hours. She was assisted by Mr. C. Fox J.P. and Captain Howard Pixton, who had given great support to the organisers. Just after 3 p.m. news of the first aircraft to be sighted at Maughold Head was given and immediately all eyes strained to catch the first glimpse of the winning machine
"First All-Women's Flying Meeting"
Sywell Aerodrome, Northhampton, Sat, Sept. 19, 1931
Attending the opening L-R : The Hon Mrs Victor Bruce, Molley Olney,
The Duchess of Bedford and The Countess Drogheda
Moolman, Valerie, Women Aloft, Time Life, 1981
download a 1000pixel image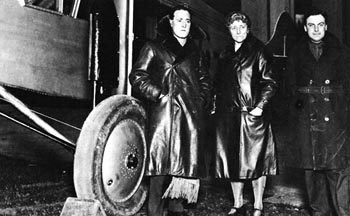 Captain Barnard (Pilot), the Duchess of Bedford
and R. Little (Navigator) UK-India Flight, 1930
Lomax, Judy, Women of the Air, Lomax, 1986
download a 750pixel image
---
Further Reading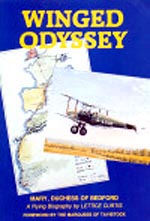 Winged Odyssey
The story of Mary Duchess of Bedford
Lettice Curtis, 1993
ISBN 1-883809-19-2
Mary du Caurroy, Duchess of Bedford DBE, RRA, FLS Honorary Liveryman of the Guild of Air Pilots and Air Navigators and wife of the 11th Duke took her first flight in 1926 at the age of 61.
In the next eleven years her Moths took her to many exotic places. In 1937 the took off on a solo flight - and was never seen alive again.
Top | Pioneers Home