---
Second Lt. Kristin L. Bass
Pilot : F-16 Fighting Falcon
---
Kristin Bass : High-flying student
http://www.kstatecollegian.com
High-flying students from neighboring states land on K-State-Salina campus for aviation competition
October 17, 1996
The National Intercollegiate Flying Association Region Six Safety Conference was about to begin. Students from Kansas, Missouri, Nebraska and Oklahoma struggled to awaken for a day they had anticipated for months. "This is the first time the conference has been held in Kansas. We worked very hard getting the events organized," Dave Pianalto, K-State coach, said. Oklahoma University also prepared for the event.
To compete a student must have a private pilot's license. If students are flight instructors, or have been flight instructors, they cannot compete. The top three teams qualifying in the regional are invited to the national. If students do not have a private pilot's license, they can compete in ground events.
Kristin Bass, junior in finance at Oklahoma State University, who has her license, said she also plans to take a flight computer test called S.C.A.N., a test of rules and regulations, weights and balances, and a simulator test. "I grew up in aviation. Both my parents flew as a hobby, and both my grandfathers flew in World War II," Bass said.
Bass also plans to compete in the Power-On and Power-Off events. She said she prefers Power-Off because the plane seems to get closer to the line. This is her first competition but Bass said she felt her teammates have really been supportive. "We've got a really great flight team, really supportive of each other," she said.
---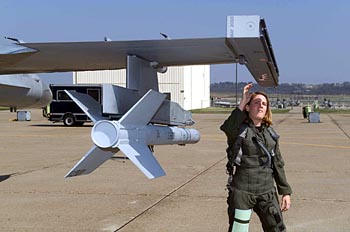 Second Lt. Kristin L. Bass


Operation Noble Eagle (AFIE) -- Second Lt. Kristin L. Bass, an F-16 Fighting Falcon pilot from the Arkansas Air National Guard's 188th Fighter Wing at Ft. Smith, Ark., conducts a preflight inspection on her F-16 on April 4. Bass is the first woman fighter pilot assigned to the AANG. (U.S. Air Force photo by Senior Master Sgt. Dennis L. Brambl) (VIRIN: 020404-F-7964B-019)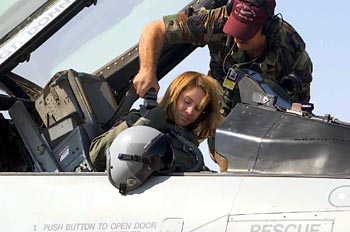 Second Lt. Kristin L. Bass and F-16 crew chief Tech Sgt. Kevin J. Jones

http://www.af.mil/photos/afie020408.shtml


OPERATION NOBLE EAGLE (AFIE) -- Second Lt. Kristin L. Bass, an F-16 Fighting Falcon pilot from the Arkansas Air National Guard's 188th Fighter Wing at Ft. Smith, Ark., gets strapped in her F-16 by crew chief Tech Sgt. Kevin J. Jones, before flying a combat air patrol mission supporting Operation Noble Eagle on April 4. (U.S. Air Force photo by Senior Master Sgt. Dennis L. Brambl) (VIRIN: 020404-F-7964B-019)

Top | Pioneers Home