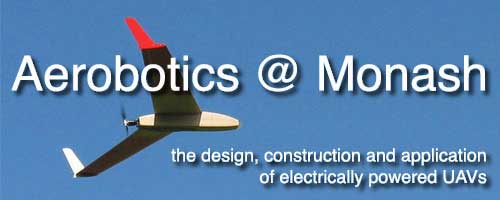 Once again Monash University's Aerobotics™ Research Group from the Department of Electrical & Computer Systems Engineering flew their Unmanned Aerial Vehicles (UAVs) at the Bairnsdale Airshow

UAVs as well as their more widely known use by the military, have a large number of civilian applications including land and sea search and rescue, bushfire and other hazardous environmental monitoring.
This year, Aerobotics™ Chief Pilot, Ray Cooper, Prof. Greg Egan and electronics expert Paul Jenkins, flew their latest aircraft the P15035 which has the familiar "Eye in the Sky" capability, to demonstrate to the some 10,000 Airshow visitors
Ray, sponsored by Monash, has achieved two FAI World Records for electrically powered aircraft in the last year. P15035, which is capable of fully automatic flight, will transmitted live video directly to the Monash display marquee.
A number of the Aerobotics™ group's other aircraft, including the "Lawrence Hargrave" Aerosonde and the "Duigan" Flying Wing, named after John and Reginald Duigan, were also on display in Monash's Marquee.
The "Lawrence Hargrave" was made available to Monash by Aerosonde for its research and flown spectacularly at the last Bairnsdale Airshow in 2000.
---
The Day in Pictures
The images below were taken from three large galleries

Monash University at the Airshow, Airshow Action and All Images

Bairnsdale Airshow Air to Ground Video [MOV 5.1 Mb] shot from UAV P15035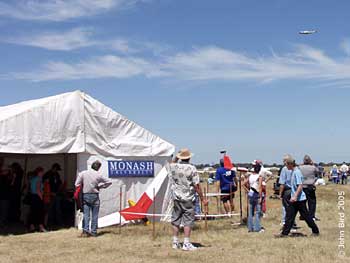 Monash University marquee at the Airshow with a vintage Vampire Jet flying high above the crowd
Photo : © 2005 Professor John Bird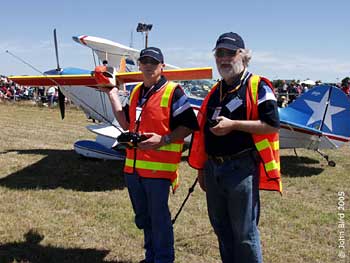 Ray Cooper and Prof. Greg Egan await the Flight Marshall's 'Ready to Go'
Photo : © 2005 Professor John Bird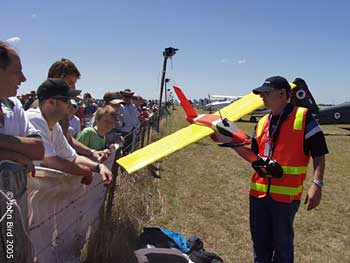 Ray Cooper talks to a very interested audience before the flight
Photo : © 2005 Professor John Bird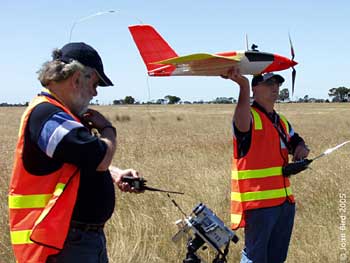 'Standing By', Prof. Greg Egan confirms with Monash's base station that "all systems are go"
Photo : © 2005 Professor John Bird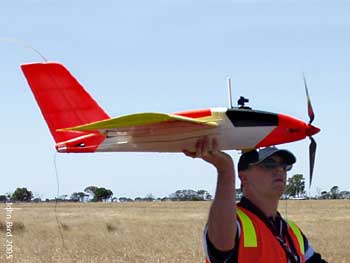 UAV closeup
Photo : © 2005 Professor John Bird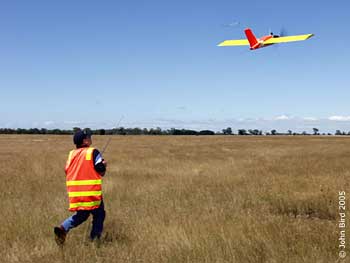 Launch
Photo : © 2005 Professor John Bird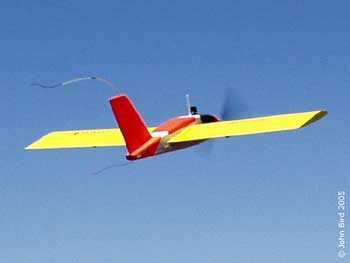 Launch closeup
Photo : © 2005 Professor John Bird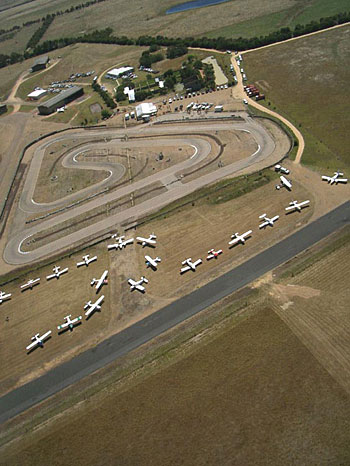 Monash's "Eye in the Sky" system at work
Photo : © 2005 Professor John Bird
More images in high resolution [ approx 1Mb each] 1 | 2 | 3 | 4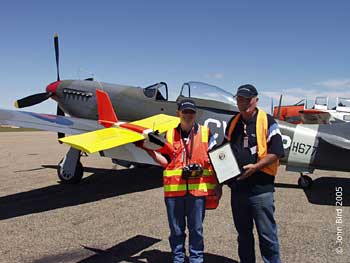 Ray Cooper receives Monash University's 'Hargrave Award' from Dick Hargrave great, grand nephew of Lawrence Hargrave
Photo : © 2005 Professor John Bird
The above images were taken from three large galleries

Monash University at the Airshow, Airshow Action and All Images
The term Aerobotics is © Copyright 1999-2005, CTIE