---
Lady Mary Bailey (1890-1960)
---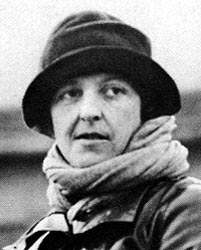 Lady Mary Bailey
http://www.xrefer.com
Daughter of Derry Westenra, the fifth Baron Rossmore of Rossmore Castle, Co. Monaghan she married the South African millionaire Abe Bailey in 1911.
Awarded her pilot's licence in 1927, she was the first woman to fly across the Irish Sea.
In 1928 when she was 38 years old, with 5 children, she made an epic solo flight from Croydon to Cape Town and back. She saw this act as a gesture of female independence and of faith in light aircraft.


She also flew in many international competitions, and was awarded the Britannia Trophy and created DBE in 1930.
---
Throttle Full Open : The Life of Lady Bailey, Irish Aviatrix
http://www.lilliputpress.ie
Mary Westenra, born in 1890, was the daughter of Derry Westenra, the fifth Baron Rossmore of Rossmore Castle, Co. Monaghan, a famous sportsman and rake. After a youth of much hunting, shooting and fishing, and little formal education, at the age of twenty she married Sir Abe Bailey, a South African tycoon of British extraction.
Shuttling between England and South Africa with a much older man whose interests were very different from hers, and cut off from her beloved life of horses and hounds, Lady Bailey began to take flying lessons in secret. With astonishing rapidity, she became one of the world's most celebrated aviators, before setting out on the journey that would make her name: London to Cape Town and back. ...more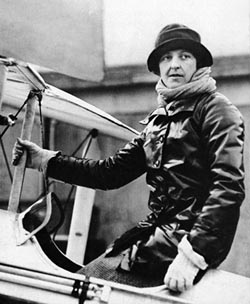 Lady Mary Bailey
Lomax, Judy, Women of the Air, Lomax, 1986
download a 500pixel or 1000pixel image
---
Lady Bailey : De Havilland Moth
http://www.planefacts.ndirect.co.uk
On March 9th, 1928, Lady Bailey left Stag Lane on a Standard De Havilland Moth with a A.D.C. Cirrus Mk. II engine of 75/80 h.p. An extra tank was fitted in the front cockpit giving a range of 101/2 hours. She reached Cape Town on April 30th after a journey of 8,000 miles.
The return journey, which started in September, was made across the Belgian Congo, along the southern edge of the Sahara and up the west coast of Africa and home across Spain and France. Lady Bailey reached Stag Lane on January 16th after flying some 18,000 miles.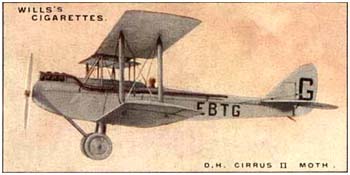 De Havilland Cirrus Moth
http://www.planefacts.ndirect.co.uk
---
Lady Mary Bailey : Wings of Desire
http://www.phat-traffic.com/

The Monaghan Aviatrix who "flew away from prams"
Back in the 1920's, as the horrors of the First World War blurred into memory, the world went aviation crazy. Aeroplanes had become safer since the war, more practical, and in Britain at least, everyone who was anyone wanted to fly.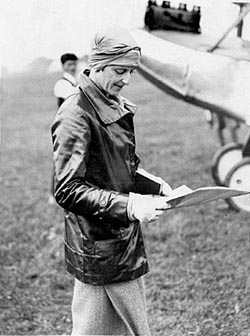 Lady Bailey at Hucknall before the King's Cup air race,

Lady Bailey was the only woman entrant for the 540 mile race and the first woman to ever compete


Among those queuing up to learn was Lady Mary Bailey. A 36-year-old mother of five from Co. Monaghan, at the age of 20 Mary had been married off to the fabulously wealthy South African businessman, Abe Bailey.

Marriage and motherhood didn't particularly suit her however, and as part of her determination "to get away from prams", she devoted most of her energies after 1926 to flying higher, longer and faster that any other woman of her time....more

Top | Pioneers Home