Alistair W.J. Naughton, BA(Multimedia) RMIT
---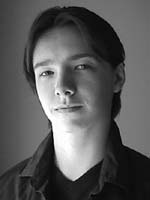 b. Feb 22, 1984

PO Box 281
Nunawading
Victoria
AUSTRALIA, 3131
04 0367 0426
alistair_naughton@netspace.net.au
Last updated February 22, 2005


---
What, Why, How and When
Goal
To excel as a computer based, 2D/3D animator in the media arts.
Inspiration
Like my family before me, I have always had a love of the media and information arts. My grandfathers were both print journalists; my grand uncle, an illustrator; my father and uncle, careers in radio and television broadcasting and not the least, my mother, a librarian with Swinburne University.
Education
2003 Bachelor of Arts (Multimedia), RMIT University
2002 Advanced Diploma of Multimedia, iDEA TAFE
2001 Diploma of Multimedia, iDEA TAFE
2000 VCE, Koonung Secondary College
Employment
Aerosonde Ltd.; cd-rom mastering and duplication
Learning Seat Pty. Ltd.; interactive training projects in Flash MX
Safeway Supermarkets; Nightfill duties
Work Experience
Radio Australia, ABC
Centre for Animation and Interactive Media (AIM), RMIT
Koonung Sec. College (as class instructor in Photoshop, Illustrator)
Monash Open Day '99, AV Pres. for Dean of Engineering
Other Training, Short Courses
Multimedia, AIM, RMIT
Various computer camps (MLC etc)
Skill Sets and Qualities
Professional
accurate, dependable and punctual
team player - though a sturdy individualist as required
lateral thinker
proficient design sense (especially in 3D)
proficient with both Windows and Macintosh operating systems
proficient with Lightwave, Photoshop, Illustrator, Premiere, After Effects, Director, Flash, Word, Excel and FileMaker
Social
Healthy (non-smoker-drinker)
Positive attitude towards my life and work.
Hobbies
Car maintenance
Car Audio
Contemporary music, film and video
Special Events
Two weeks stay in Japan, 1996 (School Visit)
---
Referees
Adjunct Prof. John Bird
Former Head (Ret.)
Centre for Animation & Interactive Media, RMIT
birdy@optushome.com.au
Ph: +61 3 9725 7406, Mobile: 0419 509 394

Ms Rhonda Smithies
Research Liaison/Project Officer
Centre for Animation & Interactive Media, RMIT
rhonda@rmit.edu.au
Ph: +61 3 9925 5206