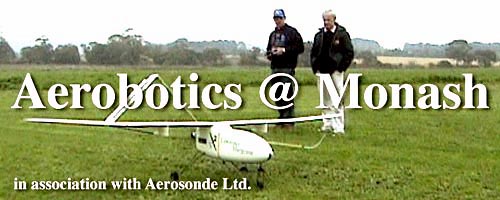 Windbag Trials
August 29, 2001
---
"The Monash Aerobotics team are currently experimenting with different types of R/C aircraft platforms for airborne stills and live video systems.
The latest device under test is a "Windbag", a softwing parasail (rammed-air parachute) with a servo activated weight-transfer for yaw control and a combination of motor thrust and canard foreplane for pitch control.
It uses a 'pusher' propulsion system favoured for most U.A.V. and R.P.V. applications because it enables instrumentation to be presented with 'clean' air and vision systems with a 'clear' forward view.
The images below are from the most recent test flight on 29 August, 2001 . The stills and live video systems are to be added soon.
Thanks to: David Hobby from Aerosonde Ltd. for the loan of the "Windbag" to Monash University.
Monash University and Aerosonde Ltd. collaborative research partners in the Victorian Rural Robotic Facility (VRRF).
Learn more about the "Windbag"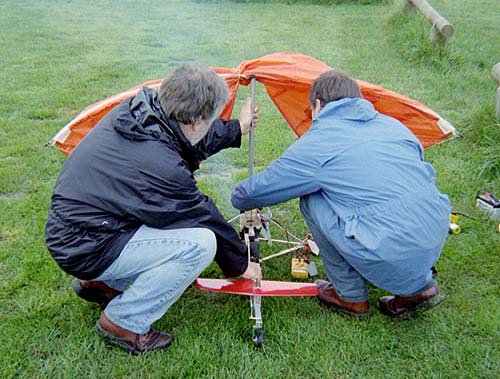 Prof. Greg Egan and R/C Pilot Ray Cooper
Photo : Dr Russ Naughton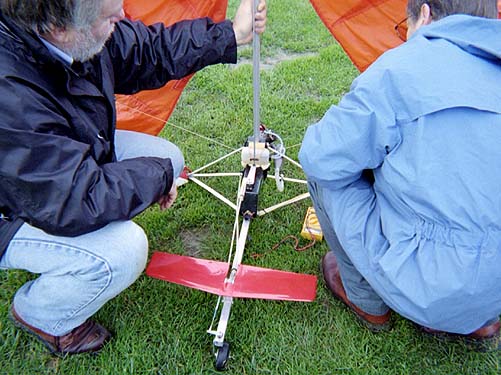 Prof. Greg Egan and R/C Pilot Ray Cooper
Photo : Dr Russ Naughton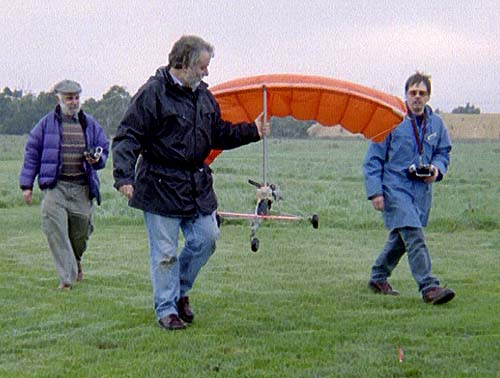 Profs. John Bird and Greg Egan and R/C Pilot Ray Cooper
Photo : Dr Russ Naughton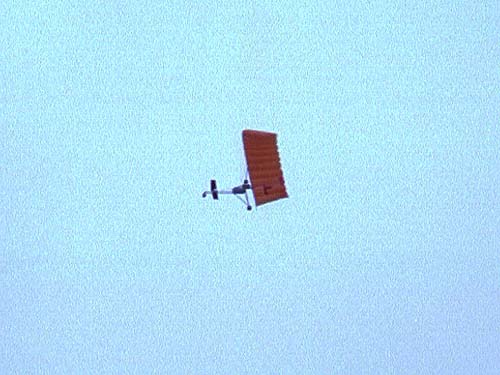 'The Windbag' in Flight
Photo : Dr Russ Naughton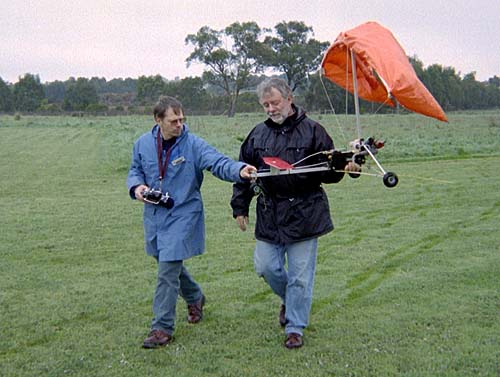 Prof. Greg Egan and R/C Pilot Ray Cooper
Photo : Dr Russ Naughton
Read more about Aerobotics at Monash University
---
More about the 'Windbag', its inventors and their patent
"A kite that flies without strings". This is how kite artist and sculptor Tal Streeter described the 'Windbag'. An R/C 'flying machine' that utilises the unique Flexifoil principle.
In the early 1980's, young inventors Ray Merry and Andrew Jones were urged to experiment with a free flying version of their unique 'Flexifoil' (1) wing design by Theo Van Dort, an R/C pilot with an interest in the project as a whole.
On a misty English September afternoon in 1982, Merry and Jones achieved their first successful flight.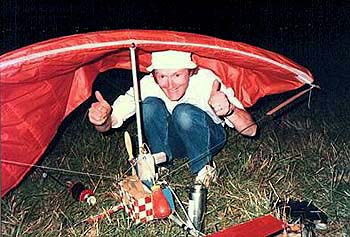 Co-inventor Andrew Jones "Sheltering" under a stripped down version of the Windbag.

http://www.cobrakite.com/windbag.html


Following the change from a standard wing and tailplane layout to a canard elevator, this remarkable flying machine was marketed as the "Windbag" to the R/C enthusiast.

Based on a simple rugged framework that accommodates the undercarriage, flying surfaces, pusher motor and 3 channel R/C gear for control of throttle, elevator and weight shift steering, the Windbag has a wingspan of six feet with a .40 two cycle motor recommended.

adapted from content on the page http://www.cobrakite.com/windbag.html


Flexifoil Patent, United States Patent #4,129,272

Text

Images


Flexifoil
http://www.dcss.org/speedsl/ST89refs.html

Ray Merry and Andrew Jones developed and patented this kite in the 70's. Their product has become more or less the standard in the field, due primarily to the great power and durability of the kite: Ray Merry, Box 290, Lavallette, New Jersey, USA 08735. Andrew Jones, September Cottage, High Street, Brinkley, Near Newmarket, Suffolk, England, CB8 0SF.


Flexifoil International
http://www.flexifoil.co.uk/

Flexifoil International was founded on the commercial success of a patented kite design, conceived in the 1970's by University students Andrew Jones and Ray Merry.

Their original project brief had been to find a way of providing lift for inflatable structures. However, the result was very different and they had no idea that they would end up designing a simple yet highly efficient, steerable aerofoil wing. This was to become the first recreational Power Kite ever to be sold commercially.

Flexifoil, the company, was born from the manufacturing and selling of this kite under licence from Merry and Jones. The first kite on the market had a 6' wingspan and was known as the Stacker.

Over the years, further sizes were added and the kite is now available in three sizes and in numerous colour combinations. This unique design has shown itself to be timeless, as there is now more demand than ever for these adrenaline pumping Power Kites.