---
Old Farts Flying Club, (O.F.F.C.)
Last Updated November 15, 2003
---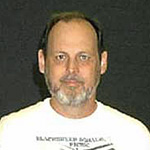 Hi, I'm Dave Gee also known as "Stuka Dave" and this webpage features photos of my model airplanes and things related to the O.F.F.C., "Old Farts Flying Club" and the Black Sheep Squadron Model Airplane Club.


O.F.F.C. Members meet each Wednesday morning at the Stonehurst Recreation Center, Sun Valley, CA. and from 9am, a box of doughnuts is ceremoniously consumed and models are discussed. Then we adjourn to the gym and attempt to fly them (the models, not the doughnuts :-)

There is a contest for O.F.F.C. members on the last meeting of each month. Categories for 2004 have yet to be decided upon but Peanut, One-Design, PennyPlane, etc. are typical.

All types of indoor models are welcome and there is a large field outside for informal FF and RC flying before the building is open.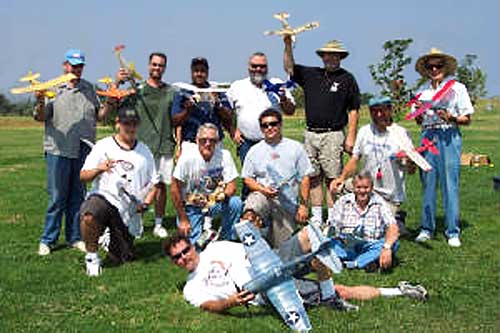 Members of the The Old Farts Flying Club
Guillow's "rubber scale" meet at the "Grassy Knoll"
---
Black Sheep Squadron meetings are the first Wednesday evening in Burbank CA., with indoor (at a larger gym) on the second Friday and informal outdoor contests at the "grassy knoll" FF site at Woodley Park in Van Nuys, CA.
Tony and Addie Naccarato operate T&A Hobby Lobby, a local shop which is a prime hangout for the club. Tony has been a booster for the group since its inception, and continues to provide advice (and modeling supplies) to the members. His store is located at 3512 W. Victory Blvd., Burbank, CA 91505-1501. Tel: 818-842-5062. T&A carries a full line of RC, CL, and FF kits and equipment, as well as plastic models and boats.
Questions or comments?, e-mail me at : StukaDave@cs.com
---
Gallery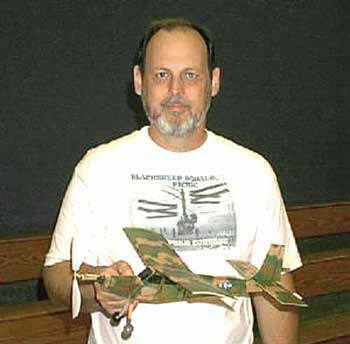 'Helio Courier'

The O.F.F.C. held a profile rubber meet indoors, and I made this Helio Courier The camouflage was drawn on "Windows Paint" and printed on my bubblejet. This model flies very well indeed. A rolled balsa tube motor stick and cropped, plastic, commercial prop keep the weight down.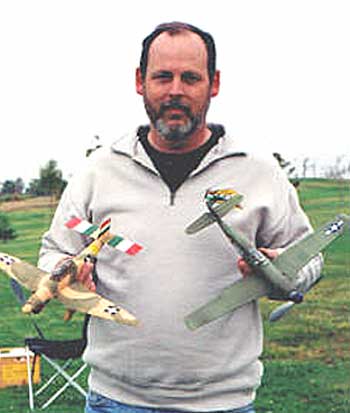 Rubber-powered 'Stuka' and 'ME-109'
For the Guillows "500" series meet I built a Stuka and an ME-109. The '109 flew nicely, the Stuka did not, but it looked nice!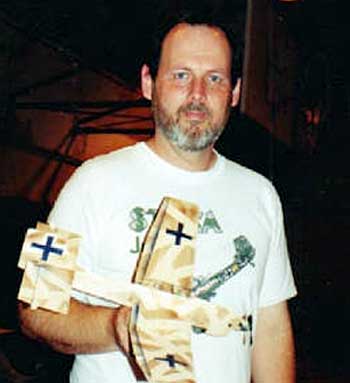 An all-balsa electric profile 'Stuka' for indoor
I cheated pretty bad on the outline so it would fly better.
It has a Kenway motor and 2 cells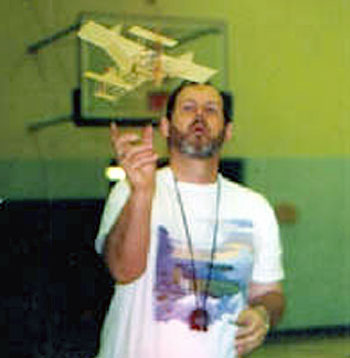 'Garcia Polyplane'
I love pioneer-era aircraft. The fullsize Garcia Polyplane was not successful, but my a peanut version was. It didn't break any records but what fun to fly such an awkward-looking model!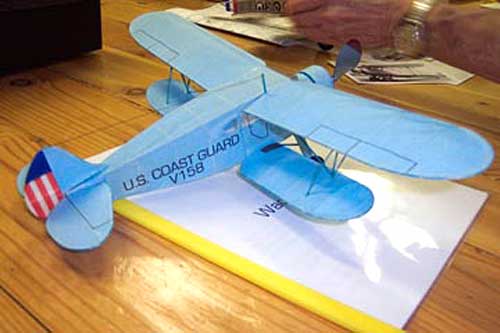 15" 'Waco' rubber ship for an indoor scale meet
The markings were printed on tissue via inkjet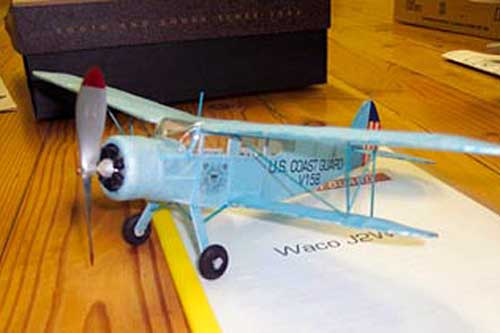 15" Waco rubber ship for an indoor scale meet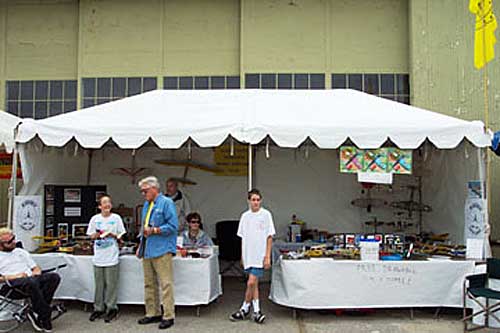 Van Nuys Airport hosted an airshow, and gave
the Black Sheep Squadron a nice booth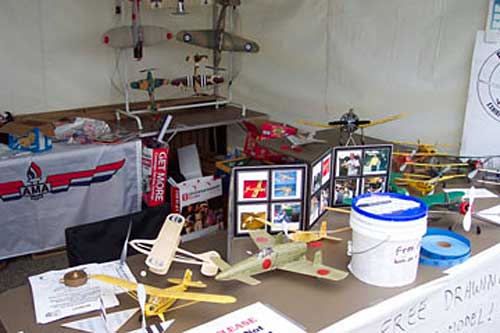 Heres a few of my models on display
We gave away 1500 gliders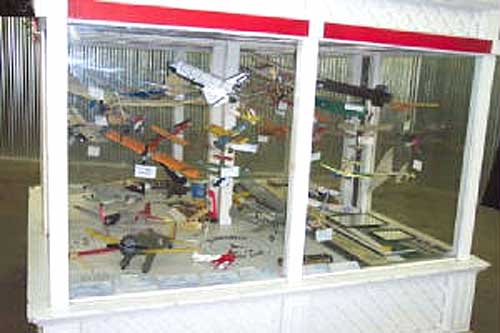 The Black Sheep Squadron's display at the
2003 Los Angeles County Fair. We're famous!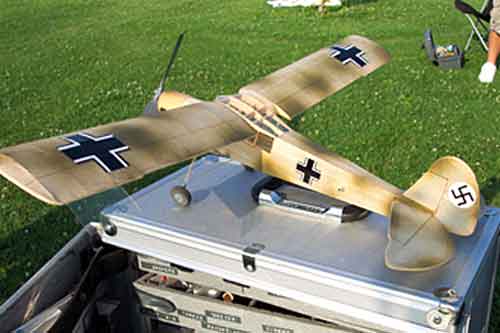 Storch built from an old Guillows kit. Heavy!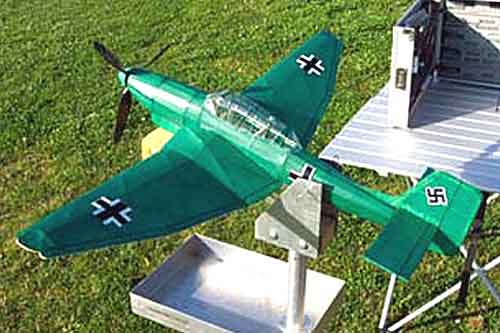 This Stuka is from the old Comet kit
I left out a LOT of structure so it would fly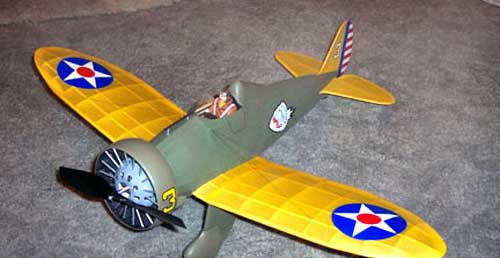 P-26 "Peashooter"

28" span, CO2 powered free-flight from an old Sterling kit

The dummy motor/cowling assembly is held on with magnets for crash-resistance and access to the real motor a twin-cylinder Gasparin with throttle. Another magnet holds a cowling hatch which allows access to the throttle assembly. A linkage lets the cockpit throttle lever control the motor speed. The pilot pops out to reveal the fill fitting. Japanese tissue, ModelMaster acrylic paint under clear dope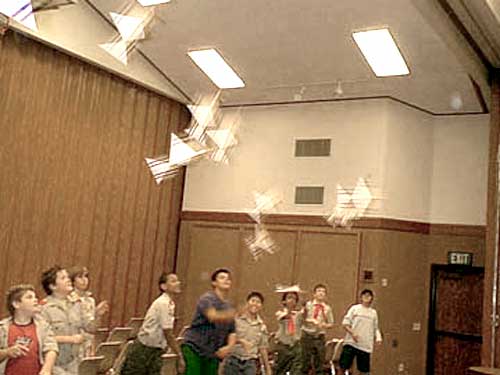 Boy Scouts and "Delta Darts"
The results of a recent Delta Dart session. Hectic but fun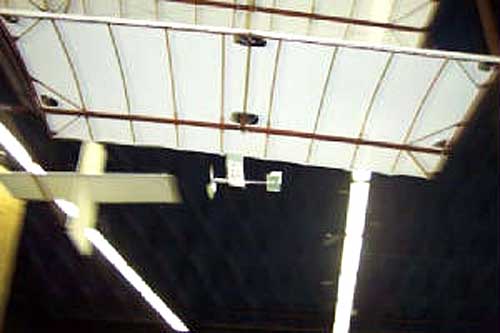 I just couldn't resist "Guerilla Flying" my Scofflaw
under the Montgomery Glider replica
See More "Guerilla Flying" images and Download a Plan of the "Scofflaw"
---
Stonehurst Recreation Center
9901 Dronfield Avenue, Sun Valley, CA 91352
Tel: (818) 767-0314 MAP
---
Woodley Park
Woodley Ave. and Victory Blvd., Van Nuys, CA 91411
Tel: (818) 756-8060 MAP
---