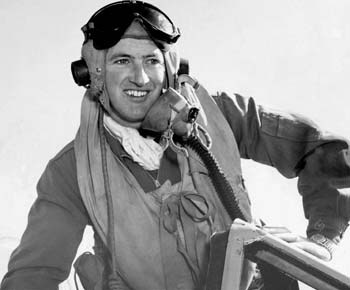 Keith Meggs: A Man and his Machines
P/O K.R. Meggs
DFM., AAM.

78 Wing RAAF, Malta, 1952

Photographer: Sgt. Gerry Sebastian, courtesy of Keith Meggs



---
The Machines
CAC Avon Sabre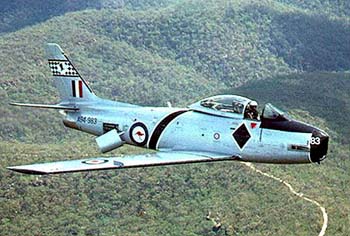 CA-27 Avon Sabre (A94-983)

Based at the RAAF Museum at Point Cook in Australia. It is the last airworthy Avon Sabre in the world

http://www.nbci.com/_XMCM/artattack/cac

RAAF.Serial : A94-983. Construct.No : CA27-83. Aircraft Type : Mk.32. First Flight 11/57. To RMAF 11/71 as FM1983, phased out 1976. Handed to 75 Sqn Butterworth for major servicing in 1977, it flew again 07/07/78. It was then dismantled and returned to Australia. After further rebuilding it flew again on 26/03/81 in the hands of Sqn Leader D.Leach. A94-983 is now based at Point Cook VIC and is flown regularly at Airshows as VH-PCM.

http://www2.dynamite.com.au/phastie/aircraft/aircraft.htm


ESSAYS


CAC Sabre Mk.32 Single-seat fighter-bomber, RAAF
Australian Aviation Archive

Competing with the Grumman Panther and various Hawker proposals in the late 1940s and early 1950s, the Sabre and Hawker Hunter became the final alternatives. In 1951 the Sabre was selected, for production by the Commonwealth Aircraft Corporation (CAC) in modified form, replacing the GE J47 engine with the more powerful Rolls-Royce Avon, also built by CAC.

The new engine was shorter, but wider, and needed a wider intake for more air, and the resulting changes influenced 60% of the airframe. The standard six 0.5 inch machine guns were also replaced, by two 30 mm Aden cannon.

The CA-26 Avon Sabre first flew in August 1953, and deliveries under the CA-27 designation followed from August 1954. Three versions were produced. The first were the Mk.30, with US type slatted wings; these were followed by the Mk.31, with fixed and extended wing leading edges. The bulk of aircraft were Mk.32's, built from September 1956, with better performance and load-carrying ability. Early marks were upgraded to this standard. From this point the Sabres could carry Sidewinder AAMs. In all 112 CAC Sabres were delivered.

RAAF Sabres served with 3, 75, 76, 77 and 79 Sqns. and Operational Conversion Units in Malaysia and Thailand. They began to be replaced by Mirage IIIs from 1965, finally retiring in 1971. Several flew on with the Malaysian and Indonesian air forces.


Commonwealth Sabre
http://home.att.net/~jbaugher1/p86_23.html

Perhaps the ultimate Sabre was the version built under license in Australia by the Commonwealth Aircraft Corporation. It is generally conceded to have been the best of the numerous variants of the Sabre.

Since early 1950, Australia had been making plans to acquire jet fighters. The initial choice had been the British-designed Hawker P.1081, to be built under license in Australia. However, the Hawker parent company was too busy at the time to provide its Australian collaborators with much assistance, so this project was abandoned in October 1950, and attention shifted to the Sabre....more


The Avon Sabre in RAAF Service
http://www.aviationusk.com/books/bkavonsabre.html

The ultimate modeller's reference on the Avon Sabre. Written by Peter Malone & Gary Byk, this highly detailed book covers all RAAF Sabres. Numerous photos, including close up detail. Specially commissioned artwork, full details of kits, decals, accessories and how to convert F-86 Sabre kits!

This book is the third release in the popular Red Roo profile series on the famous Australian a/c. Special attention has been paid to all aspects of the Avon Sabre in RAAF Service. An extensive fleet list is included in the book. Many photos, never before published, from private collections are used throughout the book.

This book is nearing completion and Gary is hoping to release it in the first half of 2000. This book IS worth waiting for and will blow the modeling world away. $TBA


Australian Sabres
http://vectorsite.tripod.com

"A small number of Sabres, 112 in all, were built by Commonwealth Aircraft Corporation (CAC) in Australia. The first Australian Sabres were powered by the Avon RA.7 engine (with 7,500lbs static thrust) and armed with two 30-mm cannon; the new engine required a substantial rebuild of the airframe.

The first of these Australian Sabres was the CA-26, which was built mostly from US components and flew in August 1953. Only one CA-26 was built; it was followed by a batch of 21 CA-27 Sabre Mark 30s, with the first of them becoming operational in 1956. The CA-27 Sabre Mark 31 incorporated a stretched wing and additional fuel capacity; 21 were built

Keith Meggs comments: From production aircraft No.23 the slats were deleted to make a fixed leading edge, and to become the Mark 31. It was not a 'stretched wing' which implys extended span

see... F-86 Sabre (CAC Avon Sabre) Wings Explained

The definitive Australian Sabre was the CA-27 Sabre Mark 32, which had the Australian-built Avon Mk. 26 and four stores pylons; 69 were built, with most of these being modified in 1960 to accept the Sidewinder air-to-air missile"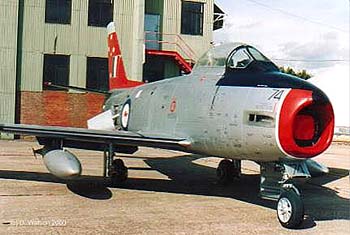 CAC Avon Sabre (A94-974)
http://www.chariot.net.au/~theburfs/images

There are more photographs in our Avon Sabre Photo Gallery

Please note that it may take a short while to load all the images


CAC Avon Sabre (A94-974)
http://members.nbci.com/_XMCM/classicjets/sabre.htm

Avon Sabre A97-974 (the Australian built variant of North American F-86 Sabre) was built by the Commonwealth Aircraft Corporation, Fishermen's Bend, Victoria, and delivered to the RAAF on 27th August 1957. The aircraft was allocated to 78 Wing stationed at RAAF Base, Williamtown, NSW, in Dec 1957 as a replacement aircraft for A94-940. In Dec 1958 the Sabre was flown to RAAF Base Butterworth, Malaysia, as part of Operation Sabre Ferry. A94-974 flew in Singapore, Malaysia and Thailand while based in S.E. Asia and returned to Australia in Jan 1968.

After undergoing a total overhaul and rewiring program, A94-974 was placed in service with No 5 Operational Conversion Unit as a lead-in aircraft for the Mirage III fighter. One year later the Sabre was allocated to the RAAF Base, Wagga Wagga, and underwent conversion to "training aid" status. In Feb 1978 A94-974 was re-allocated to No 12 Sqn, RAAF Amberley, Qld, for use as an external load training aid for their Chinook helicopters until struck off RAAF charge on 1st Aug 1984.

A94-974 was purchased by Bob Jarrett through public tender in March 1985 and transported to South Australia for restoration and repainting in No 3 Sqn colours as used in Malaysia. For three years prior to the opening of Classic Jets Fighter Museum, Avon Sabre A94-974 was utilised by the TAFE Aviation College at Parafield as a training airframe for its students. Its airframe is in good condition and is suitable for further restoration for returning to flying status.

Role
Single seat fighter-bomber
Engine
One Rolls Royce / CAC Avon RA7 Mk.26 turbojet; 7,500 lb thrust
Dimensions
wing span - 37 ft 1 in (11.30 m)
length - 37 ft 6 in (11.43 m)
wing area - 288 sq ft (26.76 sq m)
height - 14 ft 4 in (4.37 m)
Weight
empty - 12,000 lb (5,443 kg)
normal load - 17,720 lb (8,038 kg)
maximum load - 21,210 lb (9,621 kg)
Armament
2 x 30mm cannon, 2 x AIM-9B Sidewinder AAMs,
2,000 lb (907 kg) bombs (max)
Performance
maximum speed - 608 knots (1,126 kph)
average cruise speed - 478 kts (885 kph) initial climb rate - 12,000 ft (3,658m) / minute
ceiling - 52,000 ft (15,850 m)
RAAF service
1954-71
Number
1 x prototype; 22 x Mk.30; 20 x Mk.31; 69 x Mk.32; Total 112
Serial NumbersCA26: A94-101; Mk.30: A94-901 to 922; Mk.31: A94-923 to 942; Mk.32: A94-943 to 990, then A94-351 to 371

Engine - Rolls Royce Avon Mk. 26

The Commonwealth Aircraft Corporation built 218 Avon engines under licence to Rolls Royce. The Avons were developed to fit both the English Electric Canberra and the CAC Avon Sabre, then in service with the RAAF. The Avon Mk. 26 axial flow turbojet was rated at 7,500 lb thrust at sea level. The 2,460 lb engines featured a 12 stage axial compressor, 8 combustion chambers and a 2 stage turbine.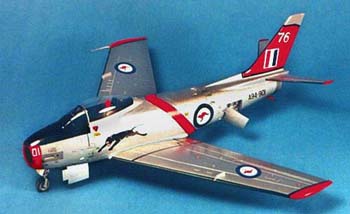 Red Roo CA-27 Avon Sabre (A94-901)
76 Squadron, Black Panther Aerobatic team, 1966
http://modelingmadness.com/reviews/korea/cleaveravon.htm
alternate views of this fine conversion kit from Red Roo Models
Red Roo/Hasegawa 1/48 CAC Avon Sabre
http://modelingmadness.com/reviews/korea/cleaveravon.htm
Australia's first jet fighter was the de Havilland Vampire, built under license by Commonwealth Aircraft in 1948-49. The follow-on possibilities included the Grumman Panther and the Hawker P.1081, a project which never went past the prototype. The advent of the Korean War brought the acquisition of the Gloster Meteor F.8 as an interim type. RAAF pilots in Korea soon learned that the Meteor was completely outclassed by the MiG-15, and began a campaign to acquire the North American F-86 Sabre.
The Australian government signed an agreement with North American on February 22, 1951 for license production of the Sabre. For economic reasons, the RAAF had to insure that its equipment would remain effective well into the 1960s. This meant that the RAAF Sabre needed more modern armament than the World War II era six .50 caliber machine guns, and an uprated powerplant for improved performance. The 30mm Aden cannon was chosen for the new armament, and the Rolls-Royce Avon RA-7 engine became the new powerplant, with an increase from the 6,100 lbs of thrust of the G.E. J-47 to 7,500 lbs of thrust with the Avon.
The change in powerplant required a redesign of the Sabre's fuselage to cater to the increased airflow requirement of the Avon, and to the fact that the engine was 500 lbs lighter than the J-47, requiring that it be re-positioned further aft. The intake was deepened 3.5 inches, and the fuselage "break" was re-positioned. The redesign involved changing 60 percent of the original fuselage structure. The end result was the most formidable Sabre of all.
The prototype flew August 3, 1953, with the first production Sabre delivered July 13, 1954. The Sabre attained IOC with the RAF on March 1, 1956, when the Mk.30 fully equipped 3 Squadron. The Mk.30 used the slatted wing. The following Mk.31 changed to the 6-3 "hard" wing of the F-86F, with the earlier aircraft being updated. The Mk.32 introduced the Sidewinder missile for increased armament.
The Australian Sabre entered combat in operations against the terrorists in Malaya in 1958. Sabres were also sent to Thailand in 1962, remaining there until 1968 as airfield defense during the buildup of operations around the Vietnam war. Many USAF officers believed the Australian Sabre would have been the best escort fighter against the NVAF MiG-17 that formed the majority of the aerial opposition during this period.
Following the Sabre's withdrawal from first line service with the RAAF, they were supplied to the Royal Malaysian Air Force commencing in 1969.

Red Roo 1/48 Avon Sabre Conversion (Academy or Hasegawa F-86)
http://modelingmadness.com/conversions/cleaveravonconv.htm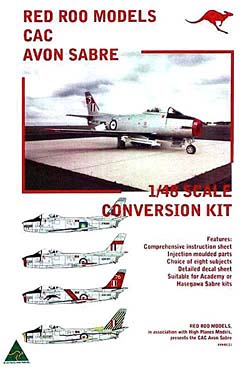 It's safe to say that the North American F-86 Sabre was the outstanding air superiority fighter of its generation. The first western aircraft to benefit from German wartime aerodynamic research into swept wings, the prototype Sabre flown by North American test pilot George Welch unofficially beat Chuck Yeager and the X-1 through the sound barrier on one of its very first flights, making the F-86 the first combat airplane capable of supersonic flight, albeit in a dive.
Had it not been for the existence of the F-86, the outcome of the Korean War might well have been very different. The airplane served many different air forces; as recently as the late 1970s over 400 were still in first-line service with several of the world's air forces, such as Japan, the Republic of Korea, Thailand, Malaysia, and South Africa, and it did not leave these inventories until the 1980s, close to 40 years after the flight of the first prototype - a remarkable record.
The two countries that chose not only to operate Sabres but to produce their own created superior aircraft to the North American original. The Orenda 14-powered Canadair Sabre Mk.6 could show a clean pair of heels to any North American Sabre, while the Avon-powered Commonwealth Aircraft Corporation's CA-27 Sabre would not only show a clean pair of heels to any Canadair Sabre, but could out-shoot any other Sabre built with its twin 30mm Aden cannon armament.


Indeed, the Australian Sabre was generally considered the best of all, and there were those U.S. Air Force officers charged with the operational effectiveness of the sharp end of the stick over Southeast Asia in 1965-66 who would have been very happy to have Australian pilots and their Sabres providing fighter escort over North Vietnam, given that the airplane would outperform the MiG-17 the North Vietnamese were then equipped with, which was giving the F-4 Phantom fits in regards to air combat.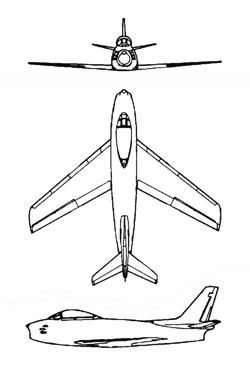 North American F-86 Sabre, 3view (generic)


The Australians had wanted Sabres as early as 1949, and the RAAF was close to revolt when the government saddled them with the obsolete Meteor for combat in Korea. The government realized its mistake, and in 1951 an agreement was concluded to allow license-built production of the Sabre in Australia. The RAAF - having seen the Sabre in action against the MiG-15 - wanted heavier armament and increased power for theirs.

The necessary changes resulted in some radical alterations to the fuselage, since the Avon engine required a larger air intake and - with a weight 400 pounds less than the J-47 - the break in the rear fuselage had to be positioned further aft. Some structural redesign was also necessary for the use of the Aden cannon. In the end, only 40 percent of the original fuselage structure remained when the Australian prototype flew on August 3, 1953.

The first of 22 CA-27 Mk.30s flew July 13, 1954, with the slatted wing of the F-86E. The 6'3" hard edge extension of the F-86F was mated to the airplane with the 21 Mk.31s of 1957; most of the Mk.30s were brought up to this standard. The definitive Mk.32, with the Avon 26 engine and four wing hardpoints, appeared in 1958; 68 were built to bring total CAC production to 112 aircraft.

The Sabre's replacement, the Mirage IIIO, first appeared with 75 Squadron in 1964, but the Sabres continued in operation with 78 Wing at Butterworth, Malaysia, in 3 and 77 Squadrons until the late 1960s; 78 Squadron - which so impressed the USAF - operated from Ubon, Thailand, from 1964-67.


Red Roo 1/48 Avon Sabre Conversion (Academy or Hasegawa F-86)
http://www.users.bigpond.com/smmodels/AvonSabre.htm

www.aeroplaneart.com.au
http://www.aeroplaneart.com.au/JSJ_General_Galllery.htm
---
RAAF CAC Avon Sabre Acrobatic Teams 1959-68
http://www.usiwakamaru.or.jp/~mota/db/
| | | | |
| --- | --- | --- | --- |
| Team | Year(s) | Operation | Location |
| 78 Wing Sabre Team | 1959 | 78 Wing | Butterworth, Malaysia |
| Black Diamonds | 1961-64 | No.75 Sqn. | location? |
| Black Panthers | 1962 | No.76 Sqn. | Williamtown |
| Red Diamonds | 1963 | No.76 Sqn. | Williamtown |
| No.3 Sqn. Team | 1966 | No.3 Sqn. | Butterworth, Malaysia |
| Marksmen | 1966-68 | No.2 OCU | Williamtown |
---
US, UK, North American F-86 Sabre Related Sites
Duncan's F-86 Sabre Website
http://www.geocities.com/CapeCanaveral/Launchpad/8608/index.html
North American Sabre (1953 - 1956)
http://www.vflintham.demon.co.uk/aircraft/sabswift/sabswift.htm
USAF Museum - North American F-86 Sabre
http://www.wpafb.af.mil/museum/research/fighter/f86a.htm
Common Heritage Part III - The Jet Age
http://www.boeing.com/companyoffices/history/part34.htm
US Air Force Museum Korean War History Gallery
http://www.wpafb.af.mil/museum/history/korea/kc1.htm
North American F-86A Sabre
Copyright © 2000 NASMSI National Air and Space Museum Smithsonian Institution
The Korean War : The Air War
http://www.britains-smallwars.com/korea/air-war.html
F-86 in Korea
http://home.att.net/~jbaugher1/p86_9.html
The 4th Fighter Wing, USAF - closely associated with 77 Squadron RAAF at Kimpo Air Base (K-14), Korea.
http://www.boxingeagles.de/UK/history.htm

http://home.earthlink.net/~johnstarr1/FR_4th_History.htm

http://www.cottonpickers.org/4th.htm

http://www.fightertown.org/wg004ftr.htm
Sabrejet marks 50th anniversary
Aerotech News and Review : Journal of Aerospace and Defense Industry News
by Leona C. Bull, staff writer, October 2, 1997
http://www.aerotechnews.com/starc/92997/100297d.html

The North American Aviation, Inc. XP-86, which later became the F-86 "Sabrejet," celebrates it's 50th anniversary this week.

The Sabrejet earned it's reputation in Korea by achieving a 10-to-1 kill ratio over Russian MiG-15 fighters. George "Wheaties" Welch, a North American test pilot, flew the aircraft for 50 minutes at Muroc Dry Lake, now Edwards AFB, for the first time Oct. 1. 1947. In a time, before fighters with straight and level, supersonic performance went into service, the F-86 Sabre and its variants provided the only first line fighter design for the United States and its allies, capable of repelling the unexpected Russian jet fighters being turned out by the Mikoyan-Gurevich design team.

The Sabre series has been produced in five countries, including two different plants here in the United States, one in Los Angeles and the other one in Columbus, Ohio. Canadair Division of General Dynamics built the Sabre design in Montreal; Fiat built an all weather version in Italy; Commonwealth Aircraft Corp. built the Sabre in Australia and Japan's Shin Mitsubishi also built the F-86. Turkey's Air Force along with all of the manufacturing host countries, accepted the F-86 in to their Air Forces.

First design studies on the project that became the F-86 configuration, began in November of 1944, by North American. The project was continued in May of 1945, when the U.S. Air Force contracted for three experimental prototypes of the XF-86s. At this time, the design had a straight wing design, and fell short of the Air Forces's specifications for a 600-mile per hour fighter. Ray Rice, chief engineer for North American Aviation in 1945, made the definitive decision to switch from a conventional straight wing design, to a 35 degrees swept-back wing formation, due to wind tunnel data, recieved from captured German informational sources, which confirmed earlier theories on the swept-wing design.

Rice also decided to reduce the wing thickness ratio to 11 percent at root, and 10 percent at tip. This decision was a direct result of the German data compiled for a swept back version of the Messerschmitt 262 and was the same basic data used by the Soviet designers, Mikoyan and Gurevich for the MiG-15, destined to take on the Sabre in the first transonic combat over Korea. The first XF-86 was completed Aug/ 8, 1947, with the first flight on Oct. 1 of the same year. The first production models of the F-86A were delivered to the U.S. Air Force Aug. 16, 1948. For the next few years, various models of Sabres held official world speed records, ranging from 650 to 715 mph.

The most significant challenge for the Sabre came at the end of 1950, when the U.S. Air Force was taking a heavy beating during the early months of the Korean war. Early clashes of the swept-wing MiG-15s against the straight wing U.S. Air Force, Navy and Marine fighters indicated that while an occasional MiG would get shot down, the straight-wing, Mach limited fighters were clearly no match for the swept-wing Soviet aircraft. To meet this challenge, the U.S. Air Force's 4th Fighter Wing, the first to be equipped with Sabres, was rushed to Korea's front line.

The 4th Fighter Group based at Kimpo, armed with less than 100 Sabres, held the line with aggressive tactics against forces equipped with as many as 400 MiGs. Lt.Col. Bruce Hinton recorded the first MiG Kill in a Sabre. The 4th Fighter Group, later the 51st, fought without traditional logistic and maintenance support, and under impossible field conditions, ranging from severe winter weather, to humid or dusty summers, and endless "gumbo mud." The Sabre proved itself to be rugged both in the air against heavy MiG cannon fire and on the ground where it stayed operational despite climatic and maintainence woes.

After the the first few months, the F-86A proved itself to be so indispensable to the war effort, so North American engineering and production resources rushed improved F-86 models to Korea, and improved the Sabres combat capabilities. Eventually, the aircraft was adopted to fighter-bomber use in Korea. In Sept. 1958, while flying in a F-86, a Chinese Nationalist fired the first Sidewinder air-to-air missiles, to take down 11 communist Chinese MiG-17s over the Formosa Straits. Until that point in history, aircraft defensive means were primarily limited to pilots and tail gunners firing small caliber ammunition in dog fight situations.

Adison Thompson, a pilot from the Antelope Valley, Calif., remembers flying the F-86, as one of the highlights of his aeronautical career. He says, that though a MiG was more maneuverable, the speed of an F-86, and the training that American pilots received, made all of the difference in combat. This deadly combination is how the Americans were able to keep the Communist air threat neutralized, and maintain a 10-to-1 kill ratio. In its time, the Sabre held the line against the challenge of Communist air power, and has earned it's place of honor and distinction in the significant history of the U.S. Air Force.

North American F-86 Sabre
http://194.205.16.17/ency/F/F-86.asp

The North American F-86 Sabre, best-recalled for prevailing over the MiG-15 in Korea but used by numerous air forces, owes its creation to a project authorized in 1943 by company president J. H. 'Dutch' Kindelberger and taken up by a design team under J. Lee Atwood and Ray Rice. By late 1944, the company was at work on its model NA-134, which would emerge as the US Navy's FJ-1 Fury, a conventional jet fighter with a straight, thin wing set low on the fuselage and a straight-through flow of air from nose inlet to jet exhaust.

This design, powered by a 4,000-lb (17.79-kN) thrust Allison TG-180, soon to be known as the J35, offered little advantage over the identically-powered Republic XP-84. Soon, however, with L. P. Greene taking over North American's design effort, German research on sweptback wings was exploited and Kindelberger made a bold policy decision. Rather than merely proceed with an already good design, the company went for the revolutionary swept wing. The Soviet Union was taking the same course with the MiG-15, which flew in 1947, although British fighters well into the 1950s would be handicapped by the straight-wing configuration.

First flight The first of three XP-86 prototypes (45-59597/59599) was rolled out 8 August 1947, powered by the J35-C-3 engine (developed by General Electric but manufactured first by the Chevrolet Division and later the Allison Division of General Motors). On 1 October 1947, the first flight was made by company test pilot George Welch. The prototype exceeded the speed of sound in a dive for the first time on 26 April 1948 and was formally delivered to the USAF on 30 November 1948. An initial order for 33 F-86As (47-605/637) powered by the more advanced 5,000-lb (22.24-kN) thrust General Electric J47-GE-3 turbojet resulted in the first flight of an F-86A on 20 May 1948.

The first operational F-86As were delivered in March 1949 to the 9th Fighter Squadron, part of the 1st Fighter Group, at March AFB, California. The name Sabre was adopted on 4 March 1949. Much later in their service lives, some F-86As were converted as DF-86A drone-control and RF-86A reconnaissance craft. The F-86B designation was briefly assigned to a minor variant among the 554 airframes eventually delivered in the F-86A series. The F-86C designation was temporarily assigned to a significantly different aircraft which was redesignated YF-93A.

The F-86D was a radar-guided, rocket-armed all-weather fighter intended for ground-controlled intercept (GCI) of Soviet bombers penetrating North American air space. Briefly known as YF-95A, the first of two YF-86D service-test aircraft (50-577/578) was flown on 22 December 1949 by Welch, and although no radar was yet available it had the giant nose radome and chin inlet beneath, which would characterize the series. There were delays and difficulties in the development of the interceptor, powered by 7,650-lb (34.03-kN) thrust (with afterburning) General Electric J47-GE-13, equipped with APS-6 radar and Hughes fire-control system, and armed with 24 2.75-in (70-mm) folding-fin aircraft rockets (FFAR) in a retractable nose tray.

The first operational F-86D was delivered on 5 March 1951. On 19 November 1952, Captain J. Slade Nash piloted an F-86D (51-2495) to a world air speed record of 699.9 mph (1126.35 km/h) in a sea-level dash at Salton Sea, California. Some 2,504 of the F-86D interceptors were delivered and served with the USAF's Air Defense Command (ADC) and units in Europe, as well as in the Air National Guard (ANG) and the air forces of Denmark, Japan and South Korea.

Improved day-fighter

The F-86E was an improved day-fighter Sabre with an 'all-flying tail'. The tailplane became a primary control surface, the elevators merely increasing its effect, and artificial feel was added for the first time in a production fighter. The first F-86E flew in 1950, was operationally employed by the USAF, and became the basis for production of a series of Sabres built under license by Canadair Limited in Montreal.

The six variants of Canadair Sabre totalling 655 airframes for Canada, Germany, South Africa and Colombia are outside the scope of this work. The only Canadair machines assigned a USAF designation were the 120 F-86E-6(CAN) airframes built with US funding, many of which served with the UK's Royal Air Force. In the mid-1980s, however, numbers of Canadair-built Sabres were arriving in the USA for conversion to QF-86 target drones at the US Navy Missile Test Center, Point Mugu, California. The first example of the F-86F model (51-2850) was flown on 19 March 1952 by George Smith.

The F-86F was initially built in Los Angeles as previous North American machines had been but, given the urgency of the Korean War, a second production line was established at the firm's former Curtiss plant in Columbus, Ohio. The F-86F had a new wing leading edge extended 6 in (15 cm) at the root and 3 in (7.5 cm) at the tip, with small boundary layer fences introduced for the first time. This '6-3' wing improved the Sabre's maneuverability at high altitude, and the F-86F was rushed to Korea where earlier F-86A and F-86E machines were regarded, by some, as less agile than the MiG-15.

By the time the 1950-53 Korean War reached its peak, all three Sabre fighter wings on the peninsula had converted to the F-86F model, 2,540 of which were manufactured. Two F-86Fs were converted as two-seat TF-86F trainer prototypes. An RF-86F reconnaissance variant was originated in Japan. In the 1980s, a number of QF-86F drones were serving the US Navy at Point Mugu. It would be impossible to list every country which eventually obtained used F-86F airframes (Tunisia being an example of how far afield the type went), but among early major users were South Africa, Korea and Japan. The designation F-86G was briefly applied to a variant of the all-weather interceptor powered by the J47-GE-33 and eventually delivered as an F-86D.

A major change in the Sabre airframe was marked when the first of two service-test YF-86H aircraft (52-1975/1976) was flown on 30 April 1953 by Joseph Lynch. The production F-86H, built in Columbus, introduced the 9,300-lb (41.37-kN) thrust General Electric J73-GE-3 turbojet and was intended to be armed with four 20-mm cannon, although the first 116 of 473 built retained the six 0.5-in (12.7-mm) machine guns of all other American day-fighter Sabres. Never exported, the re-engined F-86H arrived too late for combat in Korea but was widely used by USAF and ANG units. A few were converted to QF-86H target drones for the US Navy at China Lake, California.

The F-86J appellation went to a converted F-86A (49-1069) powered by the 7,275-lb (32.36-kN) thrust Avro Orenda turbojet, which was used on most Canadian-built Sabres but no other USAF machines. The two service-test YF-86K Sabres (52-3630 and 52-3804), the first flown on 15 July 1954 by Ray Morris and both converted from F-86D standard, introduced a version of the radar-equipped, all-weather interceptor armed with four 20-mm cannon instead of FFAR rockets.

The F-86K, the first production example of which (53-8273) was introduced to service in 1955, was intended primarily for export to NATO allies. Of 341 built, 221 were assembled from knockdown kits by Fiat in Italy. Italy and West Germany were principal F-86K operators. The F-86L was a conversion of the F-86D and a further development of the all-weather interceptor, being refitted with 2 ft (0.61 m) wider wings and datalink capability for the Semi-Automatic Ground Environment (SAGE) system. Some 981 were converted for service with the USAF's Air Defense Command and a few reached Thailand and other users.

The US Navy's straight-wing FJ-1 Fury was followed in service by the FJ-2, FJ-3 and FJ-4, all sweptwing, navalized Sabres. On 18 September 1962 when the US system for designating military aircraft was changed, the FJ-3 and FJ-4 Fury acquired the new F-1 designation. By that time, however, their service career was nearly over. A Sabre variant was also manufactured by Commonwealth in Australia. Well over 7,300 Sabres were manufactured, 6,874 with USAF designations and serial numbers.

Combat

When China entered the Korean War in November 1950, its MiG-15s based on the Manchurian side of the Yalu River quickly established supremacy over the F-51s, F-80s and F9F Panthers in the combat zone. On 8 November 1950, the 4th Fighter-Interceptor Wing was despatched from Dover AFB, Delaware and, taking its F-86A Sabres across the Pacific by sea, began combat operations at Seoul's Kimpo AB on 17 December. Their first mission drew blood. Flying at 32,000 ft (9754 m) at a speed of 472 mph (760 km/h), Lieutenant Colonel Bruce Hinton of the wing's 336th Fighter Squadron in an F-86A (49-1236), callsign 'Baker Lead', began the classic ploy that would continue throughout the war, the fighter sweep along the Yalu where the Americans deliberately placed themselves in position to be engaged by the MiGs.

At that point, incredible as it seems with today's intelligence-gathering methods, Hinton and his wingmen had no information about the armament or maneuverability of the MiG-15. When the MiGs took the bait, Hinton ordered Baker Flight to jettison wing tanks. Hinton pulled into a turning MiG-15, watched the Chinese pilot discard his wing tanks, and used the advantage of the F-86A's superior acceleration in a dive to close rapidly. Although his F-86A was redlined at (restricted to) Mach 0.95, Hinton was at almost the speed of sound when he fired a short burst of 0.5-in (12.7-mm) fire. The Chinese fighter broke up in pieces and the F-86 had its first kill. The F-86A, F-86E and F-86F used in Korean combat are usually reported to have been at a maneuvering disadvantage with the MiG-15 and to have prevailed only because of superior pilot skill. It is true that many American fighter pilots were World War II veterans. Most, however, believe that their airframe, too, was superior. This is especially so with regard to the F-86F with the '6-3' wing and, most importantly, the only radar-ranging gunsight on any fighter in the war.

Captain Manuel 'Pete' Fernandez spoke highly of the gunsight and of the Sabre's stability at high angles of attack. On 10 May 1953, Fernandez, of the 334th Fighter-Interceptor Squadron, flying an F-86F (51-2857), callsign 'John Dog Lead', found himself in a furious maneuvering situation at medium altitude where the MiG-15 supposedly had the greatest advantage. Outnumbered and in a critical fuel situation, Fernandez was able to turn inside his opponents each time they closed in. He found the Sabre's 0.5-in (12.7-mm) machine guns more accurate at greater range than the MiG's 23-mm and 37-mm cannon, although other pilots tended to berate the 50-caliber round's low hitting power. When 10 F-86Fs were refitted with four 20-mm cannon and sent to Korea under Project Gunval, the American cannon also proved farther-reaching and more accurate than the MiG's weapons, although posing maintenance problems not encountered with the machine guns.

Fernandez, who finished as the war's third-ranking ace with 14 MiG kills, was adamant about the Sabre's overall superiority and was by no means alone. Although the F-86 is often reported to have achieved a remarkable 12-to-1 kill ratio over the MiG-15, revised analysis makes the actual figure roughly 7-to-1, still so extraordinary as to be unmatched in any other air campaign in history. F-86s shot down 792 MiG-15s while sustaining 78 air-to-air losses. The UK's future Air Marshal, John Nichol, shot down a MiG-15 while flying an F-86 on a USAF exchange tour. Of 40 American aces in Korea, 39 flew the F-86. The ranking aces were Captain Joseph D. McConnell Jr with 16 kills and Major James Jabara with 15. The final air-to-air kill of the war was an Ilyushin Il-12 transport downed on 27 July 1953 by Captain Ralph S. Parr, flying an F-86F (51-12959).
Specifications North American F-86F Sabre Type : single-seat fighter

Powerplant : one 5,910 lb (26.28-kN) thrust General Electric J47-GE-27 turbojet engine

Performance : maximum speed 695 mph (1118 km h) at 40,000 ft (12192 m); initial climb rate (clean) 9,300 ft (2835 m) per minute; service ceiling 48,000 ft (14630 m); range with drop tanks 1,270 miles (2044 km)

Weights : empty 10,890 lb (4939 kg); maximum take-off 20,357 lb (9234 kg)

Dimensions : span 37 ft 1 in (11.31 m) (later increased); length 37 ft 6 in (11.44 m); height 14 ft 9 in (4.50 m); wing area 288 sq ft (26.76 m2)

Armament : six 0.5-in (12.7-mm) fixed forward-firing machine guns, plus provision for two 1,000-lb (454-kg) bombs or various other bombs, rockets or other ordnance with or without two 200-US gal (757-liter) tanks

in closing ...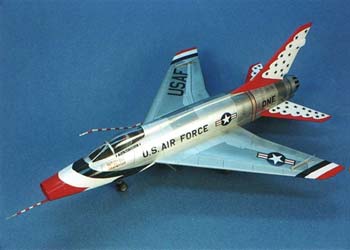 F-100D Super Sabre
also available as a 1000 pixel image
F-100D Super Sabre
http://www.hyperscale.com/features/f100jch_1.htm
F-100D Super Sabre
http://www.hyperscale.com/features/f100da_2.htm
and
Mig-15bis
http://www.hyperscale.com/features/mig15mp_1.htm
Over the years the name "MiG" has become synonymous with Soviet fighter aircraft. The MiG-15 was the first jet fighter to be mass-produced by the MiG Design Bureau. American pilots were impressed by the MiG's firepower and maneuverability in the sky over Korea.
Even after the US revised its initial Korean War kill/loss lists to more believable proportions, there still remained large discrepancies between the figures presented by either side. Despite this, it is most likely that the highest-scoring aces of the war were the Russians - Yevgeni Pepelyaev with 23 kills and Nikolai Sutyagin with 21.
I don't want to discuss whether the Sabre or the MiG was the better fighter. I think that Chuck Yeager expressed it best when he said "It isn't the plane that is important in combat, it's the man sitting in it". I am pleased that the "Cold War" is over and that McConnell's Sabre and Karelin's MiG-15 both peacefully co-exist in my collection!
These are two outstanding aircraft flown by two eminent pilots. I highly recommend this great model kit for all Korean War fans.
http://members.nbci.com/_XMCM/zampini/Korea/MiGsoverKorea.htm Flight to Freedom - America's First MiG
http://www.historicwings.com/features98/mig15/content-defection.html
Officially, the Korean War was all but over. All sides were discussing terms at the peace table. Forces on both sides of the 38th Parallel were ready but not engaged in combat. It was the morning of September 21, 1953. For Lt. Kum Sok No, a 21-year old, elite North Korean Air Force MiG pilot, the dawn heralded anything but just another day. As he poured over operational orders and charts, his mind was racing. Today would be the day that he would take his airplane, Russia's finest and most secret jet fighter, the MiG-15, to the South and defect....more
---
Further Reading
Donselar, Annette, (Ed.), compiled by Wayne Brown, Andrew Cork, Colin Faggo Swift To Destroy - An illustrated History of 77 Squadron RAAF, 1942 - 1986 ; Norman Morris Printers ; Newcastle, Australia, 1986
Hill, Brian L., Wirraway to Hornet : a history of the Commonwealth Aircraft Corporation Pty Ltd, 1936 to 1985; Bulleen, Vic. : Southern Cross Publications, 1998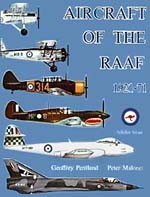 Pentland Geoffrey, Malone Peter : Aircraft of the RAAF 1921-71 - Jubilee Issue ; Melbourne: Kookaburra Technical Publications, 1971
Stephens, Alan. Going Solo: The Royal Australian Air Force 1946-1971. Canberra: AGPG Press, 1995
Meteor, Sabre and Mirage In Australian Service
Wilson, Stewart

and don't forget, there are many more photographs in our Avon Sabre Photo Gallery
Return to the Top or to Keith Meggs' Biography Home Page